Windows 10 Redstone 2 looking likely for a March 2017 release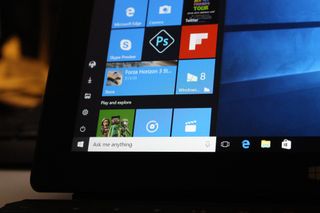 With Windows 10, Microsoft is striving to release two major updates for Windows 10 every year, except for this year as the company decided to delay Redstone 2 until early 2017, as I exclusively reported several months ago. It's always hard to pinpoint an exact time-frame for software launches as they're constantly slipping, but I've been hearing over the last couple of months that March 2017 is the target-month for Redstone 2's launch.
I hear Microsoft is aiming to 'launch' RS2 in or around March 2017 (plan may change down line)I hear Microsoft is aiming to 'launch' RS2 in or around March 2017 (plan may change down line)— Zac Bowden (@zacbowden) October 2, 2016October 2, 2016
A user on Twitter by the name of h0x0d, who is known for leaking all kinds of Microsoft goodies has spotted references to a "Version 1703" in the latest Redstone 2 Insider builds. This matches what I've been hearing, but it does seem curiously early especially given all Windows 10 releases so far have launched in either the middle of the year or late in the year. In regards to the second major update coming in 2017 codenamed Redstone 3, expect that to launch in the summer.
That leaves a considerable gap between Redstone 3 and the next major update for Windows 10, which I'm told is codenamed Redstone 4 and coming sometime in 2018. This leads me to believe Microsoft has some big plans with Redstone 4, as its development time will be considerably longer compared to the releases coming in 2017. Of course, since we're talking about updates that are over a year away here, things could change.
Regardless, with Redstone 2 being less then half a year away, it shouldn't be too long before Insiders start seeing much larger features show up in Insider builds to test. Microsoft is slowly building out Windows 10, and with these major updates scheduled over the next couple of years, the company should keep up with the competition.
Zac Bowden is a Senior Editor at Windows Central. Bringing you exclusive coverage into the world of Windows 10 on PCs, tablets, phones, and more. Also an avid collector of rare Microsoft prototype devices! Keep in touch on Twitter: @zacbowden.
You and I both. Considering RS2 is supposed to contain more mobile updates. Hopefully they will be more than what was already leaked.

did you see the notification about gesture beta and messaging+ after install on mobile

In the toast notification it just says a better way to text chat and share content.

Hoping RS2 looking likely for mobile at the same time as well...

So is Redstone it? Just RS 1, 2, 3, 4..?

Doesn't really matter to be honest. It's just a codename for each major update. Not the actual name :P

No the anniversary of update was supposed to be alot bigger. But it was scaled down to meet the deadline.

so you know all the features ? :D

If they announce anything interesting in it I'll joing the excitement

That's a long time to wait for a Surface Pro 5.

Not much, just six months from now... for some good things it's not much :)

Just sad there isn't a single detachable 2-in-1 on the market with Kaby Lake. And none on the horizon either. For me 6 months is a long time to wait since my desktop died and I have no computer at this point.

oh that's sad, and yeah it's a long wait now. :(

But there is:"HP Spectre x360 upgraded with Intel Kaby Lake CPUs and beefed-up batteries"

Not a detachable. Kind of bulky to use as a tablet. Back when I had a Surface I used it as a tablet more often than as a laptop.

Asus Transformer 3 (non Pro) http://www.anandtech.com/show/10377/asus-announces-the-transformer-3-her...

Well we should've been this year together with the release of Anniversary Update, but that seem didn't happen. I'm just hoping it will be a really big bang next year with this long delay of hardware release. About the software, I do even wish something around June to give more time to polish things up and release OS and its apps in more mature state.

RS was supposed to be the big update to bring big mobile changes, guess its now RS4

And as usual, there is no radical change

Yup, a bunch of not very interesting things. Biggest thing I have been waiting for is MirrorLink, which seems to never be coming.

Continuum changes is one of the very intersting things I would say, even though its long overdue especially multi-window support and other related functionalities were 1st release of Continuum should've have been. MirrorLink is definately needed, sadly not enough feedback to push it and even we do, likely it will pushed to Redstone 3 or even 4. Its sad that MirrorLink support has been teased even before the official W10M announcement and more than a year there is no indication at all, while Apple and Google going circles with their own proprietary solutions. I was even hoping for features that even small, does provide the overall improvements to the OS and polish, polish, polish. If the date is nearly accurate, March is just decent enough time though I wished to be bit longer just to give time to settle more things out. Its a fine balance though since Microsoft needs to really showcase new hardware especially since we don't have new refresh of Surface series of devices this year. Their smartphone relevance is also at the cliff already.

So we can finally use the 6 Continuum tools in multi window - yay

@aXross; Agree, but Microsoft leaks these things so they don't take the lead in bringing them to market. Fundamentally, I don't believe they'll bring them to market on their own but until Apple and or Google does it we will not see it which seems to be a basic marketing strategy at Microsoft.

Making Continuum more like desktop Windows 10 definately isn't a radical change, apparently. /s

Not for 99% of the worldwide Smartphones users - no

We're not concerned with the plebs. I want the Continuum changes. If you only use your phone to play games for kids then that's fine.

It's actually pretty average and I even find it bit early. I was expecting around June release. Though if they actually gonna release new hardware alongside with that date, oh well then. Though better give it more time to actually address things needs to address and able to polish it very well.

it might be a smaller update that what fans were expecting. RS4 would be the one apparantly

one of your gang did that same 'joke' earlier, wasn't funny then either ;-)

The tech landscape will be a vastly different place then. Hope MS is ready.

All i want them to fix on my SP4 is the personalise handwriting bug... the surface pen bug and the wifi icon bug......
Oh and the screen flicking/jumping bug...
And i just noticed some other bugs using visual studio and one note on external monitor.
Stability>features

Hopefully we'll see the Surface Phone then! It would make sense. I'm not looking for it to "save WP." I'm just looking for a cool device!

Oh.. And for windows central to please fix commenting on articles via the app.... That would be nice too

That's what you'll tell to the programmers about the schedule...

When exactly is the Build 2017...?

Looking forward to the exciting times ahead!!!

Awesome, I personally don't mind the wait, right now windows 10 and mobile in its current state is sufficient. I just love the ecosystem. SP5 should continue to push the boundaries of software and hardware, we don't need the SP5 to only be a hardware spec upgrade but software should further enhance it.

Awesome, I personally don't mind the wait, right now windows 10 and mobile in its current state is sufficient. I just love the ecosystem. SP5 should continue to push the boundaries of software and hardware, we don't need the SP5 to only be a hardware spec upgrade but software should further enhance it.

Redstone 4 will have greater focus on mobile. If not then Redstone 5 will have greater focus on mobile.

Surely that is an awesome reason for you to vacate. You surely cannot wait that long?

I hope my 950XL can hold up all these updates :P :)

I guess it will, but a lot of new goodies and features will depend on new hardware
that is still in development and will be ready when RS4 is ready. So RS4 is likely to run smoothly on your Lumia 950 device,
but hardware technology will have advance quite a bit by then. Lets say that RS4 supports new memory architectures and layouts
that you can do with huge 3D NAND FLASH capacity and some 3D XPoint memory. As your Lumia 950 does not have any 3D Xpoint memory, you are missing out on some features (whatever those might be). .


I was thinking on similar lines, like Win 10 Mobile becoming 64bit, a more advanced version of continuum coming into play, may be phone powered 1st/3rd party hollo lens like device (instead of just VR) and so on

Sorry. New hardware needed for rs2

It's depressing that given Microsoft's track record I thought you were serious for a second there.

Fingers crossed that we ( mobile ) don't have to suffer from the train wreck that was TH when 9xx series released! I'd rather wait a bit longer and get it at least 95% right. March does seem odd, and like many on here, I guess some devices are up for release in 1st / 2nd Q. Just hope continuum matures into something more useable for the masses ( 'ish ).

So basically we wont be getting two (2) major updates per year? 2016 should have had Redstone 1&2 but RS2 pushed to 2017. RS3 then will be summer of 2017, which pushes RS4 to 2018. Two per year would have meant by 2018 we would be beyond RS4....another "hurry up and wait" schpeel from MS.

Dinky - we didn't get 2 this year, but if we get RS2 and RS3 next year (spring and summer respectively) then that is 2 releases. So if MS is just hitting there stride that would mean RS4 and 5 in 2018. ​Plus people are weird your complain about things not being released when you have no idea what might be in them. Plus it ignores all the bug fixes released in the interim.

Believe me, I'm as much a MS supporter as you. But after a while, you can defend to a point, it just makes you a homer. I understand, I don't know what's in these updates. Yes, they're not released yet, I know. I don't need to know the exact details to know that MS made a roadmap and that its being pushed to the right. It happens. I'm an Engineer, happens in my field all the time. But with MS, it's been happening a lot...so much so there are jokes like "soon™" and "coming soon". Being unbiased and calling a spade a spade shouldn't result in a "you don't know what you're talking about" comment which is pretty much how I read your comment, and keep defending MS even as they keep making promises and keep pushing the timeline back. Also, please don't take me as some of the folks here commenting nonsense like, "jumping to android" or "Windows Mobile is dead". I'm a huge supporter and always will be.

They keep pushing these imaginary speculative rumored timelines back.
This site is pro Microsoft destruction in a very clever way.
People remember hype and speculation as if they very official Microsoft announcements and promises.
Then they get mad at Microsoft when the outrageous demonic blatant super lies don't match the reality.
News flash: they were never meant to be accurate - except in a very deceiving way.
* Click Whoring *

I call a spade a spade too but MS have been releasing updates every few weeks. Please reply with links on an official MS site where they made these promises you mention.

Please make mobile a little nicer (look and feel) and dont wait until 2018 with visual updates.

Yes! Would be nice for the Action/Notification centre to be Translucent (optional setting), and maybe landscape Start screen. Only time will tell

Less THAN* half a year away

Pretty exciting stuff. I'm looking out for the alleged Mobile changes (so excited) and for RS2 to align with the Surface Book 2 (and hopefully my shiny new PC).

I'm also waiting for some tasty Windows Central app updates *wink wink*

besides continum ... where are the new features of rs2???? havent see something so far... i dont want to plug my phone to a monitor i have a pc....

Calm down. Why would they announce new stuff before their event.

I suspect that RS 2 will be a "regular" update that finishes/polishes and finaziles the current W10. RS 3 will be the first step to prepare for (real) new features that come with new hardware and memory options.
RS 4 then will iron out all the glitches of RS 3. Locks like a tick-tock model that we have seen with Intel before. This model also would explain why a new Surface-branded mobile gadget (phone?)
might be available at the earliest along with RS 3 (for the adventurous) respectively along with RS4 (for regular users). HP has entered respectively positioned themselves on the W10M market very early
so they will have a very good position when things do get started with W10M. HP & customers can now kick around the ball with the Elite X3.
When the real ball gets rolling, HP and their customers already have gained practical experience
and HP will have new hardware ready (Elite X4 or whatever) that incorporates a couple of new features. My assumption is that the X3 is mainly intended for extensive W10M tire-kicking,
the X4 and a Surface-branded product are targeted for the real kick-off with RS 4. My two Euro-cents so far. .

That isn't the model they are following tho. Redstone 2 isn't just a "polishing" update. Heck, when it comes to the rumours, there are a number of features that are more significant than there where in Redstone 1.

You're trying to apply logic to the actions of Microsoft. That's never a good idea.

If my Lumia 640 gets all these updates that would be great. The lifespan of the device would be much longer then what android offers and on par or exceeding Apple's update scheme. But probably I drop it in the toilet or lose it at a bar somewhere before I can find out.

2018 RS3/4.
I very much doubt Microsoft can think that far ahead.
They pretty much make it as they go along.
By that time, we would have seen so many restarts, breaking of working things, cancelling & porting Windows things, renaming of devices, resignation of executives, lay offs and more useless conferences. What I'll like to see though is a new C.E.O.

No guarantee that a new CEO will make things better at MS.

You win the dumbest thing anyone has ever said award. Microsoft have been thinking that far ahead with ask their software for decades.

If you at so buddy.
Let's see how many downvotes you get.

Sure doesn't seem like it given the path Skype has taken since they acquired it...or even Windows Phone/Mobile, for that matter.

I am quite disappointed. I was hoping for Windows 10 1701 bold edition.

On my 950 this build works really well. Battery drain has decreased significantly and it is very snappy. I like the option to have the phone report different hardware IDs to wifi networks. Makes me feed safer. #1 item on my wish list: SwiftKey port to Win10. I loooove that keyboard and hope they bring it over to Win10 also.

I agree that Windows keyboard is lacking. The 8.1 version was way better.

How many hours you get on full charge?

I hope Microsoft really pushed mobile hard. They already own the PC space and the 2 in 1 space, I hope they realize that growth will be in mobile and the probable "3 in 1" category

Microsoft have not updated my 2 laptops to Redstone 1 yet! Also my Outlook.com account has not been converted to the new format! I could download the ISO and do it myself, but I want to see how long it will take Microsoft to get to me.

Just download it and do an upgrade install :P

This Redstone will be available to all wp 10 users??

This should be the same month that they debut the Surface pro 5 tablet and the Surface book 2. who knows maybe the first models of the "surface smart phones will debut too. Devices VP Panos Panay and has staff like to keep their DEVICES DEBUT AND SPECS "TOP SECRET". THEY DID THIS WITH THE "SURAFCE BOOK" FEW KNEW IT WAS COMING AND WOULD BE A UNIQUE TYPE OF HYBRID LAPTOP.

Okay: for March scheduled, in June released, in September debugged.

awesome march 2017 will be the announcement of rs2 "coming soon™". Then there is approx 14 months wait beyond that.

It'll be for the desktop version. Mobile version will be dateless and coming soon :P. MS will claim that they are working on adding and refining mobile features when in reality it will be because they've streamlined mobile down to 10 employees working on it and no deadlines anymore.

There was a few weeks difference last time...

So, somewhere around september/october then.

I am hoping these are major releases and not just tweekings. I say this because being in their camp since win95 this is a major change and far more progressive knowing how the culture is which conservative can put a damper on the engineers undercutting innovations to the OS platform and their functionalities. They are basically leaking everything there is leaving nothing new or innovative that Apple or Google is surprised about allowing them space to build the equivolent in their products and services thereby nullifying any Windows advantage, in other words Microsoft plays the follower having very little to do with leading the market otherwise they would still market their wp which I think is a brilliant product with those "Live Tiles" and have enough fundamental apps to please those who like the platform and also allows for the lack of apps to be replace with the actual site that can be pin to the start screen.

Multi windows support on the big screen, yes please, continuum is ok but has potential. Hope rs2 provides this.

I hope that the Surface smart phones are released too It is possiable for Microsoft to upgrade the Lumia 950 XL''s electronics and give it a new case and brand it a "Surface" smart phone it would run like the HP Elite X3 but would be an ARMS CPU smart phone and run no Win32 desktop apps ecept through another software interface. this would not be loved by some Microsoft fans who want a Surface smart phone to natively run Win32 desktop but folks it is better than Microsoft having no smart phone to bring to the market place thus being absent from the smart phone arena

My Tablet still hasn't gotten the Aniversary Update, so I reckon this will come to it in 2018. Feeling like Android again. So glad I've moved pretty much everything else to Apple devices.
Windows Central Newsletter
Thank you for signing up to Windows Central. You will receive a verification email shortly.
There was a problem. Please refresh the page and try again.