Windows 10 Technical Preview will receive four security updates Tuesday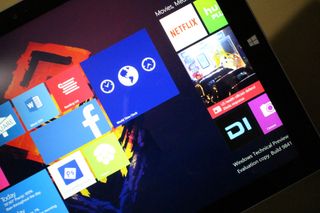 Microsoft plans to release a total of 16 security bulletins for many of its software products on Tuesday, November 11, including four that will affect the current Windows 10 Technical Preview and its cousin, the Windows 10 Server Technical Preview.
While Windows 10 isn't shown on the main list of software products that are listed on Microsoft's advanced notification page, an addendum does show that Bulletins 1, 2, 4 and 5 will also be available for the public test build of Microsoft's next operating system. All four of the bulletins are listed as "Critical" downloads, with 1, 2 and 4 centering around a Remote Code Execution issue. Bulletin 5 is a Elevation of Privilege.
Microsoft says, "Customers running these operating systems are encouraged to apply the update, which will be available via Windows Update." As with previous advanced notifications for their security bulletins, Microsoft is not releasing any details on these updates before Tuesday, in order to avoid giving that information to hackers ahead of time.
It's possible that Microsoft might take this opportunity to update other aspects of Windows 10 on Tuesday. A few days ago, company executive Joe Belfiore demoed some upcoming trackpad gestures that will be included in a future Windows 10 preview release.
Microsoft will release nine security bulletins for Windows 7 and Windows 8 on Tuesday as well, along with updates that will affect Microsoft Office 2007, several versions of Microsoft SharePoint and more. By the way, this will be the second biggest month in history for Microsoft in terms of the number of security bulletins it plans to release. Are you still using the preview version of Windows 10 and, if so, what's your biggest issue with it?
Source: Microsoft (opens in new tab)
Get the Windows Central Newsletter
All the latest news, reviews, and guides for Windows and Xbox diehards.
The continumm thing has to be ready first and Metro 2.0 also. I don't think we will see those things until 2015.

ARM shouldn't even exist for future tablets. Replace that with ULV Core M. That will be the future

On the phone...or maybe not... The future is a mystery.

ARM should be ditched for the tablet. With the current state of the Windows Store, an ARM powered tablet is really just a handicapped Windows tablet -- and I own a Surface RT that I use daily. But if I had to choose, I'd prefer a Surface that could really let me click in and do MORE - as in run x86 applications when I need on ocassiona, how ever rare. Because let's face it, I'm sure we've all had to be forced to get on a laptop or desktop when we need to convert an MP3, open Adobe Lightroom or whatever else a simple task there could be thats impossbile to do on Windows RT due to the weak store support.

Converting an mp3 and adobe lightroom are simple tasks??? Dafuq?

To be honest I'd choose x86 over ARM for a phone too if it were possible. I can only imagine the functionality that Microsoft could make available with that, for example full desktop mode when projecting via Miracast.

The better simple task that constantly sucks on RT is sites that use Flash\Silverlight.

ARM is less advanced than x86 in terms of Windows usefulness. Metro apps just aren't being built for serious tasks like content creation and PC gaming (Far Cry/Bioshock kinds of games, not Angry Birds games).

if Windows Phones are built with Intel processor inside... I can't imagine it.

It's cool! although people shouldn't use this kind of release for important stuff. but it's good for people who do that. I have seen people installing alot of software on it and running it like it was final version. I only hope the consumer version will be available before year ends, and it would be nice if more builds were released often. I ran it on virtual machine, and while it wasn't the same experience, still it was nice to try it. but I want to get to try new features often, not every once in a while.

I have it installed as a main OS on my laptop and using apps like Visual Studio Pro, Photoshop, Illustrator, Gimp...... Works perfectly fine on it. Do I recommend everyone use it like I do, no, but even in the early stage it runs quite well.

Well, I use it at work too with zero issues.

I'm running it on a spare hard drive (WD Black 750GB HDD) dual booted on my primary desktop. Using it as a primary daily machine is really the best way to beta test & find the "bugs" --- from both a usability and stability standpoint. I ditched the virtual machine due to poor performance --- and my machine has a Intel Core i5-2500K and 16GB high performance RAM.

I have a ThinkPad Yoga, and the Technical Preview is forcing me to open menu after menu just to toggle my Wi-Fi after the last major update. I could live with them killing rotation on my laptop, but now its just a hassle to not have the flyout work by default. I'll have to start looking for solutions for all the problems they're putting into the updates, haha. Other than that, no real complaints. I like Windows 10 so far.

I thought the same thing about it as well. No longer click then select. Now it's twice the work. I'm actually finishing up an app I wrote a couple of years ago to replace the new settings as well as a few other options like Share till they hopefully fix their mess.

That's a temporary regression. They're going to put network fly out back in future update.

They explicitly said this was a temporary issue to be aware of whilst some of the ui elements are being implemented. It was posted on the "known limitations" page of the download. You DID read that, right? Right?

No I gave up after I couldn't find the folder/partition that holds the new builds to offline update it

I can't even get the latest build (9860) installed. Gets all the way to the reboot step and after it runs through setup and log back in, it says it had to revert back to the previous version. Anyone else experience this?

Nope, report it in the feedback app so they can fix it

Yeah happened to me. After it reverts. Do a full disk cleanup, system files and all. Run ccleaner and fix reg errors and do a complete cleaning. Reboot once or twice, try the install again from the web site.

Yup,I have the same thing going on. I don't know if it's something to do with my local machine or is it really a Windows issue.

the annoying bugs with the latest build are modern applications randomly opening up, other than that, Technical Preview is pretty good

Agreed. The news app opens up all the time for me. No rhyme or reason.

Yeah, the store pops up randomly for me.

My only issue with it, sometimes it just won't boot until i force it to shut down (Hold power button) :\ However, i'm lovin' it

Anyone know a good anti virus software to use with Win 10 preview on desktop? Currently using avg, but it's giving trouble for the past couple days. Keep asking to restart computer to finish update.

Cool, going to try it out.

I'm using F-secure. No problems at all with it.

Why add a 3rd party AV? Defender is built in and uses the same virus engine as their commercial forefront products. I haven't used a 3rd party for years without issue.

Exactly! As the post above says, why use third party AV? Windows Defender has been my gatekeeper for about 4 years now. That and some common sense when dealing with third party apps will provide a decent level of security.

try 360 total security sir.. http://360safe.com/product-list.html just try, if not good for you, then you can uninstall it..

Does anyone else auto-hide the Taskbar? On both my Thinkpad E535 and ESXi virtual, the Taskbar only reappears when I mouse down to an area to the right of the permenant cluster of buttons (Start, Search and Task view). It's infuriating, since getting to the Start button with the mouse requres an awkward backwards L motion. I assume that's just one of the pitfalls of pre-beta software, but I was wondering if anyone else had encountered it.

I have tried several games downloaded from the Store that will not work at all. Apart from nothing working, it's great.

Same problem with games and here app

Still using it, works great. Have Steam loaded and can play games without any problem, loaded some GOG and Humble Bundle games. All work flawlessly. Love it

I turned off Windows Defender and now I can not activate it.
Is taking too long to turn on. Screen goes black until the lock screen appears, etc.
OneDrive is not syncing.

I have problem with closing MS apps by clicking on the cross on right corner of screen. Mostly it closes after I click there three times. Other apps closes fine

I'm on Windows 10 9860 and I didn't find any update. This seems very strange.