Windows 10's Timeline feature was doomed to fail from the start
Timeline first rolled out to Windows 10 in 2018, and it never really stood a chance.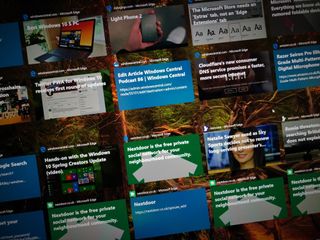 (Image credit: Windows Central)
Windows 10's Timeline feature first rolled out with the Windows 10 April 2018 Update. The feature allows you to sync your history across devices, including documents you've worked on and websites you've visited. Microsoft recently announced that Timeline would lose support for cross-device syncing for general users, cutting a major portion of the feature.
A Microsoft support document (opens in new tab) recently received a small update that bumps back the death of cross-device Timeline support to July. Originally, the same support document explained that certain Timeline functionality would end in June:
While Azure Active Directory users will still be able to use cross-device syncing, and Timeline will continue to work for local apps and files, it's clear that the Timeline feature didn't take off the way Microsoft hoped. To me, that's hardly a surprise. Timeline had issues from the start and was set up for failure.
Relying on developers
Windows 10 has an interesting landscape when it comes to app developers. Since over 1.3 billion devices run Windows 10, companies and developers need to support it. But how they support it varies greatly. Since Windows 10 is so backward compatible, many developers haven't embraced UWP and the more niche features of Windows 10.
Microsoft Edge and the Office suite support Timeline. Some third-party developers like the makers of myTube! also utilize it. But overall, big-name developers apart from Microsoft did not adopt Timeline. As a result, the feature didn't work with many of the best Windows 10 apps.
These issues are all too familiar for anyone who has followed Windows 10 app development over the years. Big companies have apps on Windows 10 in a form that works for their customer base but often don't spend the time to customize the app experience for Windows 10-specific features — at least not niche ones like Timeline.
Competing with similar functionality
While Timeline is a useful feature, many aspects of it aren't unique. The ability to jump into a recently-opened Word document or website isn't exclusive to Timeline. You can right-click any of the Office apps on Windows 10 and open up a recently opened document. The functionality isn't exactly the same, but I imagine it's similar enough that many people don't care. How many people want to click on their taskbar and scroll their entire app and website history to find a recently opened Word document when they can just open the Word document?
Edge and other apps have similar functionality. It's rather simple to check your browser history. Microsoft is even working on Edge syncing your history across devices on different platforms, which was a selling point of Timeline. Other apps like Adobe Premiere Pro also let you jump to recently opened files. Many apps have their own way of syncing history across devices as well, making Timeline mostly redundant.
Out of time
I'm not saying that Timeline is completely unused. I'm sure a few people have accidentally clicked on its button in the taskbar and wondered what it was. A few people may even use the feature on purpose, but it's had major hurdles to overcome since its launch.
All the way back in February 2018, our senior editor Zac Bowden said that "Windows 10 'Timeline' is truly useful, but its success is uncertain." In that piece, Bowden also pointed to developer support as a key factor in the success or failure of the Timeline feature.
With cross-device syncing going away for general users, Timeline will become even less useful. If only a few people used it before, I imagine even fewer will use it now.
Windows Central Newsletter
Get the best of Windows Central in in your inbox, every day!
News Writer and apps editor
Sean Endicott brings nearly a decade of experience covering Microsoft and Windows news to Windows Central. He joined our team in 2017 as an app reviewer and now heads up our day-to-day news coverage. If you have a news tip or an app to review, hit him up at sean.endicott@futurenet.com (opens in new tab).
Interesting take, but I disagree that time is up for the feature. If they stuck to a simple premise -- a mix of task switcher and recent apps -- and then only added features afterwards, it would be a big success and very useful. Instead they can't even get recently open Office files right (it gives an Office.com link, not the link to the local file, even if what you were working on was the open file). Simply focusing the feature on local files would make Timeline very useful to almost everyone. It's their cross-device ambitions that got in the way.

Totally agree. They also prevented it from working more than 3 days into the past for local domain-connected PCs. It's like someone concluded that they could use it as an incentive to push users to more cloud services and intentionally crippled it for everything local.

It's just not that useful to me so I'm personally fine with it going away

I wanted to like it. I do like the concept. However, MS made it so it won't work if the computer is connected to a local domain. It works for non-domain PCs (assuming you're using a Microsoft account) and Azure connected PCs, but not local domains, even if you have a personal MS account active, which works fine for OneDrive, Skype, favorite syncing in Edge and everything else EXCEPT TIMELINE. As far as I can tell, that was just to punish those of us running local domains so we would want to sign up for Azure AD. So I was never able to use Timeline and have grown to resent that it exists, because of the way MS broke it for me but still taunts me with it every time I hit Windows+Tab.

I just noticed: "AAD-connected accounts won't be impacted." That's Azure Active Directory, or cloud connected Domain-joined PC's. So, MS is concluding that this is an enterprise-only feature and still supporting it there, but ONLY if you're on their cloud services. That irritates me. That's like cutting OneDrive personal down to only syncing 10GB and saying, "If you want more than that on your OneDrive, go get a job with a company large enough to use AAD." I don't want to jump on the "MS doesn't care about consumers, only enterprise" bandwagon, but this is a great example of exactly that, and even then, only enterprises paying for MS to manage their domains. (To be fair, my analogy neglects to acknowledge that Timeline is rarely used, where OneDrive is widely used. Still frustrating that they're continuing to support it for enterprise use, which means it probably wouldn't cost them much more to still support it for all accounts.)

My main association with Timeline is how they botched Task View with it. I hope Sun Valley finally fixes it after three years.

Yeah to be honest I only use it for Task View. Most people don't need to see what documents and websites they were using on a particular day.

"Microsoft Edge and the Office suite support Timeline." Correction Edge supported Timeline but Edge Chromium doesn't, you need to install the extension that's actually intended for Chrome.

Nice idea but using your Browse History or Office's Recent Files lists are more efficient.

With the ability in Edge to sync across devices and O365 being able to do this as well it is pretty good and more matches my workflow. I can work on a presentation all day and then in the office app on my tablet it is right there in the recent files for me.

It would have been extremely useful say if Microsoft had mobile phones that ran Windows /sarcasm. I do alot of work on the go and with office integration on my lumia 950XL. I could pick up where I left off. The office hub app for Android - still using Sailfish X with android apps (which in my opinion are extremely crappily optimised ergo the need for beefier and beefier specs YoY). I still have the flexibility to a degree. I no longer have the flexibility of email folders. I have to dig through my accounts to find the email I was working on. The work around is to add them to the outlook desktop application but that's not possible on a work pc and I don't want the hassle of dealing with corrupted pst files either. The web client, iphone and android apps are primarily designed for a single account. Fine for most, extremely aggravating for people like me who rely on email heavily.

Used as element of research for working with multiples devices.
Probably interesting for verify task effectued.
Simply for having historic on images, and it's okay for this.

In touch mode, Timeline is a night mare. Half the time, I try to close an app. I end up selecting it and jumping to the window I want to close. Then there is the annoying part of selecting it to bring up the drop down menu. In order to do anything you have to double tap the window. They cant even make it useful for snapping one to the side. You can physically tap and move it around but once you let go it just snaps back in place. Why didn[ tthey allow you to drag it to the left and right and make it snap... Such a useless feature. If i want to see a file history and most of the time its office based. I open up the app and just pick what I want.

They need to keep Windows simple. Straight to the point stuff. Optimise the core of the system and prioritise resource usage and gaming mode. Then run surveys on what people want and add it. Hell, check what the most downloaded tweaks and changes are then implement them... Windows has a lot of untouched potential.

I guess it depends on your app library. Not many support them, not even MS apps. I used it with myTube. It was nice to see all the videos I had watched recently. I would simply launch task view and saw my recently played videos on the laptop hooked up to my TV. It is once again a feature that needs time to get supported by devs and then to be used by end-users.

Working with a lot of different media throughout a productivity day, I loved the idea of Timeline.
The issue was that too often, documents and other files reopened with Timeline, would launch via the or worse: not open at all. Items would open, but be the wrong version or copy. This is the same issue Andrew G1 describes. There were many rough edges that never got ironed out. That said, I never experienced any severe performance issues with it.

To be frank, I only have one Windows 10 device, and use timeline locally anyways, this won't really affect me and will just be useful to me as it has from the start lol
Windows Central Newsletter
Thank you for signing up to Windows Central. You will receive a verification email shortly.
There was a problem. Please refresh the page and try again.