Windows 10 April 2018 Update ultimate resource guide
The new version of Windows 10 has finally arrived, and in this guide, we'll answer all your questions to master the April 2018 Update.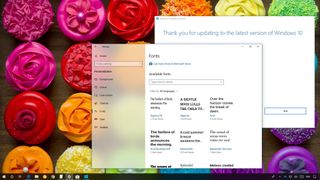 The April 2018 Update (version 1803) for Windows 10 became officially available on April 30, 2018, as a manual download, and on May 8, the update started rolling out through Windows Update.
In this fifth refresh of Windows 10, you'll find a number of new small and big features, such as Timeline, Nearby sharing, and a new font experience. However, this update doesn't include as many new features as previous versions, because this time around Microsoft is concentrating more on improving existing features and continue modernizing the user experience. These improvements are available across Windows 10, but more specifically, in the taskbar, Settings app, Microsoft Edge, and Windows Security.
In this Windows 10 guide, you'll find the answers to most common questions to get started with the April 2018 Update, whether you're planning to upgrade later on, or you're already running the new version.
Windows 10 April 2018 Update
Here's everything that Windows 10 users need to know to master the new features and changes:
How to get the Windows 10 April 2018 Update?
Windows 10 version 1803 is slowly rolling out to compatible devices, and the recommended method to get it is to wait until the update downloads and installs automatically through Windows Update.
Of course, if you want to upgrade early, or it's been sometime since the April 2018 Update released, there are a number of ways to install it manually. Some of these options include using the Media Creation Tool to do an in-place upgrade or clean installation.
And you can also use the Update Assistant, which is a tool that Microsoft makes available to force an in-place upgrade if your device is having problems with Windows Update.
Why do I no longer have enough space after upgrading to the Windows 10 April 2018 Update?
If you're using a device with limited storage, you may notice that after the upgrade you no longer have the same available space as before.
This happens because Windows 10 saves a copy of the previous installation in case you need to rollback. If everything is working as expected, you can reclaim anywhere from 10GB to 20GB of storage by deleting the folder with the previous installation files.
Why isn't my device isn't getting the Windows 10 April 2018 Update?
This question can have a lot of answers because there are a lot of factors that could be preventing your device from getting the update. However, usually, it's because the update is not ready for your hardware configuration. Or it's likely that the update hasn't arrived due to the fact that Microsoft rolls out new versions of Windows 10 slowly, and it can take several months to reach every device.
What are the problems with the Windows 10 April 2018 Update?
There aren't widespread problems with version 1803, but there have been reports of several isolated issues, and Microsoft has confirmed at least four of them.
For instance, Microsoft has acknowledged freezing problems with specific apps after the upgrade, which the company has already fixed with the latest cumulative update.
Unfortunately, some Alienware computers are not able to install the new version, but a fix is in the works, according to Microsoft.
Also, the company is working to fix issues with Solid-State Drives (SSDs) from Intel that are causing crashes, and other SSDs from Toshiba that are affecting battery performance on a small number of devices.
Other isolated problems include Windows 10 not preserving users settings, File Explorer crashing, and black screen during the update. And there have been reports of issues accessing microphone and camera, but as it turns out this is happening as a result of new privacy changes with the latest version.
If you're having problems with the Windows 10 April 2018 Update, check out our comprehensive guide, where you'll find instructions to fix pretty much anything that can go wrong with the new version.
Recently, Microsoft also released update KB4103721 to address some issues, but shortly after the rollout a lot of users have been reporting problems with the update. If your device isn't able to boot after installing this patch, you can use this guide to remove it.
Can I block the Windows 10 April 2018 Update?
Yes. You can't entirely skip the feature update, but you can postpone the April 2018 Update for a long time in a few ways.
If you're running Windows 10 Pro, it's possible to block the update for up to 16 months using the Semi-Annual Channel (Targeted) branch. In the case that you're running Windows 10 Home, you can't use this option, but you can still use a metered connection to temporarily block the update.
Are there any new changes with the Settings app?
Absolutely. In this release, Microsoft continues its quest to retire Control Panel from Windows 10 by migrating more features to the new experience and introducing new settings, in addition to a number of tweaks to the experience.
Starting with the Windows 10 April 2018 Update, the Settings app brings the Sound settings to the experience giving you easy access to control your speakers and microphones. You will also find a new Fonts page in the Personalization section that allows you to preview, add, and remove family fonts.
There a new options to control and monitor data usage for devices connected to the internet using a limited data plan. Also, you can now even throttle bandwidth for foreground downloads from the Windows Update advanced settings.
The Settings app is now making it easier to access and manage app settings using this experience.
Among other things, you can decide whether the scrollbars always stay visible or hidden, and Windows 10 is also introducing changes to make easier to apply system filters.
Check out our guide with everything you need to know about the Settings app in version 1803.
Can I reset my local account password from the Lock screen on Windows 10 April 2018 Update?
Yes. The Windows 10 April 2018 Update is adding the ability to add security questions to a local account in the Settings app, which allows you to reset your account password from the Lock screen.
Are there any new improvements with Microsoft Edge?
Yes. With the release of version 1803, Microsoft Edge is getting a number of new features and changes, including visual improvements using more Fluent Design elements and newly redesigned Hub experience. You'll also find a bunch autofill improvements, including the ability to fill out card information automatically when making online purchases.
Under-the-hood, the browser now enables Service Workers and the Push and Cache APIs to push notifications to Action Center and access websites and services offline. You can now use extensions InPrivate mode, print web pages without ads, and the PDF, EPUB, and Reading view received numerous improvements, making the experience more consistent and easier to use.
Are there any security enhancements with the Windows 10 April 2018 Update?
Yes. The April 2018 Update brings a number of security enhancements. In this new release, you'll find an updated version of the Windows Defender Security Center that includes changes to make settings easier to find and configure. The experience also includes two new sections to improve the sign-in security and manage hardware-based security features.
In addition, starting with version 1803, Windows Defender Application Guard (WDAG) for Microsoft Edge arrives in Windows 10 Pro.
What's Timeline and how do I use it on Windows 10 April 2018 update?
Timeline is perhaps the most significant feature included in the April 2018 Update, and it's a new experience that allows you to resume activities you're working in the past.
Using Timeline, you can resume a web page you were reading, finish working on a Word document or pick up an app where you left off on the same or different device that uses the same Microsoft account.
Check out our comprehensive guide to get started with Timeline, and to learn the steps to manage its settings.
What's Nearby sharing and how do I use it on Windows 10 April 2018 Update?
Nearby sharing is a new feature that Microsoft created to quickly and effortlessly transfer files and links wirelessly to nearby devices using Bluetooth and a network connection.
However, for this feature to work correctly, both devices participating in the transfer must be running the Windows 10 April 2018 Update, have a correctly configured Bluetooth 4.0 adapter, and must be connected to the same network for best performance.
Can I set up Windows Hello from the Lock screen on Windows 10 April 2018 Update?
Yes. Starting with version 1803, you can set up Windows Hello PIN, Fingerprint, and Face authentication without having to open the Settings app.
What happened to Quiet hours on Windows 10 April 2018 Update?
Quiet hours still part of Windows 10, but it's now called "Focus assist," and with the new name, you're also getting a bunch of new features to customize the experience.
For instance, you can now select the hours during which you want Focus assist to automatically to stop notifications from distracting you. You can use priorities to allow only specific notifications, apps, or people to break through the quiet hours, and a lot more.
You can use this guide to learn everything there's to know about Focus assist on Windows 10.
Can I review and delete telemetry data on Windows 10 April 2018 Update?
Microsoft is introducing some changes to make it more transparent how the company collects telemetry data about your device activities.
Starting with version 1803, you'll find new options to prevent Microsoft from collecting typing and inking data, and there's a new app that allows to review and delete the data already uploaded to the Microsoft servers.
Is Microsoft removing any legacy features with the Windows 10 April 2018 Update?
Yes. In addition to introducing new features, during the development process of a new version of Windows 10, it's also the time when Microsoft removes and deprecates features that are no longer needed, or never gained popularity.
On Windows 10 version 1803, Microsoft is removing and stopping the development of at least 13 features.
Always remember that if the new update is giving you any problems, you can use the Windows Central forums to get answers, and you can also check out our latest help articles to learn even more about Windows 10.
More Windows 10 resources
For more helpful articles, coverage, and answers to common questions about Windows 10, visit the following resources:
Windows 10 help, tips, and tricks
Get the Windows Central Newsletter
All the latest news, reviews, and guides for Windows and Xbox diehards.
Mauro Huculak is technical writer for WindowsCentral.com. His primary focus is to write comprehensive how-tos to help users get the most out of Windows 10 and its many related technologies. He has an IT background with professional certifications from Microsoft, Cisco, and CompTIA, and he's a recognized member of the Microsoft MVP community.