Is your PC getting the Windows 10 April 2018 Update on April 30?
Microsoft's next major update of Windows 10 (version 1803) is expected to arrive on April 30, but it doesn't mean your PC will get it immediately. Here's how the rollout will happen and who is getting it first.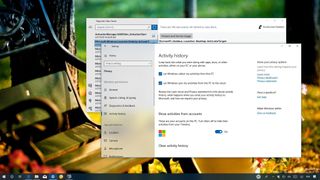 Windows 10 also continues the gradual implementation of Fluent Design, a new version of Microsoft Edge gets introduced, and much more.
It's yet another great release with tons of enhancements over the previous version, but Microsoft making it officially available on April 30 to millions of desktops, laptops, and tablets across the world, it doesn't mean that your device will get it on day one. Here's how a typical rollout of a new version of Windows 10 works.
Related: Our in-depth Windows 10 April 2018 Update review
What devices are initially getting the April Update?
Similar to previous rollouts, Microsoft will be releasing the Windows 10 April Update slowly and on stages. Starting on April 30, the company will be making the new feature update available for download manually, then on May 8, it'll be more broadly available through Windows Update for newer desktops, laptops, and tablets that have been tested to be compatible with the new feature update. These devices may include Surface and branded PCs (such as those from HP, DELL, Lenovo, ASUS, Acer, etc.) that came pre-installed with Windows 10.
During the initial rollout, Microsoft will be collecting telemetry data, feedback from consumers, device manufacturers, and early adopters. Then based on that data the rollout of version 1803 will expand to other devices.
Although your PC may be in the list of compatible devices, there are other factors that may block the upgrade, including incompatible software, device drivers, connected peripherals, or a particular piece of hardware. Your physical location and how you acquired Windows 10 (opens in new tab) will also be factors that will dictate when you'll be getting the update.
In addition, Microsoft is known to put a block on devices that have been identified to experience problems with new updates, and the restriction will stay in place until the company can ensure that the issue has been resolved.
Can anyone manually upgrade to the new version without waiting?
It's always recommended to wait until the new version is available to you automatically, but if you can't wait, or it's been a few weeks, there are many ways to upgrade manually.
Update Assistant
If your device meets the minimum hardware and software requirements, you can use the Update Assistant tool to skip the queue and install version 1803.
The Microsoft's Update Assistant is just an installer that allows you to force the update on a compatible system when Windows Update isn't working correctly. However, anyone can use the tool, even if the update mechanism on Windows 10 is working correctly.
Media Creation Tool
Alternatively, you can use the Media Creation Tool to upgrade your computer without waiting for Windows Update to offer the new version automatically.
Using the Media Creation Tool, it's possible to install the Windows 10 April Update preserving your files, settings, and applications.
Furthermore, if you're experiencing problems starting up, shutting down, or performance issues, you can use this tool to do a clean installation of Windows 10 with the April Update. The only caveat is that with this approach, after the installation, you'll have to restore your files from backup, reinstall your apps and re-apply your settings. (Check out this guide to learn the steps to create a full backup before proceeding.)
Wrapping things up
Although the Windows 10 April Update development is now complete and ready for deployment, it doesn't mean that it's compatible with every device. Microsoft is aware of this, and it's one of the reasons feature updates usually roll out in phases, and for the first several months they aren't considered ready for widespread use in organizations.
On April 30, hundreds of thousands of devices will start getting version 1803 automatically. If you're want to jump into the new version as soon as it's available, be patient, and if your device isn't getting the update, it's likely that there is a good reason. Also, bear in mind that it will take weeks, and even months, before every device is updated.
More Windows 10 resources
For more helpful articles, coverage, and answers to common questions about Windows 10, visit the following resources:
Windows 10 help, tips, and tricks
Mauro Huculak is technical writer for WindowsCentral.com. His primary focus is to write comprehensive how-tos to help users get the most out of Windows 10 and its many related technologies. He has an IT background with professional certifications from Microsoft, Cisco, and CompTIA, and he's a recognized member of the Microsoft MVP community.
already installed working fine but some apps in windows store need updating especially the ones that use auto start up ,as they don't work with the setting's in version 1803

hum you tried a app reset I don't see why they wouldn't work correctly with it

Update Assistant is the way.👍

The only Update Assistant that I see is for the Fall Creator's Update. Clearly I'm using the wrong link.

Nope, waited till a month ago to upgrade to the fall update, already set my pc to block this one. Not interested in being a free tester for Microsoft.

Have fun staying behind the world on new features, design, and security updates.

@Ma Rio... Well if being behind means my PCs keep their functionality and are usable we'll take that any day... After 2.5 years of dealing w/updates that "always" break something (mild to severe) we are definitely in no rush to do so.

@theefman... With you on this one 100%. IMHO Microsoft and their abilities to provide consistent and stable updates has become a joke (going by my experiences) so we want to stay far away as possible.

Indeed, I have installed this one though, via release ring. After having it for a while now, I do regret it. No major issues, but the overall experience is not good. Touch keyboard is broken since FCU, Cortana keeps getting worse, Groove keeps getting worse, Windows Hello takes ages, startup times increased significantly... I don't know what Microsoft is doing, but they need to stop and polish what they have. This insider mentality is annoying, not everyone wants to be a beta tester.

You can defer
if you want but this is really the best build of Windows 10 to date especially on older devices/ HDD/ EMC storage

Yes you can defer but at some point it'll become mandatory otherwise one won't receive security updates and such at some point. As for being the "best", only time will only tell if that is true... If my past history applying cumulative/feature updates on multiple machines is an indicator I don't hold out much hope that it will be.

Yes each update is supported for 18 months
can be extended additional 6 months or so after
by that time its tried and true and should be ready to switch over.
And if you plan to stay on the FCU as long as possible when you do move over I think you'll be surprised in a good way by it

If your NOT on the insiders program you are NOT a free tester THEEFMAN.

My daily driver is already upgraded Win-10 1803 and also Ubuntu 18.04 LTS. There have been no adverse issues with either. This is a 9 year old Dell Precision M6400. If this old beast can run the Spring updates I would hope that newer machines would be OK.

It's not always the age of the computer that proves problematic. It's also the hardware configuration which needs enough memory, enough hard drive space and supported subsystems (motherboard chipset, video, audio, Ethernet, wifi, media reader, etc). As a rule, if a system is A-OK with the current Win 10 1709 version, it SHOULD BE OK with the April 2018 version. But "should be" is never 100% with Microsoft. I, too, an elderly system. It is a Dell Precision 3500 with hex-core Xeon, 24GB of memory an SSD and another hard drive. I expect no problems updating it, because it runs smoooothly now. It will be the last of my systems upgraded, though.

Windows Central could just show how to use the esd files to create an isso and install. That's the kind of material we'd like to see here. I've done that and I've already installed in 5 machines. Best way to get it if you don't want to wait and have many machines do update.

Agreed, but only with ESDs from official MS sources, not dodgy Mega downloads from Russia (or anywhere else).

The Microsoft Media Creation Tool allows you to create an ISO which can then be burned to a DVD or set up on an USB stick. Why not use it?

I have the update anyway, being on Insider Release Preview. I'll get the ISO though as I always keep the latest build ISO for if I need it

I found that Windows build 17134.5 has fix some performance issues that were noticed on my computer.

Gonna wait until the automatic update occurs. Nothing I find interesting about this release.

What to do when WUA and WU haven't found the update? I kinda don't wanna use MCT or Insider Preview to install the updates ASAP to not deal with the sudden update promt like I did last time during a meeting...

In settings you can set active hour
to configure the update for a certain time

I totally reject your advice that I should opt out. It is wrong. What the article should have been limited to is how to opt out if you want to.

I have downloaded the ISO onto this computer to use to upgrade many computers. We will see how it goes on my guinea pig knockabout laptop first. This hex-core Xeon normally runs cool, at 120 degrees F or less. During the process with the Media Creation tool, the temperature of all the cores skyrocketed above 170! Microsoft always seems to find a way to make a simple task complicated and, in this case, more processor intensive. When I regularly download Linux ISOs, the process is short and sweet.

A day later it asked me to restart to finish installation in my custom built PC that I always used to force install after waiting for the weekend after release.
Windows Central Newsletter
Thank you for signing up to Windows Central. You will receive a verification email shortly.
There was a problem. Please refresh the page and try again.