How to enable Microsoft Edge Application Guard on Windows 10 April 2018 Update
If you have Windows 10 Pro, you can enable Windows Defender Application Guard to protect your PC from malware and other attacks while browsing the web. Here's how.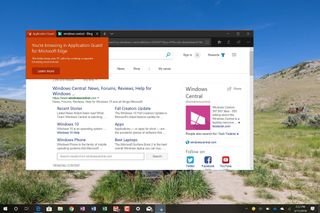 On Windows 10, Windows Defender Application Guard (WDAG) is a feature that allows you to isolate Microsoft Edge at the hardware level using Hyper-V technology to protect your device and data from malware and zero-day attacks.
Application Guard isn't new to Windows 10. It was a feature introduced with the Fall Creators Update, but it was limited to Windows 10 Enterprise. Starting with the April 2018 Update (version 1803), the feature is now available for devices running Windows 10 Pro with processors that support virtualization.
In this Windows 10 guide, we walk you through the steps to enable Windows Defender Application Guard for Microsoft Edge on the professional edition after installing the April 2018 Update.
How to enable Application Guard on Microsoft Edge
If you want to add an extra layer of security, you can enable Application Guard for Microsoft Edge using the following steps:
Open Control Panel.
Click on Programs.
Click on Turn Windows features on or off link.
Check the Windows Defender Application Guard option.Quick Tip: If the option is grayed out, it's likely because your hardware doesn't support this feature
Click the OK button.
Click the Restart now button.
Using Application Guard
After completing these steps, you can start a Microsoft Edge session using Windows Defender Application Guard. Here's how:
Open Microsoft Edge.
Click the menu button on the top-right.
Select the New Application Guard window option.
After completing the steps, a new virtualized environment will be created automatically to completely isolate the web browsing session from your computer.
If you're starting Application Guard for the first time, it'll take a while to start, but future sessions will open more quickly.
Once the feature is configured, you can use Microsoft Edge (or Internet Explorer) to browse untrusted sites using a separate Hyper-V container, which is a separate environment from the main installation of Windows 10. Then if the site tries to deliver malicious code, your computer and data will be protected.
At any time, you can disable the feature using the same instructions, but on step No. 4, clear the Windows Defender Application Guard option.
More Windows 10 resources
For more helpful articles, coverage, and answers to common questions about Windows 10, visit the following resources:
Windows 10 help, tips, and tricks
Mauro Huculak is technical writer for WindowsCentral.com. His primary focus is to write comprehensive how-tos to help users get the most out of Windows 10 and its many related technologies. He has an IT background with professional certifications from Microsoft, Cisco, and CompTIA, and he's a recognized member of the Microsoft MVP community.
I'm guessing this doesn't need Hyper-V to be switched on as well?

No, but it has to be supported, because it's actually a Hyper-V environment. If your PC isn't support, the feature won't be available.

Technically, no. You don't have to enable the actual Hyper-V feature in the Turn Windows features on or off - but of note, it does use some feature of Hyper-V and will cause VirtualBox to not allow guest VMs to start (and gives the same error you'd see if Hyper-V were turned on).

Dammit, means I won't be able to use this feature

Yep, I was about to come here and mentin this as well. I use VirtualBox and you cannot have two or more of the Virtual Machine software running at the same time.

Hmmm that means it probably breaks Blu-ray playback as Hyper-V does, then. Thanks for the info.

That's probably due to RAM as, AFAIK, it requires 8GB of memory as a minimum.

I have previously used Sandboxie to similar effect. That has the ability to run any program in a sandbox - not just a web browser. The name 'Application Guard' makes me feel like it should be able to do that to... or is it really just for an isolated browser session?

At this point it's just for an isolated browser session but I can't see any reason why Microsoft couldn't adapt it for other applications as well. How useful it would be for applications other than web browsers is debatable though.

Hmmm, I have Windows 10 Pro, and so I added it to Windows without any problem. However no webpage would load (I always get the "can't reach this page" error) Do you guys know, what might be the problem? Thanks a lot :)

Interesting! I run a normal Edge browser with extensions and it uses up 708mb to open a a single webpage. I use WDAG Edge to open the same webpage. It opens up just as quick but only uses 70mb without extensions...

Don't see that option in my Windows Features. I have the Spring Update.

Any way to make it open edge already configured? Or do you have to do this every time?

Based on the screenshot, you can open an Application Guard window or an InPrivate window. Can you open a window that is both?
Windows Central Newsletter
Get the best of Windows Central in in your inbox, every day!
Thank you for signing up to Windows Central. You will receive a verification email shortly.
There was a problem. Please refresh the page and try again.