How to get the Windows 10 April 2018 Update as soon as possible
Windows 10's April 2018 Update is now generally available, and these are steps to get it as soon as possible.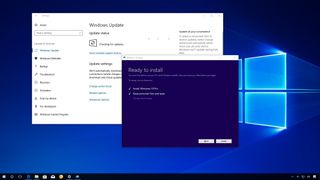 Providing nothing goes wrong, Microsoft is officially beginning the rollout of the Windows 10 April 2018 Update (version 1803) on April 30, 2018. This is the fifth major release for compatible devices with new features and changes to improve security, privacy, performance, and productivity.
In version 1803, you'll find new features like Timeline, Nearby Sharing, and Graphics settings. Windows 10 continues the gradual rollout of Fluent Design in the Start menu, taskbar, Settings, and throughout the experience. Users get more control over their privacy, such as options to view and delete telemetry data and deny file access to apps. The Settings app receives a lot of tweaks, including a new section to manage fonts, Microsoft Edge gets updated, and a lot more.
As usual, Microsoft is expected to push the new version gradually, meaning that the feature update won't be available on every PC on day one. On April 30, the update will be available for those who want to get it manually, and then on May 8, it'll start rolling out through Windows Update. However, bear in mind that some devices may take up to several months before they get it automatically. However, if you don't want to wait, there's more than one way to force the April 2018 Update onto your computer.
In this Windows 10 guide, we'll walk you through three different methods to download and install the April 2018 Update on your desktop computer, laptop, or tablet.
How to get April 2018 Update with Windows Update
Although the recommended method to get the Windows 10 April 2018 Update is to wait until you receive the notification that it's ready for your device, you can force down the version using Windows Update immediately after it becomes generally available.
To download and install version 1803 using Windows Update, do the following:
Open Settings.
Click on Update & security.
Click the Check for updates button.
After the update finishes downloading, click the Restart Now button.
Once you've completed the steps, Windows 10 will proceed to install the update, just like a quality update, but with the difference that this time the update will take longer to apply.
How to get April 2018 Update with Update Assistant
Sometimes even if your device is compatible with the new version, the update won't download using Windows Update for a number of reasons. If you're sure that the hardware configuration on your machine and applications are fully compatible, you can use the Update Assistant tool to upgrade.
To install the newest version of Windows 10 when it becomes available, or if you're experiencing problems with Windows Update, do the following:
Download the Update Assistant from the Microsoft support website

(opens in new tab)

clicking the Update now button.
Double-click the Windows10Upgrade.exe file to launch the tool.
Click the Update Now button.
If your device is compatible, click the Next button to begin the upgrade.
Click the Restart Now button.
After completing the steps, the Update Assistant tool will download the necessary files to upgrade your desktop, laptop, or tablet to the latest version keeping your files, apps, and settings.
Once the process completes, you'll need to follow the on-screen directions to finish the out-of-box-experience (OOBE).
The entire process using this tools should take less than an hour, but it also depends on the internet speed and system configuration.
How to get April 2018 Update with Media Creation Tool
Alternatively, it's possible to perform an in-place upgrade or clean installation of Windows 10 with the latest feature update manually using the Media Creation Tool.
Immediately after version 1803 becomes available through this tool, you can download and install the Windows 10 April 2018 Update using these steps:
Download the Media Creation Tool from the Microsoft support website

(opens in new tab)

clicking the Download tool now button.
Double-click the MediaCreationTool.exe file to start the process.
Click the Accept button to agree to the terms.
Select the Upgrade this PC now option.
Click the Accept button again to agree to the applicable notice and license terms.
Click the Next button.
Confirm the Keep personal files and apps option is selected. (If it's not, click the Change what to keep link to select the option to prevent losing your files, apps, and settings during the process.)
Click the Install button to begin.
Once you've completed the steps, the Media Creation Tool will take over and complete the installation of the Windows 10 April 2018 Update on your device preserving your settings, apps, and files.
If you come across any issues, you can also use the Media Creation Tool to create a bootable media to go through the upgrade or clean install of Windows 10.
Microsoft is always proactive in making available the new installation files using this tool, but sometimes, it could take a few days until a new version can be downloaded using the Media Creation Tool.
Wrapping things up
Although jumping to a new version of Windows 10 immediately after it's released has its advantages, it's always recommended not to rush and wait until the update becomes available automatically via Windows Update.
The reason is that, during the early days, new releases aren't fully compatible with every piece of hardware, and you may come across unknown issues that affect your experience. This is also one of the reasons, Microsoft rolls out updates gradually.
It's also always recommended to create a full backup of your computer before proceeding with the upgrade, in case something unexpected happens and you need to rollback to the previous version.
More Windows 10 resources
For more helpful articles, coverage, and answers to common questions about Windows 10, visit the following resources:
Windows 10 help, tips, and tricks
Mauro Huculak is technical writer for WindowsCentral.com. His primary focus is to write comprehensive how-tos to help users get the most out of Windows 10 and its many related technologies. He has an IT background with professional certifications from Microsoft, Cisco, and CompTIA, and he's a recognized member of the Microsoft MVP community.
At 14:11 BST the Media Creation tool is still offering 16299.

It should be rolling out at 5pm GMT, as stated on mspoweruser.com (10am pacific time)

No, that's in 18 mins time.

I'll wait until it will be available from Windows Update.

I always thought that "Get updates" button is for those who don't want to wait until Windows will search updates automatically. In other words, if I haven't notification about update, it doesn't mean that update isn't ready for my device, it's just because my Windows hasn't search it yet. Am I wrong?

There's a couple of things at play. For one, the update rolls out slowly to give them more testing data and to spare load on their servers from everybody downloading at once, unless you force it with a different method first. Especially if your device is older, you might be waiting a month or two for it to get rolled out to you. And then after that, yes, there's also sometimes time for Windows Update to look for updates. I think it checks once a day. If you hit the Get Updates button, you can check faster. If it has been approved for your device, now Windows Update can get it. This means there's a window of up to a day that your device might be approved for the update but your device hasn't checked for it yet. But you can check for it and still not see it because it hasn't been rolled out to you yet, which is where the other options come in.

Will this April update run pwas?

Would like to see fully functional instagram, facebook, aliexpress, careem pwas.

instagram been getting plenty of updates on the PC side recently.

But it is still giving 1709 not 1803.

5pm UK time, the MCT is still giving the previous build

I'm still waiting also in the UK, anyone seen the update?

No, it's 17:00h GMT. That's 18:00h BST (UK time) which is in 15 minutes.

The UK won't see it until at least 18:00 BST - that's 10:00 Redmond time :)

Was just looking forgot about BST lol

And there it is! Well, at least the title changed, but running the Upgrade Assistant still said I already have the latest, so maybe not quite.

Mine just started through Windows Update. "Feature Update to Windows 10, version 1803"

Woohoo...just clicked the old "check for updates" on my pro3, pro4 and surface book 2 and all are getting the update :) Cheers, Microsoft

Mine has started also go 2018 minor update

I checked for updates and received KB4093105 which brings the version to 16299.402. I then rebooted and check for updates again and I am now getting: Feature update to Windows 10, version 1803. Surface Pro3, on AT&T Internet at home. Indiana

Why stress to get the newest update? Wait until Microsoft pushes it out. That will most likely give you minimal problems.

and after this update, Edge will stop working! That is good! YESS!!!!!!!! Go Microsoft!

I'm using edge right now ???

worst update EVER!! wtf microsoft!!?? ive been trying to login to my pc since literally the update yesterday, everything is screwed, i hang at the lock/welcome screen for an hour or more, if i do get into the desktop there is no functionality. There is no logging in through safe mode, i seriously think my $2500 laptop is straight up screwed, what the hell did you guys do !!!????

I sorry to hear that. you have to do a Clean install of your Computers. It happened to me with Windows 7. Set an didn't get a windows computer to the came out with awesome Windows 8

wow I Just get April update wow it is Awesome wow
Windows Central Newsletter
Thank you for signing up to Windows Central. You will receive a verification email shortly.
There was a problem. Please refresh the page and try again.