Windows 10X icons begin rolling out on Windows 10 desktop for Insiders
New icon designs begin rolling out to some apps on Windows 10 in preview.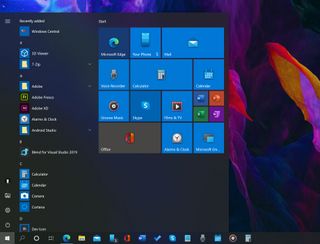 (Image credit: Windows Central)
What you need to know
Some apps are getting new icons on Windows 10 in the Insider Program.
These icons were first introduced on Windows 10X.
Just a handful of apps to begin with.
Microsoft has started rolling out some of the new colorful icon designs that were first introduced on Windows 10X to Insiders running regular Windows 10. These new icons are a huge departure from the flat monochromatic icon design that Windows 10 has been rocking since 2015, giving life back to icon design in Windows.
Right now, only a handful of apps have been updated with the new icons. Mail & Calendar, Groove Music, Film & TV, Calculator, Alarms, and Voice Recorder, are being updated today. I expect other in-box apps will follow shortly, such as the Microsoft Store, Camera, Feedback Hub, and more.
I also expect Microsoft will update the File Explorer icon at some point too, although that will have to be introduced with a new build as File Explorer is not an app that can be updated via the Microsoft Store.
I wouldn't be surprised if we eventually see more than just Windows 10X's icon design show up on Windows 10 desktop. There's already precedent for Microsoft testing things like the Windows 10X Start menu on desktop, and it would be pretty cool if Microsoft did that on an official level.
In the meantime, do you like Microsoft's new icon design? Let us know in the comments.
Zac Bowden is a Senior Editor at Windows Central. Bringing you exclusive coverage into the world of Windows 10 on PCs, tablets, phones, and more. Also an avid collector of rare Microsoft prototype devices! Keep in touch on Twitter: @zacbowden.
Excellent news, hope they will be coming to slow ring very soon as well!

Mixed emotion: personally I prefer the live tiles because you can get easily information from the app, but in case Microsoft wants to go back to the "static" icons, well ... I think the start menu style should be revisited again...

The article does not mention anything about the livetile functionality, just the icons. Those already existed in case you turn off the livetile, they are just getting a refresh. It sure if they plan on deleting the livetile function. Which would indeed suck as they are very useful.

I got the new Mail icon today but the live tile no longer updates

...and I'm putting Linux on my next machine.

Why? And what's the relevace?

Love these icons. Is there some way to export the icons? I wish Microsoft packaged these into an Android icon pack.

I generally like where Microsoft is going with the look of Windows.

The 10X icons look like something that was cool on handsets in the 00's.

And it should have never been branded "Uncool" in 10s. Flat oversimplified icons were one of the worst design trends ever. I'm glad that it's finally dying across the industry.

Give me flat and simple over a cartoony fad.

Excellent news. I was wondering when this would happen. Here's hoping they package them into Launcher 6.0 for Android also when it rolls out...

Now remove the square backgrounds from the all app list and UWP desktop shortcuts, bring back system-wide transparency and let's forget that Windows 8 & Metro ever happened.

When Balmer changed the direction to tiles, no wallpaper and icons, I predicted the demise of Windows phone/mobile. As a brand specialist, I pay close attention to human behavior and the very first things people do with their mobiles are change wallpapers, ringtones and change icons but the first two are definitely the to-do things when shopping for a device. The intro to the metro was Microsoft's biggest mistake and for the love of me I do not know why or who made the decision. Microsoft failed to repair the mistakes they made which is what killed the mobile fanbase. The only reasons why people still use Windows on their PCs is because there is no true replacement for everyone who still uses Windows. Yes there's MacOs and Linux but only us geeks never question a Linux distro or the sweet but expensive to use MacOs. Blackberry and Nokia many of us predicted would have failed for the obvious reasons of not listening to fans. Microsoft is somewhat listening but misses the mark by light-years. Windows needs to be built from scratch to not have so many frustrated customers who are trapped in the corner of no other options.

You're a brand specialist who thinks companies should listen to their "fans"?

Maybe Microsoft will use Fluent Design to please everyone

Now they need to get rid of the tile behind the icons in the app list.

This sucks so bad, compared to Live Tiles. :(
I really couldn't give a flyin flip what the icons look like. (But sure... somebody does)

This is so done in Microsoft style. Now I have all kinds of icons all over my OS for the same app. Search result and app details show the old icon, while pinned start menu icon and app icon in Store is the new one. Not that I am surprised that Microsoft is unable to make a consistent move in such a complex scenario as changing the icon of a single app, but yet again I am amazed by the variety of ignorance level at their development pipeline.
Windows Central Newsletter
Thank you for signing up to Windows Central. You will receive a verification email shortly.
There was a problem. Please refresh the page and try again.