Windows 11 build 22581 (and earlier): Everything you need to know
By Mauro Huculak published
These are all the official changes and features available in the past five preview builds of Windows 11.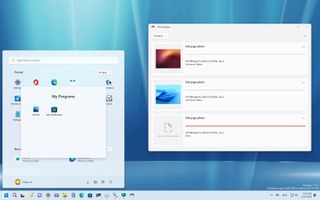 (Image credit: Windows Central)
Windows 11 build 22581 is making its way to Insiders, and it's the first preview for version 22H2 available in both the Beta and Dev Channels of the Windows Insider Program.
The update for Windows 11 doesn't include new features. However, it delivers a long list of improvements and rolls out previously available features to the Beta Channel, including Start menu folders, tablet-optimized Taskbar, redesigned Taskbar, updated version of Settings, File Explorer, and more.
In addition, since our last roundup of Insider preview builds, Microsoft has also made available four other builds, including builds 22579, 22572, 22567, and 22563, which were significant updates with new features and improvements.
Windows 11 build 22581 and earlier previews
These are the new features and changes from the last five previews of Windows 11 version 22H2:
Start menu
Since Windows 11 build 22579, the Start menu supports the ability to add a name for folders. When you create a new folder by dragging and dropping an app on top of another, you can click the "Edit name" option to set a new name.
Also, the "Windows Terminal" is now called "Terminal," and the "Windows Media Player" app has been renamed to "Windows Media Player Legacy" in the Start menu.
When you right-click the Start button, you will now see the "Windows PowerShell" option if the Windows Terminal has been uninstalled to continue accessing the console.
Windows Search
On build 22572, Microsoft also announced a new search experience for Windows 11 that shows valuable moments in time known as "Search Highlights." The new feature will periodically update the contents with fun illustrations and notable moments, such as holidays, anniversaries, and other educational moments around the world and based on your location. Also, on the left side, you will see an extended list of your recently launched apps, files, settings, and websites.
If you sign in with a school or work account, you will be able to search your organization's files and contacts through Microsoft Search.
Search Highlights will be enabled by default, but you can always turn it off by toggling the "Show search highlights" option in the "Search" settings page.
The feature won't be just a feature for Windows 11, the company will also be bringing it to Windows 10.
Taskbar
Windows 11 has a new Taskbar experience optimized for touch-enabled devices starting on build 22563. The new design automatically transitions from the optimized version when you disconnect or fold back the keyboard.
The new Taskbar design includes the "collapsed" and "expanded" states. The collapsed state shrinks the bar and hides all the app icons, but you will continue to see the system tray icons and time, preventing you from invoking the Taskbar accidentally. The expanded state shows the traditional Taskbar, but with more oversized buttons and a taller bar, making it easier for touch-enabled devices.
The feature is only available on tablets. You can enable or disable the feature using the "Automatically hide the taskbar when using your device as tablet" option in the "Taskbar" settings page.
In the original release of Windows 11, the Bluetooth option in the Quick Settings flyout didn't offer a lot of functionalities, but this will change with the next feature update. On Windows 11 build 22563, you will find a new Bluetooth page that allows you to view the available device, connect and disconnect peripherals, and see the battery status for supported devices.
Also, the "Keyboard Layout" section is no longer available from the Quick Settings flyout.
Widgets
The Widgets dashboard introduces a new update with build 22563 that brings the personal and news widgets into a single stream. According to the company, it should help make it easier to discover and engage with content.
File Explorer
As part of the File Explorer improvements, since Windows 11 build 22563, the Quick Access page can now show content from OneDrive, Downloads, and all index locations. In addition, files that are not locally available on the device (for example, those files from OneDrive) will now show thumbnails, and you can share them through OneDrive sharing.
On Windows 11 build 22567, the Windows development team introduced the "Open with" dialog to align with the new design language across the desktop, making it easier to configure a default app to open an app. However, this feature has been removed on build 22581, but the company says it'll be back in future updates.
Finally, since build 22572, you can use the "Shift + Right-click" shortcut to open the classic context menu instead of the modern alternative that offers fewer options.
Snap assist
On Windows 11 build 22563, Microsoft added changes to the Snap assist feature that offers Microsoft Edge tabs as suggestions to snap in your layout. The default behavior will show the three most recent tabs, but you can always disable the feature from the "Multitasking" settings page in the "System" section.
Task Manager
The Task Manager received an update that now shows the "Run New Task" option with a new icon on all the pages. Also, while in the "Summary view," in the "Performance" tab, the title bar will now be hidden.
Printer
Starting with build 22572, Windows 11 made a new version of the Print Queue app that aligns with the new design language using rounded corners, mica material, new iconography, and other elements.
The new application has also been designed to be more user-friendly with visuals that make it easier to view and manage print jobs.
Furthermore, the Print dialog interface has been updated with a modern design, and the feature is now capable of discovering network printers automatically. If you select a printer that was never available on Windows 11, the system will install it automatically.
Settings app
As usual, the Settings app has been getting a lot of updates. In the last five previews of Windows 11, the app has been getting updates to implement the new controls and other visual elements across many pages to make it a more consistent experience. Also, the search feature received various improvements to make searches faster and more accurate.
On Settings > Account, the Settings app is ditching the "Your Microsoft Account" page, and it's bringing the Microsoft 365 subscription information to the "Accounts" section. In the "Accounts" section, you will now find payment information, alerts when you need to update your billing information, OneDrive storage usage, and you will even see the people you share the benefits with.
If a Microsoft 365 subscription isn't available, you will see the information about OneDrive and the option to purchase a subscription.
On Settings > Apps > Optional Features, you can now install and uninstall the Windows Management Instrumentation Command-line (WMIC).
On Settings > Personalization > Taskbar, under the "System tray icons" settings, the Touch keyboard" setting is now a drop-down menu with the "Never," "Always," and "When no keyboard attached" options.
Also, the "Taskbar behaviors" has a new Automatically hide the taskbar when using your device as tablet option to enable or disable the new Taskbar optimized for tablets. (This feature will only be available on tablets.)
Settings > Privacy & security > Search now includes a new "Show search highlights" option to enable or disable the Search Highlight feature.
On Settings > System > Multitasking, the option to show Microsoft Edge tabs now works for Snap assist and the Alt + Tab interface.
On Settings > Windows Update, the page will show the "Windows Update is committed to helping reduce carbon emissions" message part of a new power management feature.
Starting on build 22567, Windows Update will schedule automatic updates during the times that will result in lower carbon emissions, such as when more clean energy is used, including hydro, solar, and wind.
The new feature is only available in regions where electrical grid data is available from "electricityMap" or "WattTime." You will know whether the feature is available because you will see the above message.
System improvements
In the past five previews, Microsoft has added several worthy improvements to Windows 11. For example, on build 22563, you will find a new policy to disable system update notifications.
The policy is called "Display options for update notifications," and you can find it in Group Policy > Computer configuration > Administrative Templates > Windows Components > Windows Update > Manage end user experience.
In the out-of-box experience (OOBE), Microsoft has added a new optional page to process that lets you link your Android phone to Windows 11.
Since the preview build 22567, the Windows Security app has introduced a new Smart App Control (SAC) security feature to block untrusted or potentially dangerous programs.
While in evaluation mode, the system will learn how it can protect the computer without getting in your way. If the process completes successfully, it will enable itself automatically. If that's not the case, SAC will disable itself automatically. (Microsoft has said that it'll reveal more information in the feature.)
The feature now supports relative paths if you use Windows Sandbox, such as
..\relative\folder..
.
On build 22572 and moving forward, you will find new modern icons for Focus, Quick Assist, and Windows Sandbox.
To help Intune administrators prevent encrypting the wrong drives by mistake, Windows 11 build 22579 ships with a new policy to exclude USB removable drives from the BitLocker encryption. When the "Deny write access to removable drives not protected by BitLocker" policy is configured, you won't get a prompt, nor will you be able to encrypt drives if it is in the excluded list.
Finally, the Magnifier and the on-screen keyboard now have new modern icons using the Fluent design system.
Input
As for the input changes, since build 22563, Windows 11 has more than 37 new emojis in the emoji picker, including "playground slide," "melting face," "beans," "coral," and "mirror ball."
Also, you will now see a small accent-colored dot in the bottom corner of their entries in the emoji panel for emojis that can be customized.
Touch gestures
Microsoft has also updated the multi-finger gestures for touch-enabled devices with more responsive and "delightful" animations that follow your finger.
Voice Typing
The Voice Typing feature now includes the following new commands:
To Enter: Say "Press Enter."
To Backspace: Say "Pres Backspace," "Backspace."
To Space: Say "Press space," "Insert Space."
To Tab: Say "Press Tab," "Tab."
Windows apps
Finally, in the last five previews, Microsoft has been adding several new apps, including Microsoft Family, Clipchamp, and an updated version of the Get Started app.
The Microsoft Family app wraps the family safely features you would typically find on your Microsoft account. Using this app, you can manage parental controls, configure screen times for games and apps, and track your family member locations.
The Clipchamp app is a new video editor from a company that Microsoft has recently acquired. The Clipchamp app allows you to make videos quickly without video editing skills. The app offers essential tools, but you will have to pay a subscription to unlock all the features.
The Get Started app isn't new, but it's been updated to include convenient links that you can pin to the Taskbar.
More Windows resources
For more helpful articles, coverage, and answers to common questions about Windows 10 and Windows 11, visit the following resources:
Windows 11 help, tips, and tricks
Mauro Huculak is technical writer for WindowsCentral.com. His primary focus is to write comprehensive how-tos to help users get the most out of Windows 10 and its many related technologies. He has an IT background with professional certifications from Microsoft, Cisco, and CompTIA, and he's a recognized member of the Microsoft MVP community.
Much ado about nothing. A comedy and the joke is on us.

Unable to upgrade from 22008 to 22581, reach 72% and rollback itself. Tried a few times both using windows update and iso.

I had some failed update attempts on previous Dev versions, where I had to go into windows update -> recovery -> go back to revert to the Dev version before 22563/567 and then it allowed update. Not sure it will work for you -- have you tried troubleshooter (not that it did anything to fix my situation)? Frankly, I was surprised 22581 installed cleanly after wrestling with updates for a month.

Can someone fix the groove media player or what ever its called. it is absolutely broken and ms just wont even acknowledge it.

Groove has been replaced by media player. For the little I use it, it seems to play CDs, my music library and some DVD lessons I had recorded. What doesn't work with it? https://www.windowscentral.com/goodbye-groove-music-new-media-player-rol...

I hope it's a very very long time before Microsoft ends Windows 10 support and forces people to move to 11. I want nothing to do with it

Cool story, but sure how it's relevant here

@JonsBrian W10 at present is set to be retired 10th Oct 2025. That may change nearer to the time.

There is precidence based on business uptake of the successor version. If Enterprise customers say W10 in 2025 is too aggressive, it will be pushed back or hardware requirements relaxed.

Taskbar is stuck in medium size. It's huge. I hate Microsoft.
Windows Central Newsletter
Get the best of Windows Central in in your inbox, every day!
Thank you for signing up to Windows Central. You will receive a verification email shortly.
There was a problem. Please refresh the page and try again.