Windows 11 running on M1 Macs isn't a 'supported scenario,' according to Microsoft
Microsoft won't officially support Windows 11 on Apple's M1 chips, but there's debate on how big of a deal that is.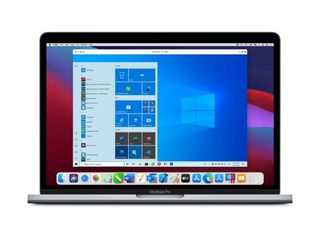 (Image credit: Parallels)
What you need to know
Windows 11 running on Apple M1 chips is not a "supported scenario," according to a Microsoft spokesperson.
People will probably still be able to run Windows 11 on Apple M1 chips with Parallels Desktop, but Microsoft won't have to fix any issues that appear.
There's debate on how much of a concern this clarification from Microsoft is.
Windows 11 running on Apple's M1 devices is not a "supported scenario," according to a Microsoft statement to The Register. The clarification from the tech giant has caused a stir around the web, though there's disagreement regarding how much concern this statement should cause.
As noted by XDA, Microsoft never promised support for Windows 11 running on Apple M1 devices. Additionally, just because Microsoft doesn't officially support Windows 11 on Apple M1 chips doesn't mean it won't work. It means that if a person runs into an issue, Microsoft isn't required to help.
Up to this point, Parallels has been able to run Windows 11 and Windows 10 on M1 hardware by utilizing Insider builds of Windows. Recently, Parallels 17 ran into issues on M1 Macs. The piece of software showed hardware a compatibility error when running a Dev Channel Insider build of Windows 11. Parallels has since released version 17.0.1, which fixes the issue.
The recent hardware compatibility error and subsequent patch illustrate what could happen in the future with Parallels on M1 hardware. Issues that occur will have to be fixed by Parallels rather than Microsoft. That's to be expected but could theoretically be an issue if a problem is particularly complex or is caused by something that Parallels can't fix.
Parallels has not responded to inquiries from several outlets at this time regarding its long-term plans.
Parallels Desktop 17 was announced in August 2021 with support for Windows 11. At its launch, the program promised significant speed and performance improvements compared to its predecessor. The software was optimized to run Windows 11 on Macs with Intel or Apple M1 chips, causing excitement among many users. Windows 11 will launch on October 5, 2021, so we'll likely have a clearer image of the situation with Parallels within a few weeks.
News Writer and apps editor
Sean Endicott brings nearly a decade of experience covering Microsoft and Windows news to Windows Central. He joined our team in 2017 as an app reviewer and now heads up our day-to-day news coverage. If you have a news tip or an app to review, hit him up at sean.endicott@futurenet.com (opens in new tab).
U can bet 110% someone will still install it and complain first thing when something isn't working properly and probably blame Microsoft for not doing their work.

My guess is, this is a "Not supported for now" type thing. I wouldn't imagine MSFT willingly passing up the opportunity to sell more licenses of Win11 to anyone 🤷‍♂️.

Unfortunately the price of security comes with the expense of such things, and I'm saying this while all of my machines don't have TPM support, so yeah I'm not sure if I will be able to run Windows 11 at all at this moment.

Will not be supported ever. Windows 365 license for cloud PC is what Microsoft wants to sell to CrApple Mac users!

For me at least, honestly at this point I just don't care. It used to be a joke that if you wanted the best Windows laptop you should get a Mac. And that used to be true! But it isn't anymore. If Apple and Microsoft want to squabble and blame each other over this niche use case, they can have at it. I'll just go get a nice Windows laptop and pretend like Apple laptops don't exist.
I really feel bad for people who want or need to use Windows apps, but their company will only give them a Mac. I'm not sure what those people will do.

This will be indeed interesting how the companies will deal with this. Most common use case for this is for software development, especially making apps. Having Mac allows them to develop for both Mac and Windows on the same machine. Since well, we can't buy PC and install MacOS on those, other than it is not official, technically it is against Apple End-User Agreement I believe. I'm not sure if Windows 365 can cater that, other than the added cost. It may be inefficient and basically developers can't do work offline if ever they need to work offline.

With cloud PC's accessible from anywhere with an internet connection, it is a lot less important to have Windows installed on your Mac. I never liked the Bootcamp experience all that much anyway. As for Parallels, it is a fairly elegant solution, but is also unnecessary when you can log onto a cloud PC on those rare occasions you have to have Windows. I wouldn't be surprised if Microsoft abandons running on Mac for further development of their new Windows365 offering.

The only major drawback of a cloud-based solution is needing internet access for it, and in some parts of the world with sketchy internet connections/power supply systems, it's just not practical, so having that option to install a VM will always be important.

Yeah, as much as "futuristic" this cloud PC solution, we all don't have perfect internet connectivity. There will be times that we have to work offline or even if the internet is spotty. Not all jobs require constant internet connectivity. For submitting project to clients or remotely, then yes. But things like video editing as a single example, you don't need internet just to edit videos if you already have the resources needed locally. Not to mention, it is bit inefficient to constantly upload and download projects from cloud PC for large file sizes directly to your local machine. Though it may be able to seamlessly connect Windows 365 to your company network using VPN and drive mapping, it just requires a bit more work.

Just get yourself a real Computer. Problem solved.

Yeah...I don't any casual Mac user cares about this.

Good news! Runs great on my Razer Blade Stealth...
Windows Central Newsletter
Thank you for signing up to Windows Central. You will receive a verification email shortly.
There was a problem. Please refresh the page and try again.