Windows 8 planned to RTM in August and launch in October this year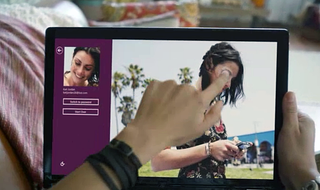 Windows 8 will allow you to poke people in the eye this October
Today at Microsoft's worldwide partner conference, Tami Reller, Corporate Vice President of Windows, announced when consumers can expect to see Windows 8 be released. October 2012 was the month provided, with manufacturers getting their mucky paws on the release (as well as Windows Server 2012) in the first week of August.
Reller also notes that business customers with volume licenses will also gain early access, matching Microsoft partners. ZDNet adds that Microsoft hasn't (and wont) let on when TechNet and MSDN members will gain access to the final version. Windows 8 will be available in 109 languages across 231 markets worldwide at launch.
Should you be hoping to build a new computer or order a PC before release, be sure to note that to upgrade to Windows 8 is just $39.99. If you haven't already, check out the release preview for an insight as to what's on the horizon. So, who's excited?
via: Windows Team Blog
Rich Edmonds is Senior Editor of PC hardware at Windows Central, covering everything related to PC components and NAS. He's been involved in technology for more than a decade and knows a thing or two about the magic inside a PC chassis. You can follow him over on Twitter at @RichEdmonds.
Sweet. Can't wait to see it on TechNet. And for $40 I'll upgrade my RP.

I can't wait for $40.00 upgrade. Daniel do you know when we can download the upgrade?

My bet is everything is October: Windows 8 new, Windows 8 upgrade and Windows Phone 8 devices.

Totally excited. Mu question is can I buy the upgrade when I'm running Win8CP? Or do I have to buy the full suite, the latter of which I'm inclined to believe since I don't see it as a listed "upgrade from" OS.

You can buy it with Win8CP, but you cannot upgrade. You have to choose a clean install instead of a upgrade. You have to reinstall everything.

i don't think so, u can certainly but the upgrade, but u won't be able to run the installer until u have a proper "old windows" license, at least from what i read a license checker will run first before it installs

You definitely cannot upgrade from the CP which is a trial preview and you got for free. $40 to upgrade from XP, Vista or Win7, if you don't have those you have to buy a full license.

I have a license for win7 which what I put win8cp over.

The Surface will be my introduction to WP8, I cannot wait.

This will pair nicely with my phone. Can't wait.

It's nice that this time Microsoft provided an affordable upgrade. Although for W7 they *did* offer a "family pack" of 3 upgrade licenses for $150, which is a bit more than the W8 rate but not much more. The W7 Family Pack was only offered for a limited time, though (I took advantage of it). The W8 upgrade cost apparently won't go up so that's nice.

Already poking people in the eye on my windows phone. harhar

So, I assume MS Surface RT will be out in October now that Win8 date has been announced.
Now just for the price(s) of Surface :)

You're out of your mind, everytime I have to go use a Windows XP machine for more than a few minutes I cringe. Windows has improved so much in the last decade I suggest you get with the times.

I know I am going to be upgrading my brand new dell inspiron but I just might leave my alienware with windows 7.

I dont get the poking in eye thing.. Sorry Im stupid...

You can log on to Win 8 by gestures on pictures, such as poking somebody in the eye 3x, instead of using a password.

I cant wait for my Surface Pro!! Bring it!

I guess between A new Windows 8 Phone and a New Windows 8 Tablet My Birthtday in October will be VEEEERY Special! Cannot Wait! ;) Happy waiting to everyone!

I wish my birthday was then:)

When is the surface coming out... I can't wait to slap iPad users with this... Its built to last isn't it??

Was at the conference today and noticed that the windows phone section was pushing the Acer allegro and zte Tania. Had them on display right out in front. All over Toronto is a- buzz with Microsoft. Hotel conference centers, private parties, and of course the big conference is absolutely massive! Nice to see:)

All I know is this, I have 7 systems in this house one being a mac bookpro the rest win machines one vista one xp three win7 and this rig running Win8. When I first started using Win8 I hated it the firs hour or so. Now I hate having to use the laptop running Win7 Yes Win8 now has some minor bugs what I dislike is the way I have to shut down or having to password in all the time between me or my wife on this rig. Other than that Win8 is some kind of nice. instead of having widgets I have live info coming in on my tiles. I can't wait for the final to come out and more so I can't wait to see what Win 8 tablets will be like right now of course Microsoft has me but I'm keeping my fingers locked that Nokia comes out with something very sweet in the tablet end. I think I'm really starting to like the look of the new Microsoft and where they are heading. all around the block desktop/laptop/tablet/phone. it's going to be the year of Microsoft.

The best thing MS is doing is the 14.99 upgrade for newly purchased PCs :)

As expected :) Late Sept/Early Oct is when MS like to launch things.
Windows Central Newsletter
Thank you for signing up to Windows Central. You will receive a verification email shortly.
There was a problem. Please refresh the page and try again.