The Windows Central forums are now ad-free
By Chris Parsons published
We are delighted to announce that our forums are now an ad-free experience for all logged-in users!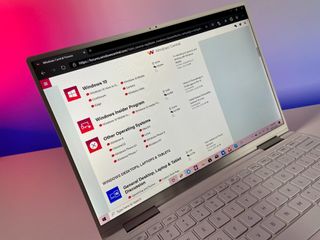 (Image credit: Daniel Rubino / Windows Central)
To welcome Windows Central to the Future family of sites, your Community Team would like to proudly announce that forums here at Windows Central are now completely free of advertisements to all registered, logged-in members. We want to make your experience in our communities the absolute best that we can, and one way to do that is to make it much easier and more convenient for you to navigate the boards and engage in discussions. To achieve that goal, we've turned off all ads for all logged-in, registered users of the forums.
If you've not yet registered, now is the perfect time to do so to take advantage of the new ad-free forum browsing. Be sure to sign up here and swing by our Introductions Thread to say hi!
Registration and participation in our forums are, as always, free - and now so much more convenient! We are incredibly delighted to make this change for our fantastic community and can't wait for you to dive into the new forum experience.
Thanks!!! This is a move that values your community.

No more sponsored posts?! Those are ads afterall

The site has to pay the staff somehow? Money doesn't grow on trees as much as everyone would like 😅.

@TechFreak1, Sponsored posts are fine but only if they are clearly marked as such.

@Bluey Ross, of course - I thought that was a given lol as not marking sponsored posts when they are; harms the sites credibility and good standing with readers / forum users.

Miss those forum engagement time during Windows phone was relevant. Now it feels like desert.
Hopefully it's starts buzzing again. The thing I hate about Microsoft is
" the waiting time " fans has to go through. It's really shame that it will take full 1 year till surface duo & neo are out in the market.

👍👍 Awesome news for new and existing forum users!

This is good news. But when will you fix the Windows app so we can log in again. It's been many many months...maybe about a year since I have been able to log in with the Windows app. I'm sending this with my Android phone.

Yeah, this Windows app needs a log in fix ASAP. Also, for Android, regarding "Supported links" in the "Open by default" section for Windows central app, the links are for the old Windows phone site and hence, it doesn't support opening notifications from the app within the app itself and opens the browser instead. And one last thing, fix notifications in Windows app and add reply notifications in Android app.

The Windows app is a complete embarrassment. They should probably invest in the PWA model.

I went to the forums and my eyes nearly caught on fire. Dark mode please.

Huge improvement - appreciate it!
Windows Central Newsletter
Get the best of Windows Central in in your inbox, every day!
Thank you for signing up to Windows Central. You will receive a verification email shortly.
There was a problem. Please refresh the page and try again.