Windows Central Podcast 109: New ARM PCs, Microsoft earnings, Andromeda sightings, and more!
This week on the Windows Central Podcast: New ARM PCs, Microsoft earnings, Andromeda sightings, and more!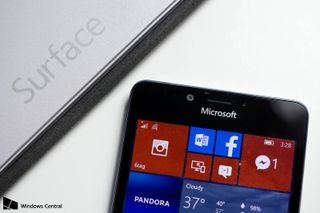 We're back with another exciting episode of the Windows Central Podcast, and this week Daniel Rubino and Zac Bowden have some unique and interesting hardware to check out in this episode, including the ARM-based Samsung Galaxy Book 2 with LTE connectivity, and the dual-screen Lenovo Yoga Book C930.
They also talk about Microsoft's Q1 FY2019 earnings report and a new 19H1 build for Insiders. Plus, Zac shares some nuggets of information from a Microsoft presentation, stoking the fires of some hot, fresh Andromeda rumors. The common theme across the topics this week — it's all about the haptics!
This episode of the Windows Central Podcast was recorded on October 26 2018.
Links:
Subscribe to the podcast
Hosts
Make this show great by participating!
Send in your comments, questions, and feedback to:
Zac Bowden is a Senior Editor at Windows Central. Bringing you exclusive coverage into the world of Windows 10 on PCs, tablets, phones, and more. Also an avid collector of rare Microsoft prototype devices! Keep in touch on Twitter: @zacbowden.
With more Windows 10 ARM PCs being released, it made me think about the future of UWP. Emulating 32-bit x86 apps isn't going to cut it for some users. So the key is to get more UWP apps. Does anyone feel that this along with Windows 10 S will perhaps motivate more developers to create full-featured programs for the Windows Store? Adobe is releasing a fully functioning version of Photoshop for iPad. So that tells me that we are starting to make a full transition from laptop/desktop to tablet style PCs. Viewing the typical tablet as machine that is only good for basic usage is slowly fading away. By the way, I agree with what was said on the podcast about Microsoft's relatively recent change of direction. They have been doing a commendable job with their hardware, software and services. Hopefully this trend continues with Andromeda (Surface Mobile). I need to upgrade my iPhone 6 and I have no real desire to invest in another iOS or Android device.

"Emulating 32-bit x86 apps isn't going to cut it for some users. So the key is to get more UWP apps."

The helps but even easier will be for devs to just recompile 32-bit x86 and 64-bit with ARM64. That feature is coming to devs soon and will give the best performance with little cost (it's basically hitting a button, little to no recoding).

I wasn't aware that Microsoft was rolling out a ARM64 SDK. I was doing a little reading on the topic and it seems that it's still in preview and that apps cannot be submitted to the store. This was according to the article Dan wrote back in June 2018 on VLC being released for ARM64 (link: https://www.windowscentral.com/vlc-releases-arm64-version-windows-10-arm...) Daniel, do you have any idea of how long it will be before ARM64 is officially support by Microsoft? I guess one potential issue is that even though they recompile their apps to ARM64, they will still be designed for mouse/keyboard input which is ideal for modern/future computing. I want to see more developers follow Adobe and release fully-functioning software but for modern touch-enabled computers/tablets.

Totally agree with you guys. Nadella's slowly but surely letting W10M rot on the vine was the best thing that ever happened to Microsoft. Frees Microsoft up to focus solely on endeavors that bring in revenue from the people that spend the most money (businesses). And that's all that matters really, isn't it? They're not a charity after all. They should just put UWP out of its misery too. If you google IT jobs in your nearest big city, it's clearly seen that nobody is hiring UWP developers in business-centric development. UWP is a consumer focused platform for devs writing MS Store apps. If they were to free themselves of its burden I'm sure Wall Street would reward them with a big fat doubling or even tripling of their current value.

@Ferris Bueller, I agree that UWP support is poor but I feel they can't just kill it off without a proper replacement.

"They should just put UWP out of its misery too."

The problem here is you fail to address what then is Microsoft's dev/app platform for the next 20 years? Win32 - the thing that's already 20 years old will carry them into the next 20? Very unlikely. Obviously, UWP needs work, but ditching it means "we're all in with Win32" which undercuts any move to something like Andromeda/Polaris for future computing. No one thinks for consumers and even business that running Win32 apps - which has basically ceased ALL development besides a few browsers, Adobe apps, and boutique enterprise apps - in 2028 is going to be a thing.

Running browsers and a few boutique apps already sums up probably, what 80%+ of current Windows usage?

Alternative windows terminal on github? If only Microsoft would integrate github with "windows store... they could easily add appx packages posted on github into "command line" version of windows store... and have it working like apt-get... certificate comes automatically from adding your credit card to git hub to post appx package to store
Windows Central Newsletter
Get the best of Windows Central in in your inbox, every day!
Thank you for signing up to Windows Central. You will receive a verification email shortly.
There was a problem. Please refresh the page and try again.