Windows Central Podcast 126: The death of Windows 7, Halo on PC, and more
This week on the Windows Central Podcast: The death of Windows 7 and Groove Music, plus Halo on PC, and more!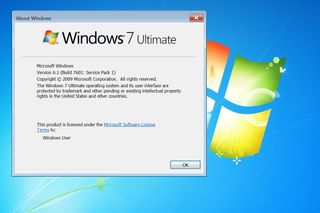 We're back with another exciting episode of the Windows Central Podcast, and this week Daniel Rubino and Zac Bowden have the latest news for Windows fans. Microsoft is starting to warn users about end-of-support for Windows 7. You've got about 10 months to replace or upgrade your system before it becomes for vulnerable to viruses and malware.
Microsoft is also starting to test screen mirroring for Android phones on Windows 10 19H1. It's an extremely limit subset of hardware right now, but hopefully the options will expand over time. Also, Groove Music is killing OneDrive track streaming on March 31. Time to give up and move to Spotify?
Zac has some Halo news to share, and they discuss Project xCloud game streaming. Finally, Daniel has quite a few laptop reviews on the site and YouTube for you to check out!
This episode of the Windows Central Podcast was recorded on March 15 2019.
Links:
Subscribe to the podcast
Hosts
Make this show great by participating!
Send in your comments, questions, and feedback to:
Windows Central Newsletter
Get the best of Windows Central in your inbox, every day!
Zac Bowden is a Senior Editor at Windows Central. Bringing you exclusive coverage into the world of Windows on PCs, tablets, phones, and more. Also an avid collector of rare Microsoft prototype devices! Keep in touch on Twitter: @zacbowden.
OneDrive track streaming never worker outside of the US, so most of the world doesn't care.

Why do these recorded podcasts take nearly a week to publish? I watched this one last week on Mixer.
A week is a long time in tech, so the news is old.

Your Phone isn't attractive to me. They need an experience similar to Continuity and Handoff on Apple devices. They should have partnered with Samsung to develop it and then expanded it out. That way, users would not need to duplicate half the apps on their phone for this. This is why I just graceful and moved everything to Google, except Office editing.

Accidental swipes happen a lot, though. I've had them on every swipe keyboard I've tried, so I always turn that off. Always nice to give users the option, though.

Dan interrupted Zac just as he was getting to the PC specs about Halo MCC to talk about some stupid volleyball game. Unbelievable. We know you don't care about gaming so maybe just sit tight for 2 minutes so those of us who do can get the info?

LMAO, your acting like it's the first time this has happened. It's getting to point that sometimes it's painful to listen to. 😜

So this is how I used Groove OneDrive streaming. I like to listen to NPR. I go to npr.org and browse their articles. I then download the mp3 of articles I like onto a folder on my OneDrive using my Windows 10 PC. In File Explorer, I then select all of the downloaded files, right click, and select properties. On the Details tab, I then select Album and edit the album name to NPR. I then go to my Windows 10 Mobile phone and open Groove. I then search for NPR album. All the articles I just downloaded onto my OneDrive are there in Groove and I can listen to them continuously, one after the other. This is great for commuting. I actually do that with your Windows Central podcast too. This was a great feature of Groove and OneDrive. I didn't mind Groove having access to my OneDrive because Groove is made my Microsoft and obviously Microsoft already has access to my OneDrive. I now just recently switched to an iPhone. I looked into cloud based music players in the Apple app store that can stream from cloud storage like OneDrive or Google Cloud, but they require full read and write access to your OneDrive. I am not comfortable giving a third party company that kind of access to my OneDrive. I decided to just use iTunes PC app to sync my personal music collection onto my phone. For my own music collection, even on my Windows phone, I was copying my music collection to my phone for offline access. For things like temporary mp3 files like NPR articles and Windows Central where I delete them from the OneDrive after listening to them, I can still use the iOS OneDrive app to stream these mp3 files from OneDrive to my phone. But there is a real limitation here. You can only listen to one file at a time. This does not work for commutes. I cannot be messing with each track while driving. Dan mentioned that it is time to switch to Spotify. There are two types of data that I must have offline: my music collection and maps. I like to travel to off the grid places and I need music and maps to be offline. To use Spotify offline, you have to have a Premium account, which cost $9.99 per month. That doesn't make sense for me right now since my current rate of buying music is only about one or two albums a year. I still like to just buy the album and store the file for my personal offline use. So with Spotify, I'd be spending $120 a year just to listen to my music offline. That seems double-dumb-ass. Regarding Your Phone, I've taken great care into making sure my workflows are usable on Windows 10. When around a PC, like at home, I only use my phone for a few things. These few things are phone calls, texting, listening to audio, alarms, calculator, and Kindle. All other workflows works better on a PC. And of the workflows that I do on the phone, texting is one that would also be better on the PC due to having a full keyboard. So the only phone based workflow that would be of value to me through Your Phone would be texting. But personally, I just use voice recognition for texting. I rarely use the double-dumb-ass phone keyboard and type in texts. Typing on a phone takes you back to about the 1800s in regard to communication throughput. It is very primitive technology. The average texter can text at a rate of a professional telegraph operator in the 1800s. You guys seemed to love your swipe keyboards, but really, just use your voice. It is like 5 to 10 times faster. So I like using my voice for texting, and the phone works really well with on board voice recognition. So I would really have no use for Your Phone. I'm waiting for my phone to be my computer. In other words, dock my phone to be a workstation, and then I really don't need this stop gap Your Phone thing. There are a lot of people that don't know how to get their workflows onto a PC. They set it up on their phone, and that is all they know. They then suffer with an inferior form factor and try to do everything on a tiny screen and tiny keyboard, only able to see one thing at a time. I do think Windows Central should educate these people on how to get their workflows onto their PCs. People are really lost when it even comes to managing contacts and calendars across PC and phone. And I don't know how many people I know that realized their phone filled up with pictures and don't know what to do about it. They only know how to look at the pictures through there phone. When the phone fills up, they are lost. I'm sure Zac and Dan you know these people. This is the type of people Your Phone seems to be trying to target. I think education and filling the PC workflow gaps would be better.