Windows Central Podcast 163: Dual-screen SDKs, Duo camera talk, and more
On this episode of the Windows Central Podcast: Surface Duo discussion, dual-screen SDKs, leaked ports, and more.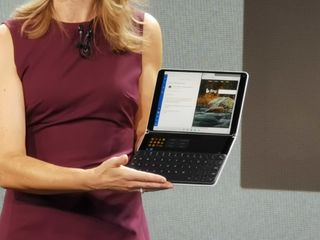 (Image credit: Windows Central)
We're back with another exciting episode of the Windows Central Podcast, and this week, developers can start writing apps for Surface Duo thanks to a newly released SDK, and the Windows 10X SDK isn't far behind. Enthusiasts can even check out a Surface Duo emulator on Windows 10 to get a feel for what the device will be like.
Some people are very concerned about the potential camera quality, but Daniel isn't worried and he explains why.
Zac and Daniel also talk briefly about the ports on a leaked Xbox Series X prototype, and the dock from Kensington for Surface Go. They close the episode with build 19551 and its lack of new features as the next version of Windows inches ever closer to release...
This episode of the Windows Central Podcast was recorded on January 24th 2020.
Links:
Subscribe to the podcast
Hosts
Make this show great by participating!
Send in your comments, questions, and feedback to:
Windows Central Newsletter
Get the best of Windows Central in your inbox, every day!
Zac Bowden is a Senior Editor at Windows Central. Bringing you exclusive coverage into the world of Windows on PCs, tablets, phones, and more. Also an avid collector of rare Microsoft prototype devices! Keep in touch on Twitter: @zacbowden.
How about providing timestamps for the different topics? Not everyone is interested in all topics and has to listen the entire thing to find a specific

The Duo, when folded, basically has a touch screen on the back. I wonder what possibilities may come of that. Also, I'm wondering how I will mount it in my car folded when my go-to mount is a magnet circle under the phone case...

There is a cool feature or two to relish. But all in all, this dual screen stuff is just nonsense. This is no where close to what the 21st century will be remembered for. I get it as far as folding displays are concerned but not dual screens. Microsoft could have improved upon Windows Mobile 6.5 but they pressed on the reset button. Microsoft could have improved on Windows 7 tablets but they pressed the reset button. Most of you were in kindergarten back in the day of Windows 7 tablets, so it is hard to explain, but it was more advanced than Windows 8 and 10 tablets have managed to be. And here comes the dual screen nonsense which is just nonsense. For example, on a desktop, I use ultrawide 1440p display; costs an arm and a leg too. But what really sucks is that Windows 10 cannot adapt to it. Apps open full screen by default, what could be more retarded? You cannot define snap areas on a screen... is this really the 21st century? Microsoft has just lost its mind. Why would anyone trust them with this? In four years of developing apps for windows 10 and android, all they have delivered is just buggy nonsense... go check out outlook on android... so what has changed now for us to believe that there is this Avatar in town that will relieve us from all the pains, with dual split screens and flawless cool apps in the 20s? Is there a magic potion in their back pocket that I am not aware of? It will take them years to iron out the bugs withe their offshore developers. They moved all development offshore and they fired all the designers so as to rely on end users as designers... seriously, is that a recipie for success? Give me a break. If they cannot get apps working with true quality on android in 5 years (now that windows is dead), how can they get apps working on dual screen android? You have got to be kidding or am I on crack? They will eventually get it right by 2023 or 24, but no one will be there to commend them for their success. Just like Windows 8/10 took 5 years to get almost right. Google and apple would have moved on with a head start and it will be about time for another reset at Microsoft, history tells us that. So, just get me proper window snapping on windows 10... go buy a 21:9 monitor or a 21:9 phone... it is the present... and dual display is hardly even a passing phase... and show me that you can actually deliver something simple that actually works, today. And folding screens are the near future, not split screens. Zac, I know that you are with me but your lips are stitched... fortunately, me, I don't get paid for my comments and don't have to answer to any chosen one.

The left half of the picture looks like that was something in the true likeness of god. I want it yesterday. As for the right side, I am a bit skeptical.