Xbox Series X prototype leaks, reveals ports
A prototype is allegedly out in the wild.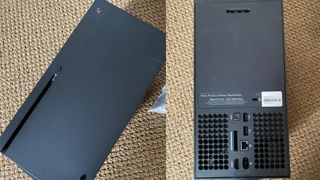 (Image credit: @Doug_DragoX on Twitter)
What you need to know
The Xbox Series X was revealed at The Game Awards 2019.
Windows Central reported on the specifications and ports a few days ago.
Today, a Twitter user posted images of the prototype.
They appear to be genuine, with a serial number valid on the Xbox Support page.
The Xbox Series X is Microsoft's next-generation console that allegedly features 12 teraflops of computing power. The device pushes as high as 8K gaming or 120 Hz, elevating consoles far above current capabilities. We're still unclear how the device looks like from the back, and Windows Central was able to shed some light on that recently.
Today, Twitter user @Doug_DragoX posted images of the front and back of a prototype Xbox Series X. It's unclear where he got them from, but our guess would be that it was probably handed out to a developer. Hopefully, Microsoft will comment on the leak.
As we confirmed a few weeks ago, the front of the Xbox Series X features one USB port, while the back sports two. As expected, the HDMI-in passthrough port has been removed, and now there's just one HDMI-out port, assumedly HDMI 2.1 compliant, to connect to your display. We also see SPDIF optical for audio devices, ethernet for internet, and a figure-8 power socket, carrying over from Xbox One X. The other large port seems like it's used for debugging purposes, but remains unconfirmed at this point in time.
Are you excited for the Xbox Series X? Will you upgrade it over the Xbox One X? Let us know.
Best of the best
(opens in new tab)
Play for a few months

Xbox Game Pass gives you access to over 200 games for one monthly fee. Xbox Game Pass Ultimate also adds Xbox Live Gold to the package so you can play online with your friends.
Xbox Series X/S
Main
What is the Xbox Series X release date?
How much does Xbox Series X cost?
Why you can't preorder Xbox Series X yet
Asher Madan handles gaming news for Windows Central. Before joining Windows Central in 2017, Asher worked for a number of different gaming outlets. He has a background in medical science and is passionate about all forms of entertainment, cooking, and antiquing.
No hdmi-in makes no sense to me.... 😢

Too many people are getting rid of their cable boxes for it to make sense anymore. I loved the OneGuide with HDMI in from my cable box, but I've recently switched to YouTube TV to reduce my TV costs. Xfinity is offering a Roku-like streaming box for free to their Internet customers, because even they see the writing on the wall.

I am guessing you are US based? Cord cutting is actually a really US centric issue as you guys are paying what $80 to $100 a month. Europe averages like $30 and that average is dragged up by the UK and Sky TV. I'm not surprised you guys are switching off in the UK we can get Internet, phone and TV for $40 and then add the channels and get us all the HBO content and still stay under $60. You guys do seem to get stung over there

If service is that in expensive over there then YouTube TV might be even cheaper there lol

Everyone I know has cable. So because you know some people who did it's okay to remove? I still love the features and still use them. Even still use my Kinect to control my TV and media. Why are you lobbying to have something removed that you don't use but many others do? If they did put one on there would you be here complaining that it's there? NO, so why do you care so much that it gets removed?

The loss of the HDMI in is not that bad for me since I canceled any TV subscription years ago. Therefore, I think I will upgrade my original Xbox One to the new Xbox Series X soon after launch.

I use the HDMI in for my Xbox 360 so I can use my Xbox One headset with it, use Xbox One party chat, as well as pause Xbox 360 and switch to another app easily. I will miss it if they remove it. Then I'll have to just plug in my Xbox 360 the normal way and have to rewire it.

Can't you just play all of your Xbox 360 games on your Xbox One and get most of the same features?

Will I upgrade to this? Probably the same way I upgraded to xbox one. I finally purchased one for the first time this past December, years after launch and unfortunately with it getting ready to be the "old console". Still enjoying it though and I'm happy to have many of my 360 games working plus some new ones mostly via game pass deals I got. Perhaps by then the series x won't be a skyscraper ;)

Not right away. Maybe two years after launch for a better price. My XB1X is still a hell of a machine.

This is probably just a controlled "leak" to keep the hype train going....

Perhaps. It's odd that the leaker didn't cover the serial number. Let's see what happens.

I would guess Microsoft will "fire" someone, but it will be an arranged false flag. These Big Tech companies are playing 3-D chess, four moves ahead of everyone else. Apple did something similar with an iPhone "leak" a couple of years ago.

Come to think of it, Google did it too when they "fired" James Damore, the GoogleMemo guy.

Would have loved to keep the HDMI in, or see a USB-C in addition to the HDMI Out

Sucks they're removing the HDMI pass-through. :-/

It looks as though the whole back panel is removable. Like the entire panel. Upgrades in the future?? Or just SSD upgrades. But why remove the whole panel just for SSD??? Hmmm And what is that flat port?? Noone has been able to work that out. MS Xbox Series X is really coming together fast. Great job MS.

I'm thinking that back panel being removable is just because it's the prototype.

I'm on board that missing HDMI in port train, may be a deal breaker for me. My XOX works fine. It's possible that since this is a prototype it may not represent the final consumer product. One of those wait and see things I guess.

I couldn't care less about the HDMI In port because I personally don't use it. However, I am a bit bothered with the lack of at least 1 USB C port or even that there aren't more USB prots in general.

I agree about usb c, I want that

I just hate the design of this thing. Having a subwoofer sized console in your entertainment center makes no sense. I keep hoping this is all a trick to make Sony feel good and then they will officially announce this thing with a different design. I'll still buy it at some point. But I'm not liking it.

Man, that was too fast. Nobody bats an eye anymore with these leaks that are basically stealing company property or trade secrets? I hope someone gets fired for this.

Most leaks like this now are purpose leaks by MS themselves. Stealth leaks.

That's even more pathetic. If they do that, it may serve them, but it gives the impression that they're not in control of their information.

It's been happening forever. Company leaks are nothing new

Sony and Nintendo do it to. It keeps engagement in the future product. It's nothing new.

Not really. This is nothing new.

That extra slot on the back? That is where the Dilithium Crystal goes.......

If they include it the people who don't use it won't care. The people who did use it may look elsewhere for a new device. Just because you don't use a feature doesn't mean others don't. Now the opposite, if they do include it, people who don't use it won't notice the difference, the people who did will be happy and not look elsewhere. Man Microsoft just wants to lose consumers, their fans are championing the idea. I won't be buying one without the port.

I'm very skeptical of this leak. Microsoft knows that gamers biggest issue has been with the lack of USB ports. I can't seem them going from 3 on the One X down to 2 with the Series X. Sure you can get a USB Hub if necessary but that won't work for Headsets like Turtle Beach 800x or the Astro A50. Only works with Peripherals like harddrives that I have connected it to. Also, with the Roku like streaming boxes out there why would Microsoft alienate people by taking away the HDMI-In? I think the Series X will have a lot more ports that we are seeing.

I don't know about "a lot more ports," but Microsoft likes to lower expectations and then exceed them. So, not a bad guess.

Have had xboxs in the family for the kids since the original, but jumped ship at Christmas due to the lack of VR and as the X is choosing to ignore this too, I am sadly moving wholesale to ps5
Windows Central Newsletter
Thank you for signing up to Windows Central. You will receive a verification email shortly.
There was a problem. Please refresh the page and try again.