Windows Central Podcast 164: MWC, UWP, Book 3, and more
On this episode of the Windows Central Podcast: MWC speculation, UWP, Book 3 and Go 2.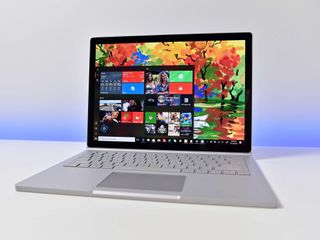 (Image credit: Windows Central)
We're back with another exciting episode of the Windows Central Podcast, and this week, Microsoft will hold a press event at Mobile World Congress later this month. Daniel and Zac speculate on what announcements may be forthcoming. They also talk about the movement away from UWP to web apps and why it isn't bad news.
Along with Surface Book 3 and Surface Go 2 rumors, Daniel compares folding displays to dual screen designs by looking at the pros and cons of each. Also this week, they revisit the potential of Surface Pro X, thanks to an article by Dieter Bohn over at The Verge. Finally, all signs point to Microsoft halting development of Surface Hub 2X.
This episode of the Windows Central Podcast was recorded on January 31st 2020.
Links:
Subscribe to the podcast
Hosts
Make this show great by participating!
Send in your comments, questions, and feedback to:
Zac Bowden is a Senior Editor at Windows Central. Bringing you exclusive coverage into the world of Windows 10 on PCs, tablets, phones, and more. Also an avid collector of rare Microsoft prototype devices! Keep in touch on Twitter: @zacbowden.
You asked what consumer app are missing from the store? Well you asked for it. ;) Now this is my use, but maybe you can find parallels in other places, but Cycling. I am an avid cyclist. It doesn't keep me from being an over weight middle aged man, but it helps me fight it. We are talking a garage full of bikes of all types, kid trailers, "trail-a-bikes", and a cargo trailer. The type of avid cyclist that finds Fitbits all but useless and I love my Garmin Vivoactive 3 because it talks to my ANT+ sensors on my bikes, and broadcasts my HR to my powermeter so I don't have to merge that data later if I don't want too.
I use the free software that comes with the powermeter called Issac. The UI hasn't been updated in a decade or so, and I am pretty sure the company are massive apple fans because to me it feels like a MacOS app running on Windows. Installs are messy and time consuming, and I currently can't update the program on my SurfaceBook because of some OneDrive issues of my own doing. Then there are all of the Garmin apps for Virb action camera, and their update software for their devices. And then, there's the big thorn in my side, Zwift and its competitors. I refuse to use another gameafied indoor training app until they start putting them into the store.
Here's my thing. I am one of those folks that was all in on windows 8.1. I had an AIO, the Nokia Surface clone (ARM), and a Lumia 1020. All of them touch screens, and I loved 8.1 for that reason. So I loved the universal apps. To the point that now on my W10 machines I have less than 10 win32 apps, and the rest of the 100(?) apps are all from the store. What I love is that they generally just work and they update quietly in the back ground. They are not sitting in my system tray causing error pop-ups like Zwift did every time I booted my AIO. And then everytime I booted up Zwift, it wuld tell me there was some awesome update that I probabbly really wanted, and I'd fall for it, and I'd be sitting there in my gear for an extra 1/2 hour getting the update installed and everything ready to go again. If it was UWP I would not have these problems. It really chaffed me when instead of writing a UWP app that would improve the thousands of their windows users experiences, and allow them to bring the app to X-Box, they spent (wasted) time writing an app for Apple TV. APPLE TV!!! I worked at a Best Buy in Kentucky, and we barely sold any of those things. WTF! And every single program Garmin has should be in the store. Why am I having to search through websites and browser searches, when I can go to my store and search and compare for the apps I want and need? So yes, I have a WHOLE industry's worth of apps I feel should have been UWP a long time ago. And the cycling industry (which is painfully Apple biased imo) cannot be the only consumer market that is like this.
P.S. I keep hearing in your podcasts and others over at the TWIT network, that people are going to websites. It drives me a little nuts, because I don't feel people leaving apps and going to websites. They are going BACK to websites. All of these apps such as Facebook, Twitter, youTube, your banking apps, etc. ALL started off as websites. other than the few people who could plunk down for a new iPhone 2, all used their websites. it was most people! I would argue that most people never stopped. No one is talking about how the transition back to websites.
P.P.S. Chromebooks: 6th graders and everyone Leo Leport tells to go get one on his radio show.

Chromebooks probably have those apps you are looking for.

One of the few pieces of technology I resent whenever I have to use it: Chromebooks. My kids' schools use Chromebooks and Windows computers both, and every single time we have to do something on the Chromebook, it's a painful experience compared with the Windows computers. They are just worse in every conceivable way -- battery life, responsiveness, system settings, multitasking and sharing data between applications, etc.

This was supposed to be a reply to the comment above. I was just saying the specific apps he needs are probably available on a Chromebook. I don't use a Chromebook either, but they are fine if they fit your needs. They get stronger every year.

To your question on missing apps: 1. A working WindowsCentral app (I use it, but it no longer supports sign-in so can't comment through the WindowsCentral app, forcing me to post this through a browser, grumbling the whole time).
2. Audacity
3. RingCentral
4. PDF printer and editor (I use CutePDF, but there are many others)
5. Banking apps definitely matter. Web browser is NOT a substitute because I want to use the camera in the device to deposit checks. In fact, this was the single biggest benefit for me in moving from Windows Phone to the Galaxy S10 -- banking apps adding the ability to deposit checks without having to go to the bank. I've never seen a web site support even a scanner-uploaded check image to deposit, let alone fully integrated with direct support for the camera w/o saving the image first (this may even be needed for security reasons)
6. MS Teams. WTF, Microsoft!! Available in the Store, but limited compared with non-Store versions: 7. WordWeb dictionary -- no OS integration so that Ctrl-Alt-W opens the dictionary and looks up the word from anywhere. Store version looks nicer, but is effectively useless. I still use the Desktop version primarily.
6. mp3tag for MP3 editing -- similar to WordWeb, the OS-integration is missing. For mp3tag, the Store version doesn't support right-click on the file in Windows Explorer to open MP3 files directly in mp3tag. From talking with the developer, he tried to get that to work, but couldn't with the APIs he had access to through a Store version (or at least didn't at the time he created it). I still prefer the Store version over the desktop version for the automatic updates, but it's frustrating that the one downloaded from the Store lacks that OS-integration. (Updates are the killer feature for me in Store versions -- I HATE those annoying pop-ups in apps telling me there's an update available).
5. As you stated: Kindle app (I use the old one that's available through the Store in my library of previously downloaded apps, only available for those of us who had it on Windows 8, and no updates...)
8. Facebook app. Yeah, like with your broken WindowsCentral app, I CAN use the browser, but I prefer the use the app, because it separates it from the browser. Apps that have been on Desktop for years and now have better Microsoft Store versions (yay for these!): 1. PuTTY
2. WinSCP
3. Slack

Speaking of UWP how about fixing the Windows Central one? It's been broken in several places for quite awhile now. Start with can't login. TiA

Thanks for the great podcast. When I look at my battery usage, Edge is 64% of my usage for the past week. That is believable because, like most people, I spend most of my time in a browser on Windows. The transition away from native apps to web apps started around the mid nineties for PCs. This same transition will happen for phones and tablets. I think it has taken too long to start transitioning considering smart phones have been around for almost 13 years. I would have expected this transition to have started earlier, but due to slow growth of PWA, developers and users still have this really dumb app mindset. It's funny, before smartphones, everyone was trained to get what they need from a PC by finding a URL. Now we have all been messed up to think you have to find a native app. Native apps will always have a place, but for the vast majority of things, a web app is better for its cross platform ease. It is better for everyone; developers and users. Native apps will still have a place for things that need to work offline and for things that have to use the local file system to produce and consume data. These would be intensive content creation apps like music making software, video and photo editing software, etc. Also, some apps just don't need a web site. Take Alarms & Clocks and Calculator for example. It would be dumb to make these a web app. One more comment. Windows Maps is vastly superior to Google Maps in almost every way. The underlying technology of basing the rendering on vector graphics allows Maps to tilt and spin the road map and this can be superimposed over a tilted and spun satellite view. Maps also works offline, including favorites. There is a huge industry of people that depend on offline digital maps. The people that don't get this are people that don't get out much beyond metropolitan areas. There is a huge percentage of the world without service to be explored and enjoyed. Oh, still one more comment. I agree with Zac. I'm curious how MS is going to deal with a Win32 Edge browser on 10X.
Windows Central Newsletter
Get the best of Windows Central in in your inbox, every day!
Thank you for signing up to Windows Central. You will receive a verification email shortly.
There was a problem. Please refresh the page and try again.