Windows Central Podcast 39: HP's secret new Windows phone
This week on the Windows Central Podcast: We talk new Insider builds, HP's secret Elite x3, Windows 10 cloud and more!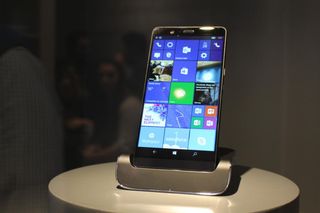 With development of the Windows 10 Creators Update finally wrapping up, we're seeing more Insider builds reach the fast ring with new fixes and performance improvements. HP also teased a new Windows 10 Mobile device, but gave us no details. All that, and more on this weeks Windows Central Podcast!
Help us make this show the best Microsoft podcast in the world. Tell your friends, share it on social media using the hashtag #wcpodcast, and give us a five-star rating wherever you download your podcasts! Thank you so much for listening!
We've got two options for you, either the video podcast or the audio podcast, both featuring the same content.
Show Notes
Subscribe to the podcast
Hosts
Make this show great by participating!
Send in your comments, questions, and feedback to:
Windows Central Newsletter
Get the best of Windows Central in your inbox, every day!
Zac Bowden is a Senior Editor at Windows Central. Bringing you exclusive coverage into the world of Windows on PCs, tablets, phones, and more. Also an avid collector of rare Microsoft prototype devices! Keep in touch on Twitter: @zacbowden.
The Google Play Music link just took me to a Podcast Creation webpage in Chrome...Seems to be broken, though I did subscribe after searching for the Windows Central Podcast.

Have to disagree with zac phone running nothing but universal would be garbage. You can't tease us with win 32 apps. Only hardcores are left and the majority want a pocket pc.

I wish these were also availabe to read. It takes to much time to listen or watch.

Especially when you can't hear.

Good point. I sense an ADA lawsuit in the works.

Use the W10 Mob Podcast player and listen to it at x2 speed and it lasts half as long. I do that sometimes, but it does sound like Dan's tripping on something 😁

Thanks, I wrote a script to record the W10 Mob Podcast player output and later play that back thru the player so it only takes 1/4 the time.

Just open it in the background and let it play. I do this all the time at work. Skip parts when you're not interested.

How can you understand anything (or follow if you can understand) said at double speed? I can barely follow an audio book at 1.25x speed.

Daniel should let Zac speak more!! And don't interrupt him!!

The key phrase seemed to be from Zac. He said Micrsoft have given up on making mobile phone hardware. So it really is down to HP and the business market. No problem with that but it means that really the remaining developers need to catch on to Windowsphone/Windows 10 Mobile being a business brand only going forward. Consumer apps not so much.

It does appear so. Microsoft's Retail stores no longer stock Microsoft phones at all. I have now confirmed this at 3 retail locations. THe only thing they now stock as far as mobile goes is the HP Elite X3. Pretty much anything else is online only, and those options are getting slimmer by the minute. ​What irks me is that MS seems to have forgotten what got them into the Enterprise here. It was consumers demanding the same thing at work that they already had at home. This is also why the iPhone and Android devices adopted into the BYOD model as well rather than sticking to the old BB devices as your only work device. As for an Enterprise phone, really? Where are the apps? iOS and Android have invoicing, inventory, project management, accounting, payroll, banking, travel, etc., all filled out by most big names. A large majority of these do not provide Windows apps at all, and many who do are simply web wrappers, not actual apps so they are kludgy on the phone. This is not an "Enterprise Class" experience and will block adoption if they don't get ahead of it now. At this point, I am waiting to see if some big thing happens in November (as that's usually when Holiday releases get announced). If nothing spectacularly interesting happens by then, I don't see Windows 10 Mobile surviving at all. THeres not enough development now for the platform, and it will be a hard sell in the Enterprise if they don't close the gaps for apps many businesess use.

Surprising discussion at the 51 minute mark. Aspirations of actually seeing Microsoft's contribution of the future as comparable to black mirror. As I understand the series its about a dystopian future with technology and a mocking of man's and society's use of it. Frankly a scary and worrying situation I hope we don't head towards. Black mirror does not exactly portray an inspiring future to look forward to.