Windows Central's back to school guide
By Brent Zaniewski published
It's time to go back to school, and we'll make sure you're well-equipped.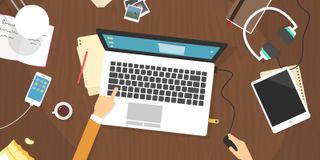 For many students, it's time to hit the books again. Whether you're loading up for your first time at high school, finding your stride in college, or you're making the long haul in university graduate programs, we've got the best gear you can find for back to school season right here.
Best tablets for students
Some kind of tablet is a must-have for the school year. It's perfect for taking notes in the middle of a lecture, doing your assigned reading, doing some quick research, and even working on your assignments thanks to a wealth of productivity tools. When moving around all day from class to class, you'll be happy that it's so light and portable.
Microsoft Surface 3
The original Surface 3 tablet is still a solid choice for general use, whether it be managing school projects, taking notes, or doing research for your next big assignment. Available in both 64 and 128GB versions, it comes loaded with Windows 10 or a free upgrade if desired. The 10.8-inch display offers enough workspace while its Quad-Core Atom X7 processor handles multitasking rather well. If you're not ready to dish out the cash for the Surface Pro 3 just yet, you can definitely save a dime with this perfectly-suitable tablet. Don't forget about that awesome Surface Pen too.
Buy on Amazon ($484) (opens in new tab)
Dell Venue 8 Pro
The Dell Venue 8 Pro sports an 8-inch display — perfectly sized for easy storage in just about any backpack or messenger bag without hogging all the room. While the 32GB option is the more affordable route, you can always spring for the 64GB version for an extra $150. The Venue 8 Pro utilizes 2GB of memory, a 1.8GHz Quad-Core Intel Atom CPU, 5MP camera on the back, and a 1.2MP front-facing camera.
Buy on Amazon ($250) (opens in new tab)
Microsoft Surface Pro 3
The latest and most popular pick from Microsoft is the Surface Pro 3, available in a variety of versions that cater to just about anyone's needs. Its 12-inch display, 4GB of RAM, and 4th gen Intel Core chips are a step up from its predecessor. The Surface Pro 3 is available with i3, i5, and i7 chips, fluctuating its final price accordingly. You can nab the i3, 64GB version that comes with a free upgrade to Windows 10 right now for only $735.
Buy on Amazon ($713) (opens in new tab)
HP Stream 7
Providing a snappy interface on its 7-inch display is the HP Stream 7 tablet, rocking 32GB of storage, 1GB of RAM, and a 1.8GHz Intel Celeron Quad-Core processor. For its $99 price point, it's a great option for a bare-bones tablet that even comes with 1-year subscription to Office 365 Personal Edition and a $25 Windows Store credit after purchase.
Buy on Amazon ($99) (opens in new tab)
Best phones for students
Of course you can't use the tablet all the time. Having a good phone that doesn't break the bank will make sure you never miss out on an assignment reminder or a party invite. Here are some solid phones that will serve your needs and leave enough cash for your ramen budget.
Microsoft Lumia 640 LTE
The budget-friendly Lumia 640 has a 5-inch LCD display, 8GB of storage with a microSD card slot (up to 128GB), and runs on a 1.2GHz Snapdragon 400 Quad-Core CPU. The 8MP camera on the back is capable of 1080p full HD video recording, too. You can also grab the Lumia 640 sans contract on AT&T (opens in new tab) for $69.
Unlocked on Amazon ($160) (opens in new tab)
Nokia Lumia 735
Capable of convenient wireless charging, the Lumia 735 sports a 4.7-inch OLED display and runs with 4G LTE speeds. The 1.2GHz Snapdragon 400 Quad-Core CPU is partnered with 1GB of RAM for decent functionality across the board. The device comes with 16GB of memory, but offers expandable memory with a microSD card up to 128GB if needed. The Lumia 735 runs on Windows 8.1 currently, but will be upgradable to Windows 10 when available. Snag the Lumia 735 from Verizon (opens in new tab) for $192 outright.
Unlocked on Amazon ($319) (opens in new tab)
Microsoft Lumia 640 XL
If you're after a phablet that doesn't break the bank, Microsoft's Lumia 640 XL is an excellent option to consider. While wireless charging never made its way to the official launch, the 640 XL still does well performance-wise. The 5.7-inch IPS LCD display offers a nice experience alongside the 13MP camera on the back. Inside you've got a 1.2GHz Snapdragon 400 Quad-Core CPU, 1GB of RAM, and a beefy 3,000mAh removable battery. Save big on the Lumia 640 XL when you sign up for a 2-year contract through AT&T (opens in new tab), too!
Unlocked from Amazon ($240) (opens in new tab)
Best laptops for students
For serious work, you'll need to hunker down at an honest-to-goodness laptop. We're picking laptops that offer horsepower you simply won't get from a tablet, while also being mindful of the student budget. Get ready to spend a few all-nighters with these machines.
HP Stream 13.3
The HP Stream is a laptop that doesn't have many frills, but does the basics without a hitch. Its 13.3-inch display is matched with 2GB of DDR3L SDRAM, a 32GB SSD, and an Intel Celeron 2.16Ghz CPU. It comes with a free upgrade to Windows 10 from its 8.1 stock OS as well. There's no optical drive, but it's all part of its simple lightweight design and affordable price.
Buy on Amazon ($209) (opens in new tab)
Dell Inspiron 11
This versatile laptop offers more than one way to utilize Windows and enjoy media. The Dell Inspiron 11 2-in-1 features a 360-degree hinge design that allows you to flip the keyboard around for tablet mode, tent mode, or the traditional laptop style. Viewing options aside, the Inspiron 11 packs 4GB of DDR3L SDRAM, a 2.16GHz Intel Pentium Quad-Core CPU, 500GB hard drive, and an 11.6-inch screen with Intel HD graphics.
Buy on Amazon ($438) (opens in new tab)
Acer Aspire E 15
For a little extra screen size, the Acer Aspire E 15 serves Windows 10 up well with its 15.6-inch display, 2.16GHz Intel Celeron Dual-Core CPU, Intel HD graphics, and 4GB of DDR3L SDRAM. For storage it features a 500GB hard drive — perfect for keeping your projects in order throughout the school year. The Acer Aspire E 15's $305 price tag should sit well with most students seeking an entry-level laptop at a reasonable price.
Buy on Amazon ($305) (opens in new tab)
Dell XPS 13
If you've got the extra cash to put towards a laptop, the Dell XPS 13 is a home run. Its full HD, backlit WLED Infinity Display is beautiful when paired with Intel's 5500 HD graphics. Other specs include 4GB of DDR3 RAM, a 128GB SSD, and a 2.2GHz 5th gen Broadwell Intel Core i5 CPU that features Turbo Boost Technology — pushing it to 2.7GHz. If that's not enough to steer you, its 10 hours of battery life is a no-brainer for those long days on campus. Need more? You can get the XPS 13 with a Core i7 processor, ultra-high res QHD touch display and 8GB of RAM.
Buy on Amazon ($863) (opens in new tab)
Best phone cases for students
You're going to be fumbling with your phone with an armload of books at school. A drop at some point throughout the year is pretty much inevitable. Make sure you aren't one of the poor saps that has to use a phone with a cracked screen until graduation by picking up one of these popular cases.
Evocel Dual-Layer Armor Case
You can't go wrong with the dual-layer protection that the Evocel Armor Case provides for the Lumia 640, and other devices. The TPU core does a great job of absorbing impacts while the tough polycarbonate shell adds style and grip where it counts. You'll always find access to your display, camera, ports, and buttons through both layers, too. If black isn't your color, take your pick from blue, red, gold, or white.
Buy on Amazon ($10) (opens in new tab)
CASEFORMERS Duo Armor
Fans of kickstands rejoice, because the CASEFORMERS Duo Armor adds convenient viewing with superb protection without costing you a small fortune. Not only do you get a textured, dual-layer case to wrap around your Lumia 735, but the included belt clip holster is a great addition to secure to your belt or pocket for quick access.
Buy on Amazon ($9) (opens in new tab)
Incipio DualPro Case
A solid cover to shield the Lumia 640 XL is Incipio's DualPro Case that packs a tough, shock absorbing skin underneath its smooth exterior shell. This hybrid case adds extra grip when installed, and provides access to the camera and ports. The side buttons are even raised for an easier press.
Buy from Windows Central ($26.95) (opens in new tab)
Best apps for students
There's going to be a lot of writing to do, be it in the lecture hall, library, or your dorm room. These apps can make sure you've got all of your notes well-organized, shareable, and searchable. You'll be happy to have these apps installed when term paper time rolls around.
My Notes
Create notes, organize them accordingly, and add them as tiles to your Windows device quickly and easily with the My Notes app. Set up your own backgrounds, fonts, add pictures to your notes, then back them up using OneDrive. Protect your notes with a password for each or the entire app. The latest update adds task lists, numbered lists, tallied lists and shopping lists.
Download for Free (opens in new tab)
Microsoft OneNote
Microsoft's OneNote is a must-have whether you're working on a Windows laptop, tablet, or smartphone. You can take notes on the fly — handwritten or typed — and include tables, bullets, and colors for each note. The built-in search quickly runs through all your saved notes to find your most important scribbles if you don't feel like sifting through them one by one. OneNote is also great with groups, allowing you to share your notes and edit them in real time with classmates, friends, and family.
Download for Free (opens in new tab)
Microsoft Office 365
Your arsenal of apps for the school year wouldn't be complete without the Microsoft Office fundamentals: Word, Excel, and PowerPoint. Office 365 includes all 3, as well as Outlook, OneNote, Publisher, and Access. You can roll with the Personal Edition that includes a 1-year subscription key card for just $42.99 — good for 1 PC/Mac and 1 iPad/Windows Tablet. What's more is 1TB of online storage in OneDrive so you can access all your important documents anywhere.
Buy on Amazon ($43) (opens in new tab)
Best desktop chargers for students
You'll be putting in some long hours at a desk this school year, so let's make sure it's at least comfortable. The right desk accessories for your phone and tablet can keep you connected and cut the edge off mild inconveniences.
Wasserstein Wood Wireless Charging Pad
We all know wireless charging is convenient, unfortunately not all of us can utilize it. If your device packs Qi-tech, this solid wood wireless charging pad makes a great addition to your office desk and/or work space. To keep your mobile device from sliding around, there's a white rubber pad on top. On the side is a microUSB input to use with the included cable, next to 2 LED charging lights. At only $20, you can't go wrong with a wireless charger that looks as good as it performs.
Buy on Amazon ($20) (opens in new tab)
Anker 5-port High Speed USB Charging Station
Designed for the busy student with multiple devices on hand, Anker's 5-port Charging Station takes on the job of keeping up to 5 devices charged simultaneously. Each port offers a snappy 2.4A charge or 8A overall, so the more you have plugged in, the slower the charge. You can still happily juice-up 3 devices at 2.4A before speed starts to diminish, though. Its size makes it easily portable, approximately the same dimensions as a pack of cards.
Buy on Amazon ($26) (opens in new tab)
FlePow 8-outlet Smart Surge Protector
Losing your work from a power outage is a student's worst nightmare, especially if you didn't back things up. This Smart Surge Protector can be a vital part of your work space, providing 8 surge-protected outlets and 4 universal USB ports that auto-adjust to the charging rate of the devices plugged in. Its fireproof ABS plastic construction is solid and the hardwired 6ft. power cord provides enough length for most setups.
Buy on Amazon ($32) (opens in new tab)
Best stylus for students
Whether you're pursuing artistic studies or you just prefer taking notes freehand, the right stylus is imperative if you're going to be spending a lot of time with your tablet. Precision, connectivity, comfort, and battery life are all factors to keep in mind. Check out some of our top picks.
amPen Hybrid Stylus
Providing an ultra-sensitive tip, the amPen Hybrid Stylus works great with all of your touchscreen devices. It's designed like a real pen, featuring a durable clip and an elastic lanyard — perfect for messenger bags or simply attaching to your pocket. When the tip gets worn out after extended use, just unscrew and replace it! It's available in black, pink, silver, red, and white.
Buy on Amazon ($7.95) (opens in new tab)
Teviwin Ink Pen & Stylus 10 Pack
Talk about the best bang for your buck, the Teviwin 10 pack is an awesome stylus bundle that provides a variety of colors to choose from. These lightweight styli double as an ink pen, too. Simply push the button at the other end to switch between the 2 and you've got the best of both worlds. With this many extras on hand, you could even share with your classmates.
Buy on Amazon ($9) (opens in new tab)
FiftyThree Pencil Stylus
Catering to the aspiring artist, this graphite stylus offers palm rejection, erase, and blend functions on the Paper by FiftyThree app — which is currently only available for iOS. Try it out with Fresh Paint (opens in new tab) on your Windows device and really make your art come to life! It's comfortable and accurate with a replaceable tip. The graphite model is the most affordable, but the wood options are an extra $10 — offering a magnet inside for easy attachments.
Buy on Amazon ($40) (opens in new tab)
Best bags for students
Load up all of your gear for a busy day with these excellent bags and backpacks. Dedicated pouches for your tablet, phone, and laptop are obviously helpful, plus plenty of room for books, a water bottle, and any other personal effects. These bags are built for the long haul and should survive this year and those beyond.
TYLT Energi Backpack
When going for a backpack that will last, why not nab one that keeps your mobile devices charged up while inside? The TYLT Energi Backpack is a win/win with over 1,450 cubic inches of storage space, built-in 10,400mAh battery pack, and an NFC tag on the shoulder strap. A single USB port offers a 2.1A charge, and two others at 1A. There's also a dedicated laptop compartment accommodating up to 15.5-inch laptops. The 1680D poly material looks nice, and cables can be routed throughout.
Buy on Amazon ($120) (opens in new tab)
Mobile Edge Eco-friendly Messenger Bag
Messenger bags are great for cruising campus with your go-to laptop and tablets, and this particular bag from Mobile Edge features an all natural cotton canvas exterior with a swiveling shoulder strap. It's designed to fit 17.3-inch laptops with extra padded protection. There's a removable ID holster inside, plenty of pen/stylus storage, full sized back pocket, and durable fasteners to keep your school essentials secure. It's available in black, green, or navy and is backed by a lifetime warranty.
Buy on Amazon ($33) (opens in new tab)
Case Logic 17-inch Laptop Backpack
A more simple, yet affordable solution to carrying your gadgets around on campus is the Case Logic Laptop Backpack. This bag can carry up to 17-inch laptops comfortably and offers impressive organization inside for all your other school supplies. Carry books, folders, and more without fighting for room inside! Toss in a water bottle for good measure and you're ready to make your way to class.
Buy on Amazon ($34) (opens in new tab)
Best power banks for students
Your phone won't do you much good when the battery's dead. A drained battery can be a huge hassle if you're out partying with friends and trying to coordinate. These battery packs should provide you (and a buddy in a pinch) enough juice to make it through a busy night on or off campus.
RAVPower 3,200mAh Flashlight Power Bank
An excellent backup for a single device, the RAVPower Flashlight Power Bank provides 3,200mAh of extra battery life when your go-to gadgets hit critical levels. Its single USB port delivers a safe and reliable charge to any of your devices while doubling as a flashlight that uses 3 light modes: low, high, and strobe. This power bank's compact size of 4.5-inches is ideal for students short on space and can be a lifesaver when navigating in the dark.
Buy on Amazon ($10) (opens in new tab)
Anker Astro E3 10,000mAh Power Bank
Taking the next step in backup battery life is Anker's Astro E3 Power Bank, housing a 10,000mAh battery that offers 2 USB outputs for simultaneous charging. Its built-in PowerIQ tech detects each device and delivers the quickest possible charge without any risks of overcharging. A series of LED lights on the front show remaining life, and the auto shutoff mode ensures additional uses. It's only 5.4 x 2.6-inches — fitting nicely is most bags.
Buy on Amazon ($22) (opens in new tab)
Vinsic 20,000mAh Ultra-slim Power Bank
This slim power bank from Vinsic actually resembles a tablet with its sleek aluminum housing. Packed inside is a beastly 20,000mAh battery that will charge your devices more than once. On the side you'll find 2 USB outputs with an LED display that clearly indicate how much life remains on its internal cell. Its total 3.1 output means one device charges a bit quicker than the other while still staying safe from overcharging and overheating.
Buy on Amazon ($44.90) (opens in new tab)
Best Bluetooth speakers for students
If you're taking a break with some friends in the quad, it's nice to have a bit of music. Even around the home, a wireless speaker beaming tunes from your phone can be handy. Take a look at these portable Bluetooth speakers that fit in your student budget.
DKnight Magicbox
This compact Bluetooth speaker connects to your mobile devices via Bluetooth and blasts your favorite tunes for up to 10 hours on its 1,000mAh rechargeable battery. When a call comes in, take it over the Magicbox for a clear conversation for both ends. Two powerful 6W acoustic drivers deliver acceptable sound while you're lounging on campus with some friends or home studying for your final. There's even a microSD card slot to use as its own Mp3 player.
Buy on Amazon ($28) (opens in new tab)
JBL Flip 2
For some extra punch to your mobile jams, the JBL Flip 2 Bluetooth speaker is worth considering. Featuring 2 6W speakers inside, this portable powerhouse offers speakerphone use, echo cancellation, and clear sound with rich bass. On the back is a 3.5mm port for direct connections via auxiliary cable if needed. Lay it flat or stand it up, the JBL Flip 2 sounds great wherever you place it. It's available in black, blue, red, white, and yellow.
Buy on Amazon ($79.95) (opens in new tab)
UE Roll 360
You just can't go wrong with the UE Roll 360. This portable speaker is extremely lightweight and provides amazing 360 sound that hits lows better than you'd think. Its single 2-inch driver with a couple tweeters push your music at a frequency range of 115Hz - 20kHz, and at a maximum sound level of 84dBA. The UE Roll 360 is waterproof in design and sports a wireless range of up to 65ft. On a full charge, it offers up to 9 hours of solid jams.
Buy on Amazon ($100) (opens in new tab)
Nokia MD-12
Small enough to store in your pocket, the Nokia MD-12 Bluetooth speaker provides amazing sound in an amazingly compact package. The built-in actuator creates impressive bass, and NFC pairing is always a quick way to get things started. The guaranteed 15 hours of battery life make this speaker a great solution for long days. The MD-12's microphone is great for taking calls over speakerphone, too. If white's not your color, it also comes in orange, green, and yellow!
Buy on Amazon ($34) (opens in new tab)
Best Bluetooth headphones for students
The right music can help you find your groove when churning out an assignment. Pop on a pair of these excellent wireless headphones as you're about to go head-down on a paper in the library or at your desk at home. They're light, comfortable, and should have enough juice to keep you going through a long stretch of writing.
Aukey Sport Bluetooth Headphones
These Bluetooth headphones are great for getting your workout on without fighting for the right fit. The Aukey Sport Headphones wrap over your neck and sit comfortably in your ears, providing rich sound with complete control of your mobile playlists. The included ear gels and hooks come in different sizes for optimal comfort. On a full charge, you can expect around 4.5 hours of playback — which is impressive for their low-profile design. They're sweat-proof, lightweight, and feature AptX technology.
Buy on Amazon ($20) (opens in new tab)
LG HBS-730 Tone
The LG HBS-730 Tone headset isn't just popular for the name. This over-the-neck music machine offers a comfortable design that delivers superior audio and bass response for all genres of music. Whether you're taking calls, enjoying your latest playlist, or watching a video lecture — this headset does it all without strain on your ears. The HBS-730 Tone packs AptX technology for solid, reliable sound and has an impressive battery life of up to 15 hours.
Buy on Amazon ($49) (opens in new tab)
Skullcandy Hesh 2.0
Get completely immersed in your study with these super-comfortable Bluetooth headphones from Skullcandy. The powerful 50mm drivers send clear, yet powerful sound on both sides in conjunction with its noise isolating fit. Easy access buttons on the side make managing your calls and tunes a breeze — not to mention the unique look these headphones provide in any color.
Buy on Amazon ($99) (opens in new tab)
The wrap-up
Hopefully some of these handy accessories will prepare you for the onslaught of the school year. With the right apps and gear, the fiddly logistics of school life are made easier, leaving you to focus on hitting the books. We tried to be as comprehensive as possible here, but what phone, tablet, and general tech would you suggest for students?
I want all collection! Esp. Lumia covers at gr8 price!!
But not available for l535 =(

Waiting a giveaway... Not this time :/ and why no microsoft chargers or Coloud headphones are listed?

LOL, back to school should be changed to back to hell

Office 365 good for students? LOL Office 365 is good for businesses and little more. It's a far better deal to buy the normal full version of Office. And you're not stuck with a bloody subscription.

I'd say it is a pretty good thing for students. ~75 dollars nets you a 5 year subscription. Considering most students won't use Office afterwards, it's a better bargain than paying 140 dollars for the full suite.

It's 4 years, not 5. Also, 79€ for a 5 year subscription when you can pay 119€ and keep it forever...it's hardly a good deal. Also, you're dead wrong if you think most students won't use Office after leaving college. Many will go on to Master's Degrees and PhD's. Others will start families etc. Stuff like Word and Excel will continue to be used after college. Be it for work or for managing family finances (in the case of stuff like Excel).

Most schools give you Office 365 for free. I think that's great for students.

If you're given for free, sure. I'm talking about paying for Office 365.

With Office 365 you always get the newest version with your subscription. If you buy Office 2013 full version now, you won't get Office 2016. So, for students, family, kids, 365 is better because you get the latest and greatest. For kids that go to school it's even better, because(at least in my area) schools always have the latest Office version.

Are students going to school or to picnic?

To put surface pro 3 under tablet category...

I mean it is the tablet that can replace your laptop :)

Kinda sad there's no Latitude or ThinkPad mention

Guys what is your opinion on the XPS 13 for software development? I need to get a new laptop and I don't really know which would be my best option. I've been checking some Thinkpads too

That's vague. The i5 in there and the 4GB of RAM should be able to handle most things well but if your task is too data or processor intensive (working with multiple heavy programs, lots of coding etc) you'll need something more. Plus the SSD is small. 128GB won't be enough for you.

The title picture has an iPhone...

Exactly, and another picture has an iPhone. Can't get someone to draw up a Windows Phone/Windows 10 Mobile phone? Yeah, I work for this college....let me put products from another college in my articles and advertisement. Apple are the kings of marketing, people gladly place their products in places where they don't belong, even regardless of Apple marketshare. Well, if the writer and most of the people responsible for product placement doesn't care, why should I? Plot Twist: I am featured in a video about Community Education for the Android class that I teach and the device on display is my Red Lumia 1520 with the Android PowerPoint open along with my Microsoft Band clearly in view. Two can play at that game. Who cares...back to lunch lol. Such is the world we live in. "annnddd your clothes are red!!!"

Be careful with that attitude if Betty is around, or you might find yourself missing a toe. ;)

I don't understand how there is recommendation for the surface 3 and the dell venue 8 pro, but then not recommendation of the associated stylii. and recommending a stylus thats only good for iOS devices(53's pencil) when i thought this article is geared more towards microsoft and windows devices. the missing category seems to be desktops. today, a student could actually tote around a desktop and plug it into any screen. Lenovo, HP, and Dell, and even Intel are making very capable portable desktops that a student can tote around to the computer lab and plug into a screen and keyboard. I would setup a backpack with a lumia 640xl, a S3 with 2gb of ram, a mini desktop with an i7 and 16gb of ram and your pick of some SSD. I'd omit a laptop. then, micro SD cards all around!

The FiftyThree Pencil isn't strictly compatible with iOS, only their drawing app. It's still a good drawing stylus for plenty of sketching apps on Windows. Your backpack sounds like the real deal!

the reason the fiftythree pencil cost $40-50 is because it pairs with an ipad, and now an iphone. all the sdk's they've released work with iOS systems only. the system is sort of good. not as good as a wacom or a surface pen, but it works. that said, its no better then the $5 stylus sold at the checkout line for a grocery store on windows tablets. I wouldn't recommend it for anything other then apple products. fun fact, most people responsible for this product(paper and pencil) came from microsoft-http://www.fiftythree.com/about

I'm a student .... Why didn't you feature my laptop, I wonder? Asus Eeebook X205TA, £180 Signature Edition from Microsoft Store. 11.6-inch 1366x768. Its typical Atom, 2GB. 32GB tablet config but that makes it slim, light, silent, super cool... And 12hr battery. I've been seeing that.

No touch screen laptop option? :(

This is an amazing video detailing the ultimate student guide to using Microsoft Surface 3, check this out!
http://www.youtube.com/watch?v=aEb573aGQpA

Why there is a iphone in the image! And an ipad Posted via the Windows Central App for Nexus

So, you mention the 640, but not a single mention of the T-Mobile version that can be found at Walmart? For shame!

It's cheaper on AT&T. The coverage is much, much better on AT&T and it's MVNOS. T-Mobile is for cellular masochists.

I'm wondering if there's a portable power bank that can charge my surface, or other laptops, not just phones.
Windows Central Newsletter
Get the best of Windows Central in in your inbox, every day!
Thank you for signing up to Windows Central. You will receive a verification email shortly.
There was a problem. Please refresh the page and try again.