Windows Phone 8.1's Storage Sense might be coming to Windows 9-Threshold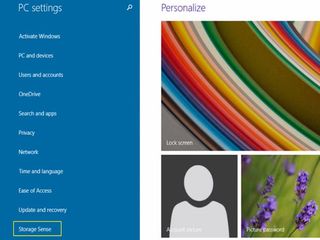 Storage Sense, the storage management feature included in Windows Phone 8.1, could also be put into the next version of Windows, code named Threshold and also known unofficially as Windows 9.
Some of the leaked screenshots and videos of an early build of Threshold that made their way to the Internet earlier this week.show a "Storage Sense" listing in the PC settings. Assuming the screenshots and videos are not fakes, it would appear that Microsoft is trying to merge at least some of its Windows Phone 8.1 features into Windows 9.
Keep in mind that even if the screenshots and videos are accurate, Microsoft could still remove features like Storage Sense from the final version of Threshold. That launch expected to happen in the spring of 2015, to be preceded by a public technical preview that could launch in late September or early October.
What do you think about Microsoft maybe adding Storage Sense to Windows 9-Threshold?
Source Pureinfotech via Neowin
Windows Central Newsletter
Get the best of Windows Central in in your inbox, every day!
This is great! There are some features of Win8.1that i'd really like to see on WP8.1 and vice versa and it's great to know that they're working on merging them.

Yes! Agreed. Its odd they're now releasing windows 9 or threshold when 8.1 just arrive on the phone.

In terms of features, WP8.1 could have just as well been called WP9

Yeh, that's the truth... But Windows 8.1 (PC) should stayed that way, not enough to be called 9

Hopefully most of the windows phone can get the next major update to W9.

Cortana "remind me" in the start menu of this one: http://1drv.ms/1sKap1N

Are you sure? Is that symbol in cortana on WP?

Yes, open Cortana and press the button on the top right corner, press on remind me then press on pin to start and see the symbol

Like ... Awesomeee !! I feel like windows pcs are like phones ... :P

Perhaps this is a sign of the merger of WP and Windows services. The way that the calculator runs in as a windowed Modern app makes me thing that we will also be able to run Windows Phone Apps the same way. Perhaps all of the services and capabilities that seem to be a little bit better fleshed out on WP such as the Folders and Live Tiles will work the same way as Windows on the desktop. Hopefully Baytrail phones will come and you'll have the ability for phones to be a full computer including the ability to run WP apps and Windows x86/x64 apps. It could mean a phone with a docking station at home and/or office could be your only device ala the Asus Padphone or Motorola Atrix.

I think you are asking for too much. Microsoft ONE plan will be very different.

I would LOVE to see that! Hello steam on my phone!

I hope word flow makes it too. How many times have you started to swipe on your tablet?

More than I can remember.

Same here. Would gladly welcome word flow on Windows.

YES! Word Flow would be awesome on tablets!

I'm more interested in dictation. I cannot understand why it's not yet fully implemented in WP and W8, since it works for SMSs (but few still uses SMSs, so it's almost useless). Android have had dictation as an imput method for years now, and MS can do it pretty quicly since it already works

I remember I sometimes dictated on the SMS but then just copied and pasted it on whataspp or w/e.

Oh my! Get out of my head like I even do it on peoples tablets n expect every device to unlock when I double tap the screen.

Or perhaps add features to storage sense

Lol we will not have good Skype and WhatsApp until windows phone 9 is released

It better not rebrand "Others" as OS lol

It will be of more use in Windows 9 RT than in Windows 9

I thought RT was done away with? Right? So there will be no W9 RT

By writing rt he is referencing Windows on ARM . So he means whatever Windows on arm it's called at that point

While that may be true, it doesn't really make sense. What type of CPU something runs on doesn't influence how it is used as much as the form factor does. If we're talking tablets, and that notifications would be useful on it, then it running on ARM or Atom doesn't change much. Notifications will be just as useful (or not) either way.

No such thing...rt is now dead.

I wish metro tiles are still there in windows 9 (threshold) it just looks better than any other windows style.....

Yeah! It is there! Actually they have adopted a toggle option in start menu settings to switch between Metro Style or the old Classic dock! See the video that is leaked shows that feature! Scroll through wpcentral post!

They are... But now in 2 flavors... Start screen, as many of us enjoy... Or the new start menu with live tiles. Pretty cool addition.

Release some new phones already

I like how you guys rate the rumor based on truth, I also agree 7/10 is reasonable.

What is Windows Phone borrowing from Windows :P?

USB OTG, Bluetooth(HID) keyboard and mouse, WiFi Direct. (Wish list) hopefully.

Many smart man doing good job.

Hope the add the ability to store apps on sd cards for windows tablets.

Yeah, that's exactly what I'm asking for

I think they said Windows 9 would be mainly based on Desktop users...What is use of 'Storage Sense'...We already have Control Panel for the storage management..Or i think they will replace 'Control Panel' to 'Storage Sense'.

May be they want show more details of all the apps installed. As of now its hidden inside program data or metro screen.

Yeah i think the storage sense will show the apps and games that are installed in metro UI and which will help user to manage it just like in Windowsphone

I think this would be an good addition for casual desktop users. Must casual users rarely go to the control panel and uninstall applications. This gives a simple way to view what's uninstall apps.

they did not say that, they said that desktop user will be a focus, but they also said they were making big changes to the metro side too.

As far as I've read, the goal is total unification of the core OS. There won't be WP, rt, and desktop windows anymore, there will be windows. It will run on all platforms and be scalable based on user needs and device. It's quite a smart move. It will bring devs back to ms.

I wonder how Disk Space is different than Storage Sense. It seems to serve a similar purpose.

yes, it is unification of windows os

What I hope to we end up with is Windows 8 that works as well as Windows 7 but sparkles like he advances we got in Windows Phone 8.1 It should have Word Flow, Cortana and folders at a minimum. And Cortana MUST know on the desktop what Cortana knows on Windows Phone. Calendering, scheduling, reminders, all must sync across all (Windows) platforms. I also hope Microsoft has invested with major developers from health and pharma groups to build on top of Cortana and they be able to demonstrate new functionality when Threshold launches. Threshold must do what Windows 7 did for average gaming types but where business is concerned and where grown people meet-up, it has to exceed that demand for security and functionality for active directory, exchange, MSOffice, MobileIron, virtualization etc for tablets as well as the desktop for business. I hope Threshold turns out to be more than the return of the start menu. So far, I have not seen it written it to be anything more than superficial, worn out storylines we've seen from the days of Windows XP.

I think there as always been features like this in Windows. MS is just consumerizing the names and interfaces.

Brilliant. Next version of Windows is gonna be awesome. I can't wait.

I don't really use Storage Sense on my Lumia 1020, but I guess having it also on Windows 9 makes sense as the ecosystem integrates. I just haven't had a need for it myself.

That's nice. Maybe you could pop in an sd card. Wait, the 1020 doesn't have expandable storage!

Well hope the 940 and 1030 have SD support. :P

I'm sure an update can fix that. Haha xD Posted via the Windows Phone Central App for Android

Tell me when the on-screen keyboard on windows is on part with Windows phone

Well, I hope the re-add the ability to install store apps to an SD card... sure you could use the reg hack or use junctions but that is too complicated for your average user. Now time for me tea :P.

I thought the rumor was that it would just be called Windows

I wish this also means that we can install Store apps on a microSD card. Many low to mid-range Windows tablets come with 64GB or less space which fills up quite quickly.

Storage sense on WP8.1 sucks at it's best -_-

I have an RT and the storage mysteriously decreases from time to time.. Is Microsoft saving something? Updates? Anything?

Ccleaner is still better than that

Why not use... Such controversy!- windows explorer?

Nothing to be surprised about. Windows 9 still has Windows Runtime component which is being merged with APIs from both tablet and phone use. It is wonderful that all the features are becoming universal. Expect a lot more changes to Windows Runtime at Threshold release.

A day or two ago, I was pretty excited about Windows 9. But, thinking about it, I'm not so sure anymore. True, they have rectified the most obvious of confusion in Windows 8, by replacing start screen with start menu and allowing modern apps to run in windows mode. But that is just surface of it. A true convergence needs to merge WinRT with Win32.
I mean there are two places to manage apps. One is storage sense for modern apps. One is Uninstall programs for legacy software. Then there are phone settings and control panel. Home and My Computer. Files and Explorer. Two different sets of IE, XBox Music and Video then there is Windows Media Player. Two sets of Office apps(from the looks of it). Two One Notes. Two Skype's.
As long as there is redundancy, Windows will keep getting slammed. They need to write universal apps to handle/manage both WinRT and Win32 software. Universal app to uninstall both modern and legacy software. Universal media player. Universal explorer for navigation. Universal settings panel for both desktop/tablet mode. Universal Office suite. Universal Skype. Universal Internet Explorer. I don't know how they do it, they just need to do it if they want to accomplish their plans for a true hybrid device. And Windows 9 doesn't seem to be it. Right now, Threshold holds more significance for Windows on Phones and Tablets than PCs.
Already looking forward to Windows 10 or whatever and hoping that MS finally get it right. They don't have a lot of attempts for screw ups anymore.

Great ideas are great ideas, one day they'll be the same except one will have a desktop.

No need to use my phone for WiFi calls. Why do I need a phone again?

This release will be epic for desktop users....

They should throw in the ability to text with the PC or tablet like Palm webOS was able to do with a connection with our windows phone.

This is going to be awesome

Multiple workspaces like in Ubuntu is gonna be awesome

Would be excellent also the ability to move apps to a storage card would be excellent for lower internal memory windows tablets.

Alright. So this becoming more confusing. Windows threshold is becoming real disorganized with new features. -first: We've apparantly got the taskmanager and filemanager in the desktop environment and now also the storage sense in the settings? So will this feature be exlusive to the modern UI or also part of the desktop environment. Talk about data being put all over the place. Microsoft just put it all into one place, please? And something needs to be done about not being able to index and search files directly through the charms bar. Currently I actually have to a D:/ and then guess the file and document on my surface pro. Very search and user unfriendly. I am forced to put copy's of files on the C:/ drive just to make it work. Crazy! -second: in another article by wpcentral there was talk of importing a nofication bar as well from windows phone. It will currently only be available within the desktop environment from what I've seen in the leaked videos. And then there is the design of hidden live tiles within the startmenu of the desktop environment. Live tiles of many apps already show notifications. So why not make it possible to pin these to the desktop as widgets and allow bigger and interactive live tiles? Problem solved for the necessity of a notification center, right? I feel the best way to go is that microsoft makes two OS'es in the future. Windows threshold could be the intermittent period, comparable to windows vista experiment, and move quickly to windows 10. I think I'll wait for windows 10.

Sounds perfect for small tablets like my Asus vivo tab note 8, hope they include other features like live folders and especially the swipe keyboard :)
Windows Central Newsletter
Thank you for signing up to Windows Central. You will receive a verification email shortly.
There was a problem. Please refresh the page and try again.