Windows Phone apps and games that go bump in the night
Windows Phone Central Roundup: Halloween Games and Apps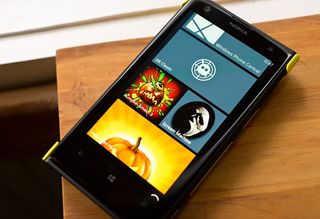 Halloween is right around the corner and the Windows Phone Store has plenty of Halloween themed games and apps to add to your haunting experiences.
You've got plenty of novelty apps, sound effects apps, and spooky games that feature everything from Jack-o-Lanterns to Zombies. You also have the popular Zombie games such as Plants vs. Zombies, Dredd vs. Zombies and even Farts vs. Zombies. But with this week's roundup we focus on more Halloween slanted apps and games. The more seasonal or holiday oriented titles.
We sifted through the Halloween aisle at the Windows Phone Store and picked four off the shelve to highlight this week.
Halloween Hunt (free): Halloween Hunt may not appeal to our older readers but our younger crowd might find the hidden picture games fun. Halloween Hunt is basically a I Spy styled game where you have Halloween items scattered and hidden throughout a picture. Your job is to tap on each item until you find them all.
The game has twelve levels, each with a wide assortment of candy, gum, skeletons, spiders, and bats to find. While the black cat and witch do qualify as Halloween items, for Halloween Hunt they don't count. In tapping on them though, you'll get a creepy sound effect.
While the game may not be very challenge, there are some hidden items that will take a little time to pick out of the picture. Halloween Hunt is a nice option for your Windows Phone Kid's Corner to get the kids into the Halloween spirit.
Halloween Hunt is a free, ad-supported app that is available for Windows Phone 8 and 7.x devices. You can find Halloween Hunt here in the Windows Phone Store.
Ghost Radar Classic (free): If you're heading to an old abandoned house on Halloween with your date and need something to set the mood just right, take a look at the Windows Phone 8 app Ghost Radar Classic.
Ghost Radar Classic analyzes paranormal activity and displays indications of spiritual activity on the radar screen. The app will also detect and give an audible alert for any interesting words these ghosts may utter.
Ghost Radar Classic has three levels of sensitivity (high, medium and low) and apparitions will appear as colored dots on the radar screen. Red is the strongest energy detection with blue representing the faintest of energy readings. All is explained in detail in the app's FAQ section of the help screens.
Ghost Radar Classic is a free, ad-supported app that you can find here in the Windows Phone Store.
If you need a little more punch to your ghost radar, take a look at Ghost Radar Legacy that adds detection logs, email capability, and more sensitivity controls. Ghost Radar Legacy will run you $.99 here in the Store but there is not trial version available.
Pumpkin Smash 3 (free): What's more symbolic of Halloween than a carved pumpkin? Pumpkin Smash is an entertaining series of casual arcade games where you play the role of Bones McScary Pants who's primary weapon is just that... a pumpkin. Pumpkin Smash 3 takes Bones into the haunted Insane Asylum where he must battle a vast selection of monsters with his shotgun and pumpkin hurler. All in an effort to save his candy stash.
The game will guide you through forty-three levels of play that span four unique environments.
To fling your pumpkins, just tap the screen on Bones to pull up the targeting circle, drag the circle to your monster and release the your hold to hurl the pumpkin. The pumpkins are for distant attacks and to keep the monsters at bay. If they get within arms reach you can tap the shotgun tile that sits in the lower left corner of the screen to riddle the monsters with buckshot.
Some monsters move faster than others while some take multiple hits with a pumpkin or the shotgun to take out. Pumpkin Smash 3 also has Boss Monsters that take a considerable amount of hits before going down.
If the monsters make it to your candy stash, they'll start stealing your Halloween loot. As you take out monsters, your candy loot increases. Your loot count is displayed in the upper right corner of the screen and when your candy count drops below 75 your bonus weapons are disabled.
Bonus weapons line the top right corner and include explosive pumpkins, fire pumpkins and frozen pumpkins that freeze the monsters in their tracks making them vulnerable to attacks. There is also additional gaming modes where you tap/hold the monsters to fling them away from Bones so he can get a better shot at them.
There isn't a help section but prior to each level of play, information windows will pop up to give you a little background information on what you are about to face. Read these panel carefully or you'll have an uphill battle to complete the level.
Pumpkin Smash 3 is a well drawn up, arcade styled game for your Windows Phone. Game play is challenging enough to keep you interested and the graphics and animations are superb.
Pumpkin Smash 3 is a free, ad-supported game for your Windows Phone 8 and 7.x device. You can find Pumpkin Smash 2 here in the Windows Phone Store.
Oh... you can get rid of the ads by purchasing the paid version in-app or here at the Windows Phone Store for $.99.
Scary Scream Machine Horror Prank (free): Looking for a Windows Phone app that will generate all sorts of creepy sounds? Scary Scream Machine Horror Prank has a tremendously long title but doesn't come up short on the ghoulish sounds. The app is part sound generator, part prank and part security system.
The sound generator has eighteen sounds ranging from the classic death scream to a sinister Redrum cry. Just tap and highlight the sound then tap the Play Button. Along with the scary sound the app will flash a creepy photo. You can also record your own terror sound.
The prank side of things rests with the Trick button that lines up along the side of the Scary Screams' main page. The trick begins as a harmless eye test where you have to cycle through a few visual illusions. When you least expect it, a scary image will appear with a blood curdling scream.
You also can arm your Windows Phone to sound off a scary sound if someone moves the phone. This feature can double as a prank in that you can launch "lure" sounds that tempt people into picking up your Windows Phone. The lure sounds include a busy signal, a text message alert, a "number not available" message and a creepy child's voice saying "mommy, daddy".
Settings for Scary Scream allow you to calibrate your Windows Phone microphone, customize the armed settings to allow it to be triggered by sound, movement or timer as well as choose the lure sound, set the delay and more.
Scary Sound Machine Horror Prank ran smoothly with no instability issues experienced. The sound selection is respectable and the user interface about as simple as it gets. Connect your Windows Phone to an external speaker and you'll have a chilling sound effects generator perfect for a haunting experience. The only thing missing is the ability to save the sounds as ringtones.
Scary Sound Machine Horror Prank is a free, ad-support app and is available for both Windows Phone 7.x and 8 device. You can snatch up Scary Sound Machine Horror Prank here in the Windows Phone Store.
Happy Halloween
Each of the four apps in this week's roundup have a certain level of appeal. Pumpkin Smash 3 is an entertaining, casual arcade game while Halloween Hunt is a fun game but maybe more so for our younger audience. Ghost Radar Classic is an interesting novelty app with Scary Sound Machine Horror Prank being full of horrifying sounds.
The Windows Phone Store has plenty of Halloween themed games and apps available for download. You also have the Zombie genre of games that can easily be added to the mix. If we've missed your favorite Halloween app, feel free to sound off below in the comments.
Get the Windows Central Newsletter
All the latest news, reviews, and guides for Windows and Xbox diehards.
George is the Reviews Editor at Windows Central, concentrating on Windows 10 PC and Mobile apps. He's been a supporter of the platform since the days of Windows CE and uses his current Windows 10 Mobile phone daily to keep up with life and enjoy a game during down time.