Windows Phone Word Game Round-up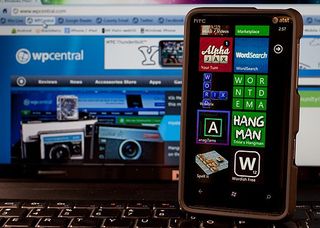 To many, word games on your Windows Phone are a great way to pass the time with. These games can be challenging and mentally stimulating. Heck, you might even learn a few new words from some of these games.
You can compete against yourself, time, the phone or other gamers that are a bazillion miles away. You can find words, create words, and complete words.
Personally, I like the word games that developers have brought to the Windows Phone table and thought it was time to round up a collection. We'll break them down into three categories; Scrabble types, Word Search types, and Hangman types.
To see a list of our favorites from each, ease on past the break.
Note: All the Marketplace links for the games opens up your Zune browser.
Scrabble Types
AlphaJax: Hard to say which is the better game, AlphaJax or Spell It. We did a comparison when these two scrabble-type games were released and after all this time, the choice is still hard to make.
Alphajax requires registration (free) to allow you to play a friendly game of scrabble against other members. You also have a local game setting where you can pass and play the game with a friend or just practice your skills. The game has live tile notifications and toast notification. You can track your game history, scores, and chat with members as you outspell them.
There are two versions of Alphajax available. A $2.99, ad-free game that you can download here at the Marketplace. And a free, ad-supported version that you can download here.
Spell It: Spell It is very similar to Alphajax with registration (free) required to play other members. Spell It supports games with up to four online player in the same game. You also have local play where you can pass the phone around to your friend or practice your spelling skills.
Spell It lacks the flashy red color theme but the game is just as enjoyable. Spell It is a free, ad supported game that you can download here at the Marketplace.
Anag7ams: While not your traditional scrabble type game, Anag7ams follows the genre by requiring you to create words from a pre-selection of letters. You have to find all the possible words from this grouping of letters before the clock strikes zero.
There is a free trial version available for Anag7ams with the full version running $1.29. You can find both here at the Marketplace.
Hangman Types
Trine's Hangman: The ultimate game of hangman for your Windows Phone. An endless supply of puzzles, an online ranking system, and outstanding graphics makes Trine's a must have game if you like word games.
While the hangman animation is basic, the puzzles are challenging enough to keep you coming back for more. Trine's comes in two versions. A $2.99 paid version (has a trial version) and a free Lite version. The Lite version is limited to the number of words (100 instead of the 10,000) and online features are turned off when you pass 500 points.
Look for the Lite version here and the full version here at the Marketplace.
Hangman(by JPG Solutions): While it's tough for any Windows Phone hangman game to come close to the features of Trine's, Hangman by JPG Solutions is a nice alternative that covers the basics. Hangman has six topics (plus a random selector) for words is graphically well presented. It lacks the online leaderboard but if you're looking for a fun game of hangman to pass the time with, this version of the classic game is worth a try.
Hangman is running $.99 and the only downside is that there isn't a free trial available. You can find all the details and download here at the Marketplace.
Word Search Types
Wordrix: Here's an entertaining, addictive game that reminds me of the game Boggle. You are given a grid filled with letters and your job is to create words by connecting these letters. You can connect them up, down, sideways, diagonally, and backwards. You just can't back track your connections. As you create words, the letters are replenished.
The game has two primary modes; local play and arena play. Local play has you competing against the clock to see how many points you can score in an alloted time or to see how fast you can score a certain amount of points. The arena play has you competing against other opponents in an online environment. Everyone is given the same grouping of letters to see who can achieve the highest score in two minutes.
Wordrix comes in two versions. A free, ad-supported version or a $.99 ad-free version. You can find Wordix Free here and Wordrix here at the Marketplace.
Wordish: Wordish is a combines the challenge of a word search game with the game play of solitaire. You're given eight stacks of letters that you have to create words from. As you create words, the stacks decrease and new letters are revealed.
As stacks are deplenished you can fill the voids by moving letters off other stacks. The game ends when you use up all the letters or can't create any more words.
Two versions are available for Wordish. A free that is limited to the easy difficulty can be found here at the Marketplace and a $.99 ad-free version that you can find here at the Marketplace.
Wordament: Wordament is very similar to Wordrix but more inline with the traditional game of Boggle. You have the grid of letters that you have create words from but once a word is created, the letters won't replenish. The goal is to create as many words within two minutes.
You can rotate the playing field to make word combinations more apparent and you are competing against other players world wide. At the end of the two minutes you get to see how many words you missed (and most puzzle will have over a hundred possible words) and your global ranking.
Wordament is a fantastic game and many will ask, which is better? Wordament or Wordrix? If you're content with the online competition, Wordament might have a slight edge. Looking for more of a personal challenge (you against the clock) then look at Wordrix. The nice thing is that Wordament is free and there's a free version of Wordrix available. Why not have both?
You can find Wordament here at the Marketplace.
WordSearch: This is one of my daughter's favorite games. Patterned after the word search puzzles you find in the Sunday Paper, WordSearch has you finding words hidden in a field of letters. Simply drag your finder to encircle the words.
With over ninety different categories of word puzzles and three levels of difficulty, WordSearch will not only challenge you powers of observation but your spelling skills as well.
WordSearch is a free game for your Windows Phone and you can find it here at the Marketplace.
So there you have it. A nice collection of word games that offer a wide variety of gaming options. We know there are more word games out there. Just searching "word" in the marketplace yields you over a hundred results (games and apps combined). But these have stood out amongst the others and have displayed staying power since Windows Phone 7 launched.
Tell us what we missed and if you have a word game that you think we need to spotlight or review, feel free to contact us through our tip line. We are always open to suggestions.
Get the Windows Central Newsletter
All the latest news, reviews, and guides for Windows and Xbox diehards.
George is the Reviews Editor at Windows Central, concentrating on Windows 10 PC and Mobile apps. He's been a supporter of the platform since the days of Windows CE and uses his current Windows 10 Mobile phone daily to keep up with life and enjoy a game during down time.