How Microsoft improved Windows Update in the Creators Update
The Windows Update tool in Windows 10 is known for being a pain when it comes to restarts and large updates, but that's changing with the Creators Update.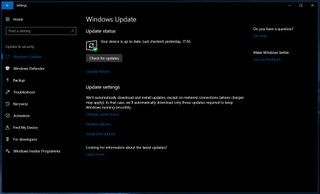 When Windows 10 launched back in 2015, it quickly became apparent that Microsoft's new Windows Update system was a little forceful when it came to restarts, giving the user no choice outside of a warning that a restart would soon be taking place, along with unnecessarily large feature updates. This new update method was heavily criticized by the media and users, so much so that with the Windows 10 Creators Update Microsoft made several improvements that make Windows Update much more bearable.
Starting with the Creators Update, users will have much more control over when Windows should restart when an update is pending. No longer will Windows force you to restart at a specific time, giving the user the option to either snooze the pending update for later or manually pick a time for installation. You can't hold off the update forever, but you can delay it much more so than you could previously. So updates should no longer get in your way if you're in the middle of streaming a video game or rendering a video.
No longer will Windows force a restart when you're in the middle of using your PC. As one of the biggest complaints from Insiders, this is an excellent change and one that I'm sure many will appreciate. In addition to the improved restart control, Microsoft also extended Active Hours up to 18 hours, meaning users can tell Windows that it should never install updates for up to 18 hours in a day.
Unified Update Platform
The biggest change to Windows Update isn't a feature on the surface, but rather a change that happens behind the scenes. Before, with new feature updates, Windows 10 would download a full 3GB file no matter what the changes. This wasn't the case for smaller, monthly updates, but for the twice-a-year feature updates, 3GB is a pretty big size. With the Creators Update, Microsoft improved the download sizes for feature updates, making them up to 35 percent smaller.
This is most beneficial for users with slow or limited internet, or people on machines with a low amount of storage. Feature updates should be far smaller than they were previously thanks to what Microsoft is calling the "Unified Update Platform" (UUP) that it's using across PC and Mobile. Another benefit of UUP is quicker checking for update times, which is nice.
You can also completely pause updates from downloading and installing for up to seven days. This is only supposed to be used when an update is causing issues on your machine, but you can turn it on at any time if you need it. After the seven days are up, Windows 10 will require you to check for updates and then install them if they're available before you can pause updates for seven days again.
Microsoft made a lot of necessary improvements to Windows Update with Windows 10, so much so that most people shouldn't have any issues with it anymore. If you're someone who likes turning updates off completely, Windows 10 is not for you. Microsoft still doesn't allow you to turn off updates on Windows 10, and that's probably for the best. With the "Windows as a Service" module in full swing, the goal for Microsoft is to leave no user behind when new versions of Windows are available. Because of this, you can't turn off updates, but you can delay them and control them easier with the Creators Update.
The Windows 10 Creators Update will be officially available starting April 11.
Get the Windows Central Newsletter
All the latest news, reviews, and guides for Windows and Xbox diehards.