Wireless charging cover for Nokia Lumia 1020 back in stock on Amazon, both black and yellow are available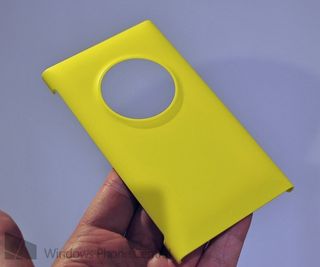 Earlier today we shared a tweet through the @wpcentral account on Twitter. Basically the yellow wireless charging cover (CC-3066) for the Lumia 1020 came back to Amazon, but only had a 4 left in stock. You had to be quick to grab them. Now it looks like Amazon has a bigger supply up.
In the Lumia 1020, wireless charging was omitted to keep the device as thin and light as possible. Or so we've been told by Nokia. Although a recent DIY hack with the Lumia 925 makes a few of us think otherwise. Either way, you're going to need the wireless charging cover from Nokia to add the ability to your Lumia 1020. It's been a hard piece to find over the past few weeks with limited stock wherever you went.
However, if you go to Amazon you'll find what looks like an ample supply for both the black and yellow versions. Both show as "in stock" and go for $39.99. If you've been meaning to grab one you might want to do so before we see another crazy fluctuation in availability.
Have one already? What do you think of it? Sound off below.
Source: Amazon (opens in new tab)
Cue the moaning about the price....

I think you forgot to include the word "deserved". $40 is crazy when this should have clearly been built in. They traded reliability, convenience, case selection, and price, all to supposedly shave a couple mm of thickness. Completely not worth it.

I prefer the couple of mm of thickness over the built in wireless charging. Why are you saying it CLEARLY should have been built in like your view is best and everyone else is stupid? I'm glad they didn't include wireless charging if it meant the phone would be thicker.

Let me revise: "$40 is crazy when to any sane individual this should have clearly been built in.". Is that better? ;-)

Qi is not needed at all. Just got rid of my 8x and 920 along with 3 charge plates. Too long to charge and really its only purpose is eye candy. Now if I could use wireless charging outside of the home then I would reconsider. Being sane is not ordering numerous wireless charge options (home, car) that offer little to no convenience.

Wireless charging for me is nearly as fast as from the plug. I have a desk job, and it's fantastic to just set the phone down on the charger all day in between use, without the effort of fiddling with the stupid plug and not putting wear on it. Also have a wireless charge stand by my bed... great to just place it down without trying to find the cable and get it right side up in the dark which annoys the crap out of me.

Considering the MASSIVE levels of convenience it offers and the really low prices (genuine Nokia chargers often available for $20 a piece shipped, no extra cover needed with 920), it's a fantastic investment.

Sorry, but your opinion could not be more wrong. (Seriously, it is obviously of different value to different people and circumstances, but I think you will find many that love it. It is very cheap to include in the phone and adds very little builk... just look at the charge cover, and consider how much of it is the material around the coils... it would be easy to build it in and would not inconvenience haters like yourself in the least.)

Everyone else is stupid. Wireless charging should be standard on every phone above the 920, and include a charger, period. Moreover, additional chargers should not be excessively priced, which they currently are. This is not helping adoption.

I would've paid full retail gladly for a 1020 if the wireless charging was built in. It's an awesome looking phone, and I am dying for the camera tech, but I just can't give up wireless charging, and all the problems people have had with the charging not working well due to misalignment of the cover, and the ridges it creates on the sides have me spooked. The 920 is so nice to hold, and wireless charging works every time... I just can't bring myself to pay a ton of money if it's going to be a downgrade in this important (to me) area.

It's a shame too, as I am worried the next iteration may not be polycarbonate or may have a larger 1080p screen which I have no use for... I really love every choice they made with the 1020 design-wise except no built-in wireless and no SD Card.

Sigh.

The wireless charging cover has worked perfectly for me. The ridges are slightly annoying but really not a big deal. The way the cover flattens out the back is nice, makes it easier to hold the phone.

From what I can tell, it all depends on whether the contacts line up perfectly on your case or not. If they don't, endless trouble ensues.

I have four different Nokia covers for my 920... two of them have perfectly aligned cutouts for the buttons and back camera chrome. The other two are "off" by varying degrees, making the buttons touch on one side and difficult to press. I imagine it is the same case with the charge covers for the 1020... tolerances are not tight enough, and some get out where they won't line up exactly with the contacts.

I agree on the flatter back... I would just rather the coils been included in the phone, and then we could get whatever case we want to achieve that. As it is now, if you want wireless charging you have precisely one option for a case... and it offers very poor protection, is very difficult ot get, has some potential reliability problems, and is massively overpriced. Just a bad idea all around.

If it came with a charging plate, I'd get it right away.

For $40 I wouldn't get it even if a charging plate was bundled with it. Talk about overpriced piece of plastic.


Great to see these available, it's a shame there is no place to purchase a 1020 in Australia or Thailand.

I have the black one and I like the added function of protection (Like an incipio feather) but, I wish it was built in like my 920. I do like the Yellow Phone / Black shell combo. Looks cool.

After getting the camera grip, I just gave up on getting the charging cover. Just no point in wasting money on it.


The camera grip is a larger waste of money.

Err... Extra 1100mAh power for the phone a waste? I would take that on nights out just to ensure I had the juice for it.

The camera grip is a much better value unless you can wirelessly charge your phone while walking down the street or while attending an event.

It has sufficient battery for a day, except for unusual circumstances where you can't charge overnight, there is no reason to make your phone more massive. Moreover, a cheaper external battery pack with a lot more juice relieves the owner from needing to attach that monstrosity.

You clearly never used or held it. And if you are using the camera during the day there is no way it would last the whole day without the extra juice from the cover.
You also probably never took a photo with your 1020 (if you even have one) because if you did it with the grip and then without you would see the benefits right away.
As for the added bulk, it is nothing compared to some of the other 'construction site' cases people put on the 1020, like the Otter Box, which add considerably more bulk.
As a side benefit the camera grip also serves as a great table stand for the 1020.
Finally LOL at your external battery pack, why the heck would I want to fiddle around with a battery pack that you can't really use when you are out and about taking photos and videos?


I'm just waiting on yellow camera grips to become available.

Its available on amazon now for $85. Hurry they go quick

$85? seriously? when you can get it for $59 at ATT, granted not a yellow one atm but still $85!

Great, now all I need is a 1020...
LOL

I can't understand why Nokia has a hard time getting accessories out to the public. And are they even making a white charging cover or do all the people who ordered white phones get screwed.

Yep, they definitely seem to have accessory production issues. All the more reason to just build it in.

I'm thankful I was able to get the yellow cover 2 weeks ago before the prices start getting jacked up.

How much? I thought it was always $40.

Patiently waiting for a extended battery case like the camera grip w/o the grip that includes wireless charging (*dreams*)

What about the charging plate? Can I use a 920 on this.. ?lumia 1050 take my money

The wireless charging cover is useless if you plan on using a protective case like the Otterbox or Incipo.

When Speck sells rubber shell cases for $35, $40 for a charging shell is worth it. Now if this only came in white...

I hope nokia will consider some other designs of covers on the table. Why not combine wireless charging with an extended battery in the case as well. I do not mind a beefier phone. I think the pocketablity argument and thinness trend is becoming old and disfunctional and too many compromises are being made.

I have 4 wireless chargers placed in convenient places. I don't use them. I always plug in. That way I can easily use my phone and it charges faster. I don't mind that the 1020 does not come with the charging plate one bit.

Same here. Sold all my plates since I got rid of the 8x and 920 for two 1020's. They were nice to show off to visitors at home and coworkers in the office but once the nostalgia wore off they were useless to me.
Windows Central Newsletter
Thank you for signing up to Windows Central. You will receive a verification email shortly.
There was a problem. Please refresh the page and try again.