WMExperts Podcast 13 - HTC Diamond, Treo 800w, and Your Emails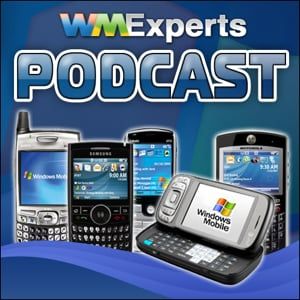 Rumors and new devices this week: the HTC Touch Diamond, the Treo 800w, and more. Plus: a whole heapin' helpin' of listener emails. Plus - there's an "announcement" at the very end that you'll want to hear. Listen in!
News
Touch Diamond Insanity!

Leaks Galore, Here's another leak, and another, AND another
Actual release of Diamond, TouchFLO 3D is neat

Treo 800w Insanity!
In other Treo news, 700wx ROM cookery and Skywriter
Xperia Insanity!

Ok, not really, just a rumored release date of mid-Sept

Quickies:

T-Mo Finally on 3G
Microhoo off - now gunning for AOL?
It wouldn't be a WMExperts podcast if Dieter didn't hate on Sprint - new WiMAX company
Tips and/or Software
Syncing without outlook
Mal's suggestion: Sync Express. My suggestion: Use a free online email service and then sync to it directly from your phone and also from your computer.
WMExperts Store
PPC 6700 Accessory blow out!
cradle 9.95
stylus 1.95
pen stylus - 9.95
[Sena Book Case] - 19.95](http://store.wmexperts.com/sena-cases-book-case/4A22A1683A.htm)
Community
Thanks to Harold, Anthony, Gabriel, and Luca for emailing in and to Eric for calling in!
Credits
Thanks to the WMExperts Store for sponsoring the podcast. Thanks also to these great artists for the music and to CCMixter.org for offering a great database of Creative Commons music!
Excellent as always, boys. And don't get me wrong, I'm not sitting around waiting for the second coming of the Foleo. ... But it is nice to hear Mal not get knocked around so much. :) Catch ya next week. - Phil

A bit of trouble with the podcast. Grabbing it from itunes gives you the first 6 minutes. downloading it, cuts out at 20 mins. It seems streaming it from the site gives me the full pocast.

I'm thinking that we're having an issue because the server is resetting occasionally and it causes iTunes downloads to just freeze up -- we're moving some stuff around soon and I hope that should take care of it.
Meanwhile I think the only option is to delete your iTunes sub and then re-subscribe.

Halfway through the podcast, but I just wanted to mention there is a GSM version of the Raphael also, and that the Raphael, just like the Tilt, does also tilt.
Surur

Oh yeah!? I didn't know that the Raphael would Tilt. I trust the Hinge Nerds at HTC have managed to make it little less awkward than the current tilt..

Oh yeah!? I didn't know that the Raphael would Tilt. I trust the Hinge Nerds at HTC have managed to make it little less awkward than the current tilt..
The Raphael is said to be only 1 mm thinner than the Tilt, so there is really no reason why the mechanism would not be more or less the same.
Surur

Dangit Dieter!
MC-35!! Although I have been looking at the HTC p6550-- If the next version of that one has 4 gb internal storage, AND the 2 SD slots AND touchFlow 3d... Hmmm

Thanks guys for laughing during the podcast about my frustration with treo lockups.....

On a side note, I have to say GONE by djsociopath is a really nice song! :)

Hey Guys,
Hopefully here's a question for your show.
Today, I downloaded and installed Diamond's keyboard for my Mogul. The cab was a beast weighing in at almost 4 megs! I'm very conscious of how much memory I have available at any given time because I seem to hit the ceiling pretty quickly with the Mogul.
So I wanted to see how much memory the Diamond keyboard was using and I thought I'd be able to see it through the 'windows/taskmanager.exe' app but it only listed the 'non-os' running apps (eg. File Explorer, Garmin).
My question is, is how would I be able to see how much memory the keyboard app is taking or any other app that ties into the os for that matter?
Thanks!
Eric
Windows Central Newsletter
Get the best of Windows Central in in your inbox, every day!
Thank you for signing up to Windows Central. You will receive a verification email shortly.
There was a problem. Please refresh the page and try again.