Simple workaround to set up Dynamic Lock on Windows 10 ''Creator's Update' build 15031
Do you want to try Dynamic Lock on Windows 10, but the Settings app won't let you connect your phone? Try this workaround to connect your Bluetooth device and complete the setup.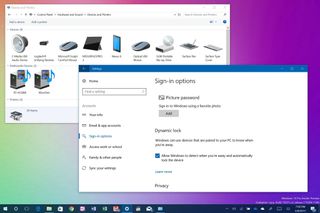 Microsoft recently rolled out Windows 10 build 15031 to the Fast ring as a minor update part of the Creators Update. Among the new changes, the company officially introduced Dynamic Lock, which is a security feature that allows Windows 10 to automatically lock your device based on the proximity of your phone paired using Bluetooth.
The idea is simple if your phone is no longer near your computer, Windows 10 waits 30 seconds, and then turn off the display and locks your PC.
Although Dynamic Lock is available now for testing, a bug in the Settings app is not letting users access the Devices page to pair their phones and complete the setup. Microsoft is aware of the issue, and it's planning to have this problem fixed probably in the next flight. However, you can still test the security feature on Windows 10 build 15031. You just need to connect your phone using Control Panel.
In this Windows 10 guide, we'll walk you through the steps to connect your phone using Bluetooth in Control Panel, and then use the Settings app to enable Dynamic Lock.
How to try Dynamic Lock on Windows 10 build 15031
Before you begin, make sure your phone has Bluetooth turned on. Depending on your phone, there are a lot of ways to do this, as such be sure to check your phone manufacturer's support website for assistance.
Note: With Windows 10 Mobile build 15031 it too has the same bug meaning you won't be able to add/remove or manage Bluetooth devices once on it. You'll have to wait for another build to fix the feature and it advised to paid any devices to your PC before you update if possible.
Using Control Panel to pair your phone
To pair your phone using Control Panel, do the following:
Open Control Panel.
Click on Devices and Printers.
Click the Add a device button.
Select your phone from the list, and click Next.
Follow the on-screen directions to complete the pairing process.
Reinstalling Bluetooth drivers
If you tried a number of times and you can't pair your phone, I have found that reinstalling the Bluetooth driver can fix this issue.
To reinstall the Bluetooth driver, do the following:
Use the Windows key + X keyboard shortcut to open the Power User menu and select Device manager.
Expand Bluetooth.
Right-click the Bluetooth radio adapter and select Uninstall device.
Click the Uninstall button to confirm.
Restart your computer.
Once your PC reboots, Windows 10 should reinstall the Bluetooth driver automatically, and you can try to pair your phone one more time using Control Panel.
If the driver doesn't reinstall automatically, you'll need to download the correct driver from your PC manufacturer's support website and reinstall it manually.
Enabling Dynamic Lock
Once you connect your phone via Bluetooth to Windows 10 build 15031, you need to use the steps below to enable Dynamic Lock:
Open Settings.
Click on Accounts.
Click on Sign-in options.
Under Dynamic Lock, check the Allow Windows to detect when you're away and automatically lock the device option.
After completing the steps, you should be able to walk with your phone away from your computer, and after 30 seconds your computer should lock automatically. However, remember that this security feature is meant to lock your PC when coming back, you'll need to enter your password to unlock it.
Dynamic Lock still under development and may or may not work for everyone. If it's not working after connecting your phone, you can try restarting your computer and testing again.
As a last resort, if you still can't connect your phone using Bluetooth, you can alternatively go to Settings > Update & security > Recovery, and use the option available to go back to the previous version of Windows 10.
Once you're back in the previous version, you can connect your phone using the Bluetooth & Other devices page in the Settings app, and then simply reinstall Windows 10 build 15031 on your computer. The upgrade process will preserve the Bluetooth connection, which means that you'll only need to enable Dynamic Lock to try the feature.
More Windows 10 resources
For more help articles, coverage, and answers on Windows 10, you can visit the following resources:
Windows 10 help, tips, and tricks
Mauro Huculak is technical writer for WindowsCentral.com. His primary focus is to write comprehensive how-tos to help users get the most out of Windows 10 and its many related technologies. He has an IT background with professional certifications from Microsoft, Cisco, and CompTIA, and he's a recognized member of the Microsoft MVP community.
I did this yesterday. It takes longer than 30 seconds on mine.

Had this with previous OSes using BtProx. Free utility that does tje very same thing.

btprox worked great. I hope that the 30 sec timeout can be adjusted.

I normally leave my phone at my desk, but my band leaves with me.... Can it be paired with a band too?

Band only pairs with one device at a time, iirc

I seriously doubt MS will bother to make any features work with the Band.

I could not get it to work. How far do you need to be from the computer before it locks?

About a room of distance. Thanks,

You can also test by switching your phone's Bluetooth to off

What if I leave with my phone but somebody is using my PC? Would it still lock that guy out?

works perfectly! Nice feature!

Pairing and connecting are two different things when speaking of Bluetooth. You should not mix them up. I suspect that in this article, I should read 'pair' in each and every case of 'connect' although I'm not sure. Either way, I've paired my Lumia 950 and my Surface Pro 3 but it's not working.

I had to reboot once after pairing... Then it worked for me.

After having rebooted both, I indeed notice that my Surface now connects to my Lumia every 30 seconds or so. (By keeping the notification area open on the latter and watching the Bluetooth icon.)

That's the same thing I've been thinking. You the phone just be 'paired' ot 'connected'. Cos I noticed my phone doesn't remain connected to my PC after pairing and I don't know ig that's the reason why this feature is not working for me.

Just being paired is fine. The computer can then watch your phone's Bluetooth signal strength without remaining connected the whole time.

Works perfectly with my SP4 and Lumia 950, nice feature. Distance was "the other side of a large room", time was around 30 seconds but that's fine with me.

I'll try that. It's not in the article though. Thanks.

3rd paragraph under "enabling dynamic lock" 😉

Funny, wanted to try this with my 950XL on Build 15031... Turns out I can't access Bluetooth settings as tapping it immediately closes all of settings and drops me to the homescreen... Gonna see if my Alcatel Shine Lite does the trick

Yes, the latest Mobile build also has the same issue PC has which this article shows a workaround for on. As it was in the change log I made sure I had already paired my phone to my computer and left Bluetooth on before updating.

Still isn't working for me. I did pair my 650 and PC before updating the 650 to 15031. Enabled Dynamic Lock. How far away do you need to walk before it secure the PC?

Mine didn't work until after I rebooted. It seems to be working now. Anyone with a bluetooth enabled watch or fitbit try this yet? Also, it would be good if later on, you can enable how quickly the screen locks.

Does it matter if the phone is in lock screen mode or does it need to be unlocked? Thanks
Windows Central Newsletter
Thank you for signing up to Windows Central. You will receive a verification email shortly.
There was a problem. Please refresh the page and try again.