Worms Battlegrounds is now available for free on Xbox One with Gold membership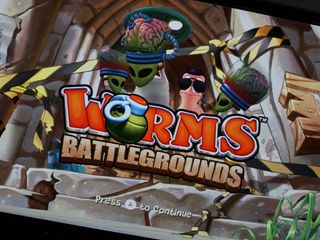 Last week, Microsoft announced that December's free Games with Gold would be Worms Battlegrounds for Xbox One users. Well today is the first day of December so you can head to your Xbox One or just use the Xbox One SmartGlass app to fetch the app for download.
Worms Battlegrounds is a turn based strategy game in which the objective is to use different weapons and items to defeat the opposing team. This version of worms features a hefty total of 65 weapons. The game takes place within a world history museum and follows the worms as they attempt to stop Lord Crowley-Mesmer from taking control of the museum.
The game released earlier this year in May as part of the ID@Xbox program. Fellow writer, Paul Acevedo, stated in his review (which you can read here) that he enjoyed the game especially with the new expansive clan feature. He did feel as though the game was a little overpriced with its launch price of $24.99. So if you have an Xbox Gold membership you should definitely take advantage of it being free until January 1, 2015.
Worms Battlegrounds - Xbox One - 1.92 GB - $24.99/FREE with Xbox Gold - Xbox Store

(opens in new tab)
Im looking forward to play this game. BC I played the old version on the 360 and I had a lot fun in multiplayer

They should give away The Crew free next month. I tried the demo the handling and control SUCK moddafacka, not worth the price tag. I bought the FH 2 and happy with it.

Did you change the handling setting?

Yes, I did thank you very much and I used a $400 racing wheel plus a race sit. Still sucks. I won't cross the USA for 90 mins with such terrible road handling. It feels like a floating motorboat. Maybe because it's a demo. Dunno?

I felt the same way. Super disappointed by the whole experience.

I rather have em hand out a good game anyways, but I agree with you. I installed the beta for hours, just to uninstall it after less than 15 mins. Meanwhile Forza Horizon 2 demo still sits on my HDD :D

I have had Xbox one for 5 months now . This is the best free game yet

I'd have to say Guacamelee takes the cake

I agree, guacamelee. But I am super pumped about worms.

Nah, the best Games with Gold were 1. Super Time Force, 2. Max: The Curse of Brotherhood, 3. Guacamelee: STCE, 4. Halo: Spartan Assault, 5. Chariot.

Yep, guacamelee I actually played. The other games were just so blah.

Wonder when they'll put up something like Dead Rising 4 or another big game for free.

Who knows got to port it over. I don't have time for a big game. Got enough already.

Dead Rising 3 is the newest game in the series.

Worms kicks ass. No one should pass this up for free. I played for years on PC back in the day.

Why they won't release that game to Windowsphone too...?

Perfect in console multiplayer, can't wait to beat the tar out of my mates in worm based warfare.

I would so love to have a Worms game for my Windows Phone.

Yeah, that would be cool, with a versus capability like "ARMED"

Yes! I want this so much.

I got a problem with store.. What ever I search for its showing no results

What about 360? Should I trow it out the window? Pfftt. Done with consoles..

Best deal ever! Looking forward to playing it.

You can still get it so that you can download it when you do get your Xbox One

The store is acting flakey for me. Worms Battleground says Unavailable where the Buy button is. I'm in the US.

@JotaKa its doing the same thing for me and not recognizing my Xbox gold account

DDOS attack on XBOX Live right now.

Could this game come for WP? I so love Worms !


Technically it is.... Download the snes emulator then download worms onto your phone
Windows Central Newsletter
Thank you for signing up to Windows Central. You will receive a verification email shortly.
There was a problem. Please refresh the page and try again.