Get geeky and write a tech poem for a chance to win an Xbox 360 with Kinect (US Only)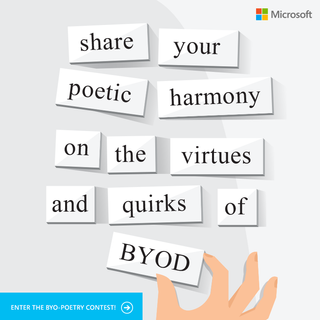 If you are lucky enough to work within a workplace that allows the ability to BYOD (Bring Your Own Device), then you might feel happy enough to write a poem about it. Luckily for you, Microsoft has issued a new contest that focuses on just that - and you have a shot at winning an Xbox 360 with Kinect bundle.
You heard that right, Microsoft wants you to write a poem about your BYOD experience within your workplace. Essentially - write about the "virtues and quirks of BYOD". The poems must be under 300 words and do not have to rhyme, so feel free to right a haiku, sonnet, or anything else poetic that floats your boat.
The poem itself must touch upon one of the following: Consumerization of IT, Device Management, Information Protection, System Center Configuration Manager, Virtual Desktop Infrastructure, Windows Intune or Active Directory.
The deadline for entries is 12 AM PST on December 30. For more details, click here to visit the official contest page.
Good Luck!
Source: Microsoft
Windows Central Newsletter
Get the best of Windows Central in in your inbox, every day!
And is only available to residents of the United States, no doubt.

Redmonds are red, BSOD are blue and I want an Xbox but it's to imposibru cuz it's for you?

When Vista crashes
My screen turns blue
Oh Mr. Gates
How I miss you

Feel free to "right" a haiku? My eyes are bleeding...

Why would they be giving away an Xbox 360 instead of an Xbox One?

They wanted to give away a model that works? Bah-dum-bum

Clearing out old inventory?

Yet again. La di da, as Walter (Jeff Dunham) would say.

There once was a contest from M.S.
Restricted to those in the U.S.
"Unfair!" some exclaimed
Others: "That's so lame!"
On phones free of AT&T-ness.

Sick of this 'us only' shiznit. :

Then move to the US or stop crying about it.

I would if I could. No argument here. Sadly, not gonna happen anytime soon. So I guess, stop crying will do it for me. Haha
Windows Central Newsletter
Thank you for signing up to Windows Central. You will receive a verification email shortly.
There was a problem. Please refresh the page and try again.