WunderMail review: The best way to use Gmail on Windows 10
If you want to use Gmail on Windows 10, WunderMail is an impressive new application.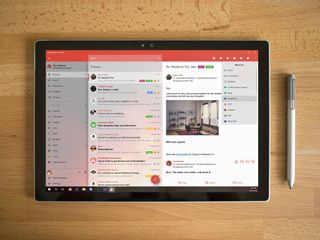 WunderMail is a new addition to the Microsoft Store, coming out on October 5, 2018. It's built on the Gmail APIs, not IMAP, so you get access to features that are usually only available on first-party Gmail apps including labels and categories.
It also features a gorgeous design, merging the Fluent Design language with Gmail's functionality. It works well with touch or keyboard and mouse making it a good email client for tablets, PCs, and 2-1s.
You can use WunderMail for free or upgrade to premium for $9.99 per year. Upgrading to premium removes ads and helps support the developer of the app.
See in Microsoft Store (opens in new tab)
Native-like Gmail on Windows 10
WunderMail is made by the makers of EasyMail, but WunderMail takes a different approach. Instead of being a web-wrapper or being built on IMAP, WunderMail is a native UWP app built on Gmail APIs. This means that you get access to labels and categories for your email. WunderMail also has offline support and real-time push notifications that show up in the Action Center of Windows 10.
All of this comes together to make an impressive Gmail app. It's lightweight, full of Gmail features, and looks incredible. I'm not the email client elitist that some people are, but I'd say that WunderMail is one of the best-looking email experiences I've ever used. It's the perfect combination of Fluent Design and minimalism.
An impressive start
WunderMail's current version is an impressive first release in the Microsoft Store. Our executive editor Daniel Rubino and I both got early access to WunderMail and were impressed, especially by its looks. Its design is already excellent and shows promise for things to come. That being said, there are a few things that are missing from WunderMail that I'd like to see in the future.
Two features that I'd like to see are Timeline Support and a Dark mode. The developer of WunderMail has stated that both of these are being worked on, but I'm disappointed that at least dark mode isn't available right now. WunderMail has a stunning light mode, so I'm optimistic that the dark mode and other design updates will maintain the high standard the app already has.
Overall thoughts
WunderMail is the best Gmail client that I've used on Windows 10. It has a brilliant design that matches Windows 10 and features that you'd usually only expect to be available on Google-made Gmail apps.
The only downside to the app is a relatively high price tag to remove ads. A recurring $9.99 per year price is going to be too steep for some, though that depends on your budget and what you want in an email client.
The app is missing a few features and design elements that I'd like to see, but many of these are being worked on. Overall, WunderMail has arrived in the Microsoft Store and quickly earned its spot as a top Gmail client.
Pros
Feature-rich Gmail experience
Stunning design
Support for multiple accounts
Cons
Annually recurring price for premium
See in Microsoft Store (opens in new tab)
Windows Central Newsletter
Get the best of Windows Central in in your inbox, every day!
News Writer and apps editor
Sean Endicott brings nearly a decade of experience covering Microsoft and Windows news to Windows Central. He joined our team in 2017 as an app reviewer and now heads up our day-to-day news coverage. If you have a news tip or an app to review, hit him up at sean.endicott@futurenet.com (opens in new tab).
For $10 per year only if you don't want to see ads is just awesome! A hit on that for the review is just ridiculous. BTW I am not an employee of the guys that made the app nor I am earning money of my comment 😂

Should be a purchase outright option though?
I don't want to subscribe to an email app, I don't see the value. (Even though its a low cost sub)
If they charged say $20 for outright purchase, I'd consider upgrading to full. Not paying a subscription for an app of this type.

I agree, 10$ a year is peanuts. I think the problem with an outright price, is it doesn't take into account future upgrade costs. If it was an outright price, they would need to charge probably 100$ or more to see any sort of profit.

I want to love it. But app not supporting dark mode is a no go. And the fact it doesnt respect accent colour doesn't help either. And oh. Not able to select all messages to mark then as read is a bummer too.

And Times Roman as a default font in email...... uninstalling

Is it safe to use 3rd party apps like this one to access username and password protected sites??? How does this email app interact with my Gmail username and password and the data that's in my emails? I'm just curious.

There's risk of course.
I can trust MS or any other biger brands more then those small, no-name brands.
At least, a few thousands outta billions of users (+ news sites) will monitor these services for us. And we know where they are.

Yes it's safe. OAUTH2 is the keyword. In a nutshell - you never give password to a application vendor. The login screen is by google and you say to google that you're fine that such and such an app can access your data. Said application can then of course send your data to the third party but that's a problem with anything you install on your computer.

Don't jump to the conclusion that it's safe to use just because it uses OATH2. Just what are you authorizing to use your Google account: the app, running directly on your device, or the developer's servers? A growing trend in 3rd party email clients lately is to offload email handling/processing to the company's servers (note, I'm not saying that Wundermail does this specifically - just something to watch out for). Microsoft Outlook for mobile does this for instance - and it can be problematic, depending on a number of factors, eg: what is the provider's policy for handling your mail, do they keep copies of your messages on their server? Mine it for data / ad targeting? Or (as in my case for work) are there legal requirements that prevent you from using a mail app that functions in this manner? Wundermail may not do any of the above, but it's definitely something you need to consider when picking a 3rd party client.

Thanks for the responses. 👍

WTH is up with these darn subscription-based business models? How intrusive are these ads? I was all in until that point. I've got enough subscription-based memberships in my life already. Beautiful app, but solid PASS due to the advertising tax.

Agreed. I dont mind the free + ad supported option, but should have a pay outright option.

look guys, people must eat something. if you don't want an application to die there must be some sort of continous financal support.

They can get that with discounted upgrades in the future. Freemium Adware isn't the way to my wallet. Let it die, for all I care. They might offer a workable option for us at round 2...

The second link takes me to an edge extension called night eye, not WunderMail

Ugh... A subscription mail client. Cute, but I'll pass.

Yeah, too cute by half. It's amazing to me that there's a market for this. Then again, I realize I don't use the various features of Gmail nearly as much as some people.

SAAS ?Nope, not forme, happy to buy it and own (at a reasonable price) but not to 'rent' it, that's why I moved away from Adobe.

Exactly. I regret that I have but one like to give you.

You can also use secure email service like Protonmail or Countermail...that way you're at least paying for security...

It is pretty but extremely slow vs gmail on browser.
Also there are some bugs (sometimes deleting stuff in the trash or in the spam folder does not work).
Not sure why anyone would pay just to get a pretty UI but less performance, less functionalities and bugs...

The following short video was cut with the new Photos app. If you want to do something quick, you can get relatively nice results. There is an AI based feature that adapts the music to the scenes, pretty cool! Unfortunately there are still missing important features such as crossfades, 4K support etc. Search for "AMG C63S on the Beach - Forza Horizon 4 " on Youtube.

Great. $9.99 a year for an app that doesn't give me access to my calendar and task.
Windows Central Newsletter
Thank you for signing up to Windows Central. You will receive a verification email shortly.
There was a problem. Please refresh the page and try again.