Xbox deodorant, body spray, and more coming to Australia and New Zealand
Smell like the gamer you always imagined yourself to be – minus the Doritos and Mountain Dew.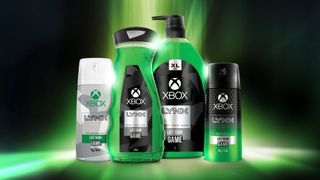 What you need to know
Xbox is launching a new line of hygiene products in Australia and New Zealand this July.
Yes, you read that right.
Xbox body spray, body wash, and deodorant are all in the cards.
If you've ever wanted to capture the scent of a gamer, slap an Xbox label on it, and put it on store shelves for everyone to enjoy, Xbox of Australia and New Zealand has you covered. According to Gamespot, Micorsoft's Xbox division has teamed up with Lynx to launch a line of hygiene products throughout grocery stores and pharmacies in Australia and New Zealand.
"Lynx Xbox is a fresh scent of pulsing green citrus, featuring top notes of kaffir lime and winter lemon, aromatic herbal middle notes of mint and sage, and woody bottom notes of patchouli and clearwood," a description of the line cited by Gamespot says. "Containing a range of natural essential oils, the Xbox Lynx range comes with a sleek new look and features a body spray, deodorant, and shower gel."
.No, your eyes aren't failing you. This is real.
If you live in Australia or New Zealand, you'll be able to get your hands on the Xbox Lynx collection starting in July. So far, there's no word on whether the range will see the light of day in other markets – but, boy, oh boy, one can only hope.
Xbox
(opens in new tab)
Main
Xbox accessories you'll love
Every one of these quality accessories is guaranteed to enhance your Xbox experience.
PowerA Enhanced Wired Controller for Xbox One (opens in new tab) ($20 at Amazon)
PowerA's take on the Xbox One controller is an attractive pickup for budget-conscious gamers that nails all the basics.
Talon PDP Xbox media remote (opens in new tab) ($20 at Amazon)
The Talon PDP Xbox media remote is great for watching shows on your console.
Xbox One S vertical stand (opens in new tab) ($10 at Amazon)
Stand your console upright with this accessory.
Dan Thorp-Lancaster is the former Editor-in-Chief of Windows Central. He began working with Windows Central, Android Central, and iMore as a news writer in 2014 and is obsessed with tech of all sorts. You can follow Dan on Twitter @DthorpL and Instagram @heyitsdtl.
Huhhh??
*quickly checks calendar to see if it's April 1st*

Umm... personally, not sure what to make of this lol.... clothes I can I understand... but this.. Hmm.. Objectively, it's licensing genius as there are die hard fans out there and there are people who take colour co-ordination to crazy levels. Some may argue it sort of dilutes the brand and they'd have a point. Never the less it's so bizarre and hilarious that it actually sticks with you thus generating mindshare. People are going to share articles about this whilst having a good chuckle. I can also see these becoming a collectors item if Microsoft pulls the plug on this endeavour.

As you know a group of lions is a pride, a group of crows is a murder. My son once told me a group of gamers is a stink. Clearly an underserved market. ;)

Their fanboys just buy anything Xbox related. Whether it's about buying 3 or more different versions of consoles in one generation or the nth version of controller.
Why not milk these people with more "xbox" products? I just wish that, as a gaming company, they are more focused about making and releasing games. It's not as if they provided a huge amount of games for their customers this generation (compared to the competition).

yeah... imagine if a company would sell a monitor stand for 999$ how ridiculous...

@DontBe
Sorry, I have no idea what you're talking about.

Apple announced their new monitor which is $4999 without a stand. the stand is an extra $999.

LOL That is really dumb from Apple. And like this I'm sure silly fanboys will defend and buy that thing.
Thanks for letting me know.

Yea, but have you seen the stand? It's magical.

To be fair, the monitor is incredible, it is quite simply the greatest display you can buy for that price bar nothing. And most people buying it, won't buy the stand, they'd VESA mount it (still a cost of $199, but more manageable) instead.

It's too bad sony doesn't release games with replay value. You know ones that have multiplayer or splitscreen co-op. It gets boring pretty quick playing single player only games especially the repetitive button mashers especially considering they milk their fans for the full $60. Or have features like backwards compatibility instead of ripping you off for $20 a month. Or Native 4k gaming, 4k blu ray, dolby atmos.

@jams
LOL You do know that there are more PS4 exclusives that has multiplayer than the XB1.
Why don't you go buy some "xbox" body spray instead of bringing bs argument? :)

I'm only interested if it smells like a new Xbox. 😜

Oh yeah, because PlayStation merchandise doesn't exist. gear.playstation.com/en-us The concept is stupid, but this isn't the first time a company has put it's name on a product.

Well, yeah. I think merchandise on games can be ok but not of a brand.
PS brand merchandise is also a way to milk PS fanboys.
Yes, it's not the first company doing it, but I'm not sure it's the best idea to do this type of things after the poor offering of games they offered their customers not only this generation but in the last 10 years or so.

The Speedrunning community needs this more than anyone

Don't you mean speed walkers?

Finally, we get something down here and it's...what?! Would have far preferred we got proper Cortana or Xbox Design Labs...or...and..etc etc Gee thanks Microsoft :/

It's Lynx though, that stuff is putrid.
Windows Central Newsletter
Thank you for signing up to Windows Central. You will receive a verification email shortly.
There was a problem. Please refresh the page and try again.