Xbox details Xbox Series X, Xbox Series S experience, dynamic backgrounds and faster network speeds
The Xbox Series X and S are designed for speed at every corner.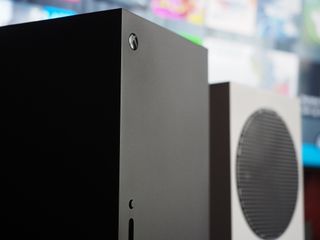 (Image credit: Windows Central)
What you need to know
The Xbox Series X and S are the next-gen powerhouses from Microsoft coming later this year.
Both consoles have a serious focus on gaming and speed, with refreshed software experiences and powerful hardware.
In a new demo video, Xbox gives a closer look at the experience coming to Xbox Series X and S when they launch.
Most of it we've already seen, but we get to learn new information about things like dynamic backgrounds and networking speeds.
We're inching ever closer to the long-awaited launch of the Xbox Series X and Xbox Series S on November 10, bringing with them a new era of console gaming focused on power, speed, and accessibility. We already knew about the New Xbox Experience coming to the entire Xbox ecosystem, including Xbox One, and we've even gone hands-on with an Xbox Series X preview. Now Xbox has an official Xbox Series X and S demo (opens in new tab) of the experience, which while mostly known information does contain a few interesting tidbits.
If you watch the 14-minute long video, you'll notice that the Xbox Series X just flies through everything, utilizing it's super fast SSD to Quick Resume almost instantly between games, and navigate effortlessly through the Dashboard, Guide, Store, and more. It looks very impressive, and means that more than ever before the software is designed to stay out of your way and let you game. There are a few things that I found very interesting, however.
Dynamic backgrounds. We've seen dynamic backgrounds teased already, and they look fantastic. Now, we know a little bit more about them. Dynamic backgrounds are indeed completely exclusive to Xbox Series X and S, so they will not be coming to Xbox One. There is also one dynamic background for each accent color you can choose to personalize your console, but Xbox mentioned that they intend to add more later down the road.
Faster networking speeds. The Xbox One is already decently fast for downloads, compared to other consoles, but anyone with internet that can push 1Gbps speeds knows that at some point the Xbox One just can't handle any more (mine usually stalls around 150Mbps). Apparently a hidden upgrade with the Xbox Series X and S up until this point has been upgraded networking equipment, meaning the Xbox Series X and S can handle higher internet speeds, faster downloads, and all around just a better online experience.
The 1TB SSD expansion card is fast. A little detail that you may not have caught at the end of the Xbox Series X and S demo is just how instant the Seagate 1TB SSD expansion card is. Upon being plugged into the back of the Xbox Series X, you can see in the background how the games loaded on the expansion card are immediately available for play, with nearly no latency. That's impressive stuff.
The biggest headline features of the next-gen Xbox's like Smart Delivery, Quick Resume, auto-HDR, and comprehensive backwards compatibility across games and accessories have all been known quantities for a while, but it's great to see these other additional details (like the hidden IR receiver) that just give gamers a better experience with the Xbox Series X and S.
Xbox Series X/S
Main
What is the Xbox Series X release date?
How much does Xbox Series X cost?
Why you can't preorder Xbox Series X yet
Zachary Boddy (They / Them) is a Staff Writer primarily focused on covering the latest news, the best Xbox and PC games, and the most interesting hardware. They have been gaming and writing for most of their life, and have been with Windows Central and its sister sites since 2019. While originally brought on to write about all things Minecraft, Zachary has since expanded to write about practically everything that Windows Central covers. You can find Zachary on Twitter @BoddyZachary.
Imagine if XBox Game Pass would add Windows 10 for XBOX :D I bet Microsoft thought about it, just interesting why they did not do it yet :D

Never gonna happen. W10 standard requires support for the old WIN32 APIs, which the XBOX OS does not support.
Many, MANY programs require WIN32 support, and would not work on XBOXOS, which is x64 only, AND heavily encrypted, and with a lite and thin HAL layer. What is MORE likely is for MS to port the XBox VMs over to a future W10x platform, not the other way around. Remember, XBoxOS runs closely on the hardware, with the Dashboard, and games, and backwards compatibility VMs for both 360 and OG games running in separate, encrypted, lite VMs (containers like Kubernetes really) on top of the stripped-down OS that only has the absolutely-required drivers available. This is what makes the XBox software stack so flexible, and allows MS to change things as needed and maintain compatibility across hardware changes with ease.
95% of the software runs in a VM, so only the very-low-level HAL and Drivers need to ever be changed, but maintain the APIs across versions.
This is why Xbox can have OG and xb360 games run with no issues, while the PS5 can't run anything other than PS4 games (which used the same CPU architecture and OS.)
Windows Central Newsletter
Thank you for signing up to Windows Central. You will receive a verification email shortly.
There was a problem. Please refresh the page and try again.