Xbox E3 2019 briefing takes place on June 9
By Asher Madan last updated
Expect new hardware and exclusives.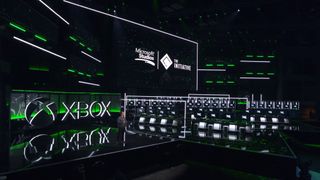 (Image credit: Microsoft)
Today, Microsoft detailed when its E3 2019 media briefing would take place. If you happen to be in Los Angeles, you can probably secure tickets for June 9. However, the rest of us will probably be watching the livestream on June 9 at 4 PM EDT.
Aside from upcoming exclusives, Microsoft will probably showcase the next-generation Xbox. Today, Sony revealed the PlayStation 5's (PS5) specifications, and it's quite powerful. Aside from featuring an 8-core processor and next-generation graphics card, it also has a solid state drive and other technology which enhances audio. Microsoft has a lot to prove during its reveal.
The company said the following about its E3 2019 plans. There's a lot going on, especially if you're a fan of the gaming brand and attending the event.
Hopefully Microsoft will blow people away with the next-generation machines. Instead of just one console which seems to be Sony's strategy, the Xbox "Scarlett" will feature two. Xbox "Lockhart" will be the entry-level model, and the Xbox "Anaconda" will be the Xbox One X successor we've all been waiting for. However, it's unclear if Xbox Anaconda will be more powerful than the PS5, but given the fact that it's supposed to be a high-end model, Microsoft probably isn't holding back due to price constraints.
Are you excited for E3 2019? What do you want to see from Microsoft and the next-generation machines? Let us know.
Jump into digital
(opens in new tab)
Xbox One S All-Digital
Secure your Xbox One S All-Digital; Microsoft's new and ambitious disc-less console. It's the cheapest Xbox One ever made, bundled with a trio of downloadable games.
Xbox accessories you'll love
Every one of these quality accessories is guaranteed to enhance your Xbox experience.
PowerA Enhanced Wired Controller for Xbox One (opens in new tab) ($20 at Amazon)
PowerA's take on the Xbox One controller is an attractive pickup for budget-conscious gamers that nails all the basics.
Talon PDP Xbox media remote (opens in new tab) ($20 at Amazon)
The Talon PDP Xbox media remote is great for watching shows on your console.
Xbox One S vertical stand (opens in new tab) ($10 at Amazon)
Stand your console upright with this accessory.
Asher Madan handles gaming news for Windows Central. Before joining Windows Central in 2017, Asher worked for a number of different gaming outlets. He has a background in medical science and is passionate about all forms of entertainment, cooking, and antiquing.
I really hope Microsoft goes all-out with the Anaconda. I'll definitely be interesting to have two consoles at launch, and maybe another mid-generation refresh later.

Same, although pricing will be a major factor, if it's $650 in Oz like the One X, I can justify that, I couldn't spend more than that on a console though.

For those wondering (and since Windows Central rarely writes this) that time should be UTC¹ -05:00, according to Outlook for the web time-zone picker. 1 - Coordinated Universal Time

Microsoft can afford to take more risks than Sony due to the fact their richer. I believe Anaconda will be on high end pc levels. Can't wait for this beast to launch.

Apparently some insider sent specifications or something else to an administrator at ResetEra. It's much more powerful than the PS5, but they won't share more details due to "security" reasons.

What I'm hoping (like every year) is loads of announcements of new games. Games made by MS that is not just the usual Forza. They have bought studios recently so I'm hoping they'll announce some games for them.
Also I don't really want to see any of those ****ing timed exclusives. None of these "Console launch exclusive" bs. I'm really looking forward to games. Not too much hardware. I'll feel a bit weird if they start hyping a new "most powerful console ever" around one and half year after releasing the much hyped Scorpio for 500 bucks.

I suspect there will, they'll show games from every single one of their acquired and constructed studios. Maybe not actual gameplay, but at the very least teasers/trailers from everyone. Also it's worth mentioning the Scorpio isn't a new generation, just like the PS4 Pro wasn't, it was simply a revamp of the current gen, running concurrently. I wouldn't be surprised if it could run the upcoming games to be honest.

I don't think they will all show games. In 2017, Spencer said they won't announce games too early. I think he even mentioned something like 18 months. Some of the acquisition took place recently so I think they'll try to spread announcements over the years. ofc that may have been just PR talk to justify their poor E3 that year. When Spencer first talked about Scorpio he said that there won't be console generations anymore. Just new consoles that comes along every few years. Now, if that period is less than one and half year before they start hyping the new console I wonder if console gamers will follow. From what I understand, this new console for MS will not be a new gen console like the PS5. I think the new PS5 exclusives will be exclusives to that platform. The new XB/MS games will all be playable on XB1. What it could mean is there would be less reason to buy the new XB vs a PS5.

I mainly care about xCloud and tech and what it means for consumer (and devs, to make business decisions). xvc is a welcome subject too.
Game? I buy more than 50 games a year, I have plenty.

btw, with all the infras, software designs, mipmap modding techniques, wcos, etc, it means we can finally have our complete game lib (& saves) with us all the time on every device, anything HW architecture future (even Steam, can only support x64, x86 if Valve don't do something using the new sdk) might give us. No more gen-break.
Windows Central Newsletter
Get the best of Windows Central in in your inbox, every day!
Thank you for signing up to Windows Central. You will receive a verification email shortly.
There was a problem. Please refresh the page and try again.