Xbox at E3 2019: Everything we expect to see
We take a big look at the current state of Xbox and ask ourselves, what exactly will Microsoft drop at the biggest gaming event of the year?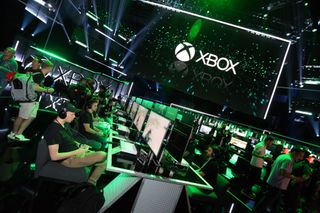 (Image credit: Windows Central)
As the current console generation draws to a close, it's difficult not to look at this generation as the one that kinda, well, got away.
With merciless competition from Sony's PlayStation 4 (PS4) right out of the gate, alongside an evolving, and frankly, disruptive, Microsoft corporate consumer strategy, the Xbox team certainly hasn't had it easy. That hasn't stopped the company from innovating, though.
The Xbox One X (opens in new tab) remains the most powerful console ever made, Microsoft's Xbox Game Pass (opens in new tab) service is driving new revenue streams, and with Project xCloud game streaming around the corner, Microsoft will attempt to tap relatively untouched market.
While I do expect Microsoft to talk hardware and services at E3 2019, which officially begins June 11, many will be looking at the Redmond Giant to deliver an answer to its biggest criticism in recent years: it isn't investing hard enough in content. With a huge array of growing studios, alongside much larger operations such as 343i, Mojang, and Playground Games, we should begin seeing the fruits of Microsoft's gaming content strategy in E3 2019.
Here are a few of my personal E3 2019 predictions, expectations, and wishes, ahead of Microsoft's big event on Sunday, June 9.
(Disclaimer: Don't take these as leaks. This is a recap of rumors and whispers ... with a bit of wishful thinking.)
What Microsoft games can you expect at Xbox E3 2019?
Microsoft has been pretty cautious with its game announcements following the cancellation of games like Fable Legends, Phantom Dust, and Scalebound. The triptych of missed expectations has undoubtedly contributed to a drop in the way Microsoft's first party efforts are perceived, and one would hope Microsoft is gearing up to build confidence in the quality and variety of its in-house content.
Microsoft, like many big publishers, seems to also be facing a bit of an existential crisis when it comes to what types of games to pursue. The core cries out for single-player titles that match Sony's The Last of Us or God of War, but like any company, Microsoft plays to its strengths, and right now that is cloud tech and online infrastructure. Multiplayer games factor in heavily to Microsoft's gaming-as-social push across Mixer and Xbox Live, in general, so I expect we'll see plenty more of that this year.
I've heard credible rumors that despite winning awards for its single-player title Hellblade, Ninja Theory is, in fact, working on some sort of multiplayer game, in a similar vein to For Honor or Absolver. I'm not sure how true that one is, so we'll have to wait and see. I've also heard that Rare is working on another multiplayer game, alongside Sea of Thieves, which may come as a disappointment to those expecting a return to Banjo Kazooie or Conker. Still, there's no reason Rare wouldn't be able to outsource and contribute those IPs, similarly to what they're doing with Battletoads and Dlala Studios. I expect we'll see the new Battletoads in some form, even if it is brief.
I wholly expect a Halo Infinite trailer this year, perhaps even featuring gameplay for the first time. Halo Infinite is a massive undertaking for Microsoft and 343i, as they seek to bring the franchise back to its former glory. Halo Infinite will launch on PC, complimented by ports of the Halo Master Chief Collection to Steam. Halo Infinite has been rumored to be taking on some form of "RPG" approach to its gameplay, but I've heard that any progression systems are soft at best. You're not going to be grinding stats, put it that way.
Age of Empires will also feature at E3 2019, but despite some rumors of an info blowout, I heard whispers that developer Relic isn't ready to showcase Age IV yet. I'm sure we'll be reminded that it's on the way, but it's more likely that Microsoft will talk Age of Empires II Definitive Edition and Age of Empires III Definitive Edition, leading into IV's eventual launch.
Microsoft will show off a new Forza Horizon 4 (opens in new tab) expansion at E3 2019, and I've heard that rather than being location-based, it will be another brand-oriented partnership in a similar vein to the Hot Wheels DLC. If you were a fan of Hot Wheels, you should be pleased with what Playground is bringing to the table here, if what I've heard is true.
On the more obvious side, we're probably going to hear updates on Wasteland 3 and The Outer Worlds from inXile and Obsidian Entertainment respectively. We might get some information on the next We Happy Few DLC as well, given that out of the three promised updates for the season pass, only one has materialized. Sea of Thieves might sail across with some new DLC information, too. I also expect an ID@Xbox montage, which is virtually tradition at this point.
Gears (of War) 5 will feature at E3 2019 this year, which we expect to pick up a September 2019 launch date. We should begin to see more of the gameplay details in full, to flesh out the snippets of information we've received so far. Gears 5 will be more open than previous games, evolving the franchise beyond its overly linear roots. As for the PC-bound Gears Tactics, I haven't heard that we'll be seeing it this year, but it's not outside of the realm of possibility.
If I had to guess, I'd say it might be too early to see anything from The Initiative, given that the studio is still very new. I think we could see Minecraft Earth gameplay for the first time, though. Despite being a phone game, it has the very raw potential to be as massive as Pokemon Go, and Microsoft will want to get its name out there.
What about that Fable reboot? I'm not expecting to see it at the show, but who knows?
Third-party games at Microsoft's E3 2019 showcase
There are rumors that Microsoft has boosted its E3 2019 showcase to two hours, partially in order to accommodate third-parties this year. With Sony sidestepping E3, Microsoft has the biggest stage upon which to announce partner games, so be prepared for a lot of new stuff.
Last year, Microsoft closed the show with a spectacular "hackjob" from Cyberpunk 2077, so I think it's almost certain we'll see more from CD Projekt RED at the show this year. Although Ubisoft has its own conference, it showed off unique trailers for the Xbox stage in the past, so we might get a closer look at the likes of Ghost Recon Breakpoint, the rumored Watch Dogs 3 set in London, or the "leaked" Rocket League-like Roller Champions.
EA doesn't have its own conference this year, either, so expect to see Respawn Entertainment's Jedi Fallen Order take the spotlight. We might see trailers for Square Enix's Avengers, too. Bethesda and Microsoft work closely together, as well, so there's every likelihood we'll see some DOOM Eternal hit the green stage.
There are a few other known games that might make an appearance on Microsoft's show, such as Monster Hunter World: Iceborne from Capcom, and Dying Light 2 from Techland. With two hours to fill, there should be piles of new stuff from every corner of the globe to sink our teeth into. Speaking of teeth ... I really do hope that unlikely Dino Crisis reboot rumor turns out to be true.
Hardware, services, and studios
Following Sony's PlayStation 5 announcement, there's no reason to think Microsoft won't follow suit with its own next-gen console reveal at E3 2019. Long rumored to be split into two separate SKUs, the "Xbox Scarlett" range will push premium power with Anaconda, and a more affordable alternative in Lockhart. I'm expecting Anaconda to be more powerful than the PS5, although we won't know for sure until we get to drill down into the details.
We're expecting the new Xbox consoles to come with an all-new OS, based on Windows Core OS, which we've been covering for some time now. Expect an all-new dashboard based on the Fluent Design System, with the speed and fluidity at the forefront. The next Xbox will be fully backward compatible with the existing library on your Xbox One, including X360 and OG Xbox back compatibility.
Update May 30, 2019: Due to some confusion over this paragraph, I've updated this section. We've heard that there's a possibility that, at least at launch, there will potentially be a period where new Xbox Game Studios titles launch for both Scarlett consoles, and original Xbox One consoles. This potentially pertains to the completion of Game Core, which is a development environment that won't be coming to the older Xbox consoles, as it's tied to the development of Windows Core OS. The finer details on this are very scant, so take it with a pinch of salt. Read up on Windows Core OS, right here.
The big graphical leap next-gen will come in the form of ray tracing, which has become popularized by NVIDIA's RTX GPU line on PC. RTX uses Microsoft's DirectX Ray Tracing API (opens in new tab). In the simplest terms, ray tracing provides physicality to a game's 3D world, bringing more realistic lighting, shadows, and reflections. Ray tracing produces far more impressive visuals than what is possible on video game consoles today. As pioneers in the ray tracing space, Microsoft is well-placed to standardize these developer techniques and bring them to the masses with its new consoles along with its partners.
We'll also probably see Project xCloud demonstrated on stage in a bit more detail. Microsoft employees are actively using xCloud today to stream games to mobile devices and beyond, all around the world. Servers are hitting Microsoft's core territories first, namely North America and Europe, as the company begins scaling up the service. Microsoft may talk pricing, too, since xCloud isn't going to be a free service, nor is it going to give you access to your entire digital library. It will be up to developers how they want to deliver their games over xCloud − if at all. Like backward compatibility, though, it's a bit of a no-brainer, since Microsoft's tech will do all the heavy lifting.
As for new studio acquisitions, I haven't heard a sliver of credible information. There have been suggestions Microsoft may acquire Relic from Sega, to help elevate the Age of Empires franchise, but credible information I've received recently suggests that they might be building up a new studio for that instead. Rumors (likely made up) have also pointed towards a range of other independent smaller studios, including IO Interactive, Asobo Studio, and even Crytek. I haven't been able to drum up anything I'd call concrete on this front, but typically these talks are at the highest level and aren't easily leaked save for occasional instances of public company documents.
A chance to reboot Xbox with the core
A lot of the leaked "Xbox E3 plans" I've seen have contained snippets of things that I know not to be true, which has called into question the rest of the "leaks." Microsoft seems to have done a pretty good job keeping its E3 plans under wraps this year, with just over a week to go to the big day.
Microsoft managed to alienate a lot of its base in 2013 with the reveal of the OG Xbox One, $100 more expensive than the PS4 and bundled with Kinect. It also learned a lot of difficult lessons throughout the generation, with a notoriously difficult development cycle on Crackdown 3, a spree of high-profile game cancellations, and a generally unimpressive exclusive lineup throughout.
There's no doubt in my mind that Microsoft is gearing up to put Xbox back at the top of the pile, faced with tough competition in the console space from both Nintendo and Sony, and potentially powerful interventions from Tencent, Google, and Amazon on the cloud-streaming front. Microsoft cannot afford to be complacent about its library, nor can it afford to rely on third-party partners to do the heavy lifting on its platforms. What if Google starts splashing the cash to lock down streaming exclusives, Epic Games-style?
Nobody expects Microsoft to falter in the hardware or services front, but the spotlight on its unambitious exclusive content aspirations has only grown brighter among Microsoft's biggest critics. As a result, it has begun slipping into the consciousness of less-engaged gamers, too.
I expect Microsoft to continue to play it safe in terms of announcing games "too early," but if we could just see a glimpse of all of that gaming investment alongside everything we expect, I for one, would be satisfied.
Excellent and affordable Xbox accessories
Up your Xbox experience with one (or all) of these budget accessories, all of which are approved by the gamers of Windows Central.
PowerA Play & Charge Kit for Xbox One (opens in new tab) ($15 at Amazon)
This charging kit keeps your Xbox One wireless controllers juiced up, and it offers batteries for two controllers. At just $15, this is hands-down our favorite budget charging companion.
ElecGear 4 Port USB Xbox One S Hub (opens in new tab) ($19 at Amazon)
This brilliant little USB splitter hub attaches perfectly to the side of your Xbox One S console. It's ideal for use with chargers, controllers, headsets, and more.
Controller Gear stand (opens in new tab) ($13 at Amazon)
Proudly display your Xbox gamepads with this stylish and functional stand. The licensed design is minimalist and black, and it has a hidden storage compartment, making the price of $13 a real steal.
Windows Central Newsletter
Get the best of Windows Central in in your inbox, every day!
Jez Corden a Managing Editor at Windows Central, focusing primarily on all things Xbox and gaming. Jez is known for breaking exclusive news and analysis as relates to the Microsoft ecosystem while being powered by caffeine. Follow on Twitter @JezCorden and listen to his Xbox Two podcast, all about, you guessed it, Xbox!
Should be an interesting E3.

Ninja Theory has a smaller team beside their larger team. Leaks are that the smaller teams game is Bleeding Edge. And that the main Hellblade bunch are working on a new Single player story driven experience. Several leaks have confirmed this.

Hellblade was a really good game except for the ending.

Leaks confirm nothing until the announcement. If they are working on two games, Edge is the only one we're gonna see at E3 I think.

100%. Hellblade was only recently. It will take 3 ir 4 years to see a AAA story driven exclusive. Bleeding Edge was being worked in in tandum to Hellblade. Which is why it's going to release early next year.

What if MS announces a wireless standalone VR headset with a Xbox one x chip powering it and 30 games at launch for $299 🤯

That would be mind blowing, but I don't even see that as a remote possiblity at this point.

This is high on my doubtometer

Yeah, I heard it runs for ten minutes before the battery is drained.

Why should it be on battery? If you use it indoors there is no need for battery and if it's outdoors I'd be fine with a ten pound battery in a backpack... But yeah batteries is the limiting factor going forward for any portable device... But that's true for all the manufacturers... Innovation in that field will be a goldmine for anyone making the next groundbreaking discovery...

Also a credible source has said we will have a Fable reboot trailer. All in engine to showcase what the next Xbox is capable of. And it's mind blowing apparantly. Fable will hit next Gen in 2021. Halo Infinite is also a showcase for next Gen. It is a launch title for Next Xbox. Further credible sources say Forza 8 will have a gameplay engine debut again to showcase the power of next Gen. And will be a launch year title. Not launch day. But launch year.

LOL what credible source?

I use Randal and Colteastwood on YouTube alot. Both these guys are 2 of the best most trustworthy I go on the internet. If they are Making educated guesses they will say. But everything they do is based off of credible sources they use.

Randal is indeed a decent guy but Jez is a lot more credible with his information.
Colteastwood is a fanboy clown. I'll never trust a stupid company fanboy like him.

Not alot at this year's E3 will be available on Xbox one. Apart from Gears 5, Ori 2 and a possibility of a watered down version of Halo Infinite cross release at Xbox Next launch. At least from first party titles. Any new stuff shown is all next Gen. Either launch day or launch year.

"Watered down" version how? It'll still look staggeringly good on the Xbox One X and PC.

Considering the power gap between the 2, it will be watered down. We only have to look at Titan fall 1, to see how much was cut both visually and technically from the 360 version.

You do know that as the tech evolve from now on smaller will be the difference visible to the human eye?
Look at current comparison, the image needs to be stopped and often have a x300 zoom.

That's true on smaller screens or with a large draw distance... But as time goes screens become bigger and viewing spaces don't... So it does become more and more noticeable for most people... Especially as video games become more and more photo realistic... Skin definitions do allow more detail that add to the whole... It's like sound outside the earing spectrum... While it doesn't add to the listening experience it does add physically depth you feel with other senses... With image it will add to the physicall perception you will have of the image... But so far it does still add simply to the visual... I went from a 34 inch monitor to today a 75 inch oled hdr and all the fuzz and I still see an visual evolution on the same material... And I expect to see it when I'll get a 4k hdr video projector hopefully in time for next Gen...

Pretty sure anything next Gen will run on Xbox one x at least... Which means anything ready to release will launch even if the target is next Gen and it's not out yet... This would be especially smart to strike exclusive deals with third parties even if the console is not out yet.. And therefore build solid appeal prior to launch.... An other move would be to purchase EA and have exclusivity on sports games but that's wishful thinking... An other one would be to have Xcloud on PS or even Switch... With the Xbox catalog with of course some sort of advantage to be an Xbox hardware customer too... This will happen but not in the foreseeable future.... But I'm convinced that future of MS is platform agnosticism... And I believe that their current strategy is clearly aiming at that... At least the way I see it... Anyway I'm sure next Gen at least for MS console will be like an iterative launch like the Xbox one x except with a bigger gap and a software and hardware architecture overall... But the one X should be able to run whatever comes out on the new system... IMHO it was built around that idea...

This article is garbage. Jez obviously did not consult with Mr. Loveridge prior to writing this piece and is thus lacking some of the most basic facts about the MS E3 event. I am disappoint.

LMAO!!! How dare you Jez!

LOL I couldn't have put it better!! :)

And what do you know. A new article with 14 new Xbox Game Studio Games. What did I say? The majority of games shown from First party will be next Gen. Including Fabke Reboot. They weren't my Rumours they were Rumours and highly likelies from trusted YouTuber in Randal and Colteastwood. I was pointing out alot of this article doesn't marry up with what others are saying. And now we have a jew article where Phil says 14 titles. Jez I'm a little disappointed in you. I've been away for some time. And you seem to have stopped to Guests level. Hahahaha.

Nobody said anything about 14 new titles. That's your interpretation. In fact they talk about games from Xbox Game Studios, so they could even show 14 known games. Which is probably what they will do, because otherwise they would have hyped even more with "14 new titles".

Which ones are out already? Are you saying that MS are going to show titles that are already out to buy? Also this is the first time MS has said First party titles. And not Console Exclusives. Meaning Phil is talking about titles only from those First Party owned studios. Not bought or paid for exclusives.

See, that's why you'll be one of the least reliable person on this site.
You can't understand a simple Spencer tweet.
In these 14 they'll probably talk about content to already released games like FH4.

Think we'll hear anything about Minecraft Dungeons and the Super Duper Graphics pack for Minecraft? I hope so. Been on a bit of a Minecraft binge lately!

I am pretty sure super duper graphics isn't going to happen anymore. I'd rather expect a raytracing powered next gen version. Doing super duper now (two years after it should have come out) would just lower the impact the raytracing version would have.

Minecraft Dungeons, yes. Super Duper? No.

"Ninja Theory is, in fact, working on some sort of multiplayer game, in a similar vein to For Honor or Absolver."
WTF?? They always made single player games and now suddenly they'll make multiplayer game after MS bought them? I'll find it difficult to believe that MS didn't have something to do with it. So what next? They'll have microtransactions like the way they introduced it in minecraft?
ofc I'm sure the devs wants them in their game...
I sure hope it's not true and that these devs are truly given 100% creative freedom. "I've also heard that Rare is working on another multiplayer game, alongside Sea of Thieves, which may come as a disappointment to those expecting a return to Banjo Kazooie or Conker."
Well yes for me it will be disappointing. For me they are better with single player games. I just hope this doesn't turn out to be true. I really don't want to see another SoT... "Microsoft will show off a new Forza Horizon 4 expansion at E3 2019, and I've heard that rather than being location-based, it will be another brand-oriented partnership in a similar vein to the Hot Wheels DLC."
But ofc, most of their DLCs are sponsored by some brands. I wonder how much money they actually get from these deals... Anyway, what I'm hoping to see is release dates for Ori sequel and AOE 4. And that they release this year. In 2017, Spencer said that they won't announce games too soon before launch so since those games were announced back then I would hope they come this year.
Next I'm hoping for a lot of announcements. It's one thing to announce the acquisitions of 2nd and small 3rd party studios it's a total different story if they announce actual games. My priority is and will ALWAYS be games. I'm into gaming to play games and that's what I really hope to see at E3.
Also hoping to see some Battletoads gameplay. And also a date for Cuphead's DLC (even though that's not a MS game). What I don't want to see is too much of the service talk or the digital-only console. Don't want to see them going in with the usual "World Premier". Or even worse the "Console launch exclusives". That means these are probably deals that MS signed to delay a game on other consoles.

LOL the "World Premiere" thing is so freaking annoying, but I'm sure EVERY video will start with that. I can't wait to see Battletoads myself, but now I'm kind of nervous because did the article say its another party doing it and not Rare? I have a feeling I'm going to be slightly disappointed like I was with Turtles in Time when they rebooted that one. I'm also with you on Cuphead. It's really a blast in local CO-OP, and I really need to finish it (got stuck on last boss). Other than that I just want to see what my money is going to be spent on next year, hardware. I have a feeling games aren't coming until then anyway and I have a huge backlog waiting.

Apparently, they were working on this multiplayer game before MS bought them. MS isn't forcing multiplayer on anyone. IF it's true.

Bleeding Edge was in development alongside Hellblade. A much smaller team. It is releasing first half of 2020. Their next story driven single player game won't see the light of day till 2022 at the earliest.

"Microsoft may talk pricing, too, since xCloud isn't going to be a free service, nor is it going to give you access to your entire digital library." Well this is exactly what I DIDN'T want to hear.

I must have missed that part. This goes against the initial reports.

Yeah, that's a bit worrying, although I can't see why developers would be averse to allowing xCloud support as if it does allow your existing library the games still need to be bought, so the Developers are still getting their money. Unless publishers start setting up their own streaming services (as opposed to simply subscriptions), but that seems like an exorbitant cost for little gain.

I think xCloud will play your own games, but for those you don't own yet you will have a choice of buying them or paying them per hour.

Basically Microsoft isn't going to force it on devs, like they didn't force backwards compat on devs. It'll be an opt-in, for many it'll be a no brainer, but for EA, etc, they may either want more money, or they might be setting up exclusivity deals for streaming versions with competitors. It's not going to be a simple process.

Microsoft is really good at keeping everything under wraps - and then leaking everything themselves 12 hours in advance by posting all their marketing material before the actual E3 presser.

I wish they wouldn't leak information. Surprises are good. They make bigger impact and are more memorable.

I hope Microsoft does not just play it safe with multiplayer games but will take risks with single player new ips as well because that does not bring excitement imo relying on just multiplayer. The other issue with Microsoft is they are to predictable when it comes to their 1st party ips and that has to change big time next gen. I love Xbox but they can def learn from Sony on taking risks with their 1st party ips. And if they want to really become global they will need more 3rd party Jrpgs support next gen.
Windows Central Newsletter
Thank you for signing up to Windows Central. You will receive a verification email shortly.
There was a problem. Please refresh the page and try again.