Here's what's new, fixed and broken in the latest Xbox Insider Alpha ring build
The Xbox branch of the Windows 10 Creators Update is in full swing, with Alpha testers set to get a new build later tonight.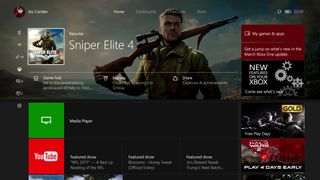 The Alpha ring is a close approximation to Windows 10 Insider's Fast ring, where the most dedicated testers can early access to the least stable builds. Testers in the Beta, Third, and Fourth rings will have to wait a little longer, but the builds will be less problematic as a result.
Here's what's fixed and what's broken in the latest build for the Xbox Insider Program Alpha Ring, set to go live at 6PM PST on February 6th, 2017.
DETAILS
OS version released: rs_xbox_dev_flight.170201-2341
Available: 6:00PM PST 2/6 (1:00AM GMT 7/2)
NEW FEATURES:
Automatic Updates
You can now enable automatic updates independently from your console's power mode (Instant-On or Energy-saving). To enable automatic updates, navigate to the new updates interface in Settings > System > Updates. Consoles in Energy-saving Mode will download any available updates at shut down. For consoles in Instant-On mode, the experience remains the same.
Achievement Tracker
You can now control the transparency level and number of achievements in the achievement tracker.
FIXES:
Cortana
Resolved an issue which caused Cortana to fail to select a profile for sign-in.
KNOWN ISSUES:
Cortana
Cortana may be too responsive to phrases which sound like "Hey Cortana". The development team is continuing to tune and improve this.
Cortana may take a long time to respond when activated while playing certain games.
Scheduled Cortana reminders will not provide a notification if the user who created the reminder is signed in, but not the current active user.
Ubisoft Club
When launching the Ubisoft Club app, the screen automatically starts scrolling down, and prevents the user from scrolling back up.
Sign-in
With profile sign-in settings set to "Lock it down", you may be unable to sign-in again after playing a game, then signing out. Workaround: Hard reset the console (hold down the button on the front of the console for five seconds until it fully powers down, then power it back on).
EA Access
The EA Access app may indicate you are not an EA Access subscriber when you are. This does not affect your ability to download or play games from the Vault, or receive discounts on EA titles.
Guide
Microsoft Edge webpages which have been pinned on the Jump tab fail to launch the webpage.
Screen Dimming
The screen may dim after a short amount of time while viewing videos in certain apps (Hulu Plus).
Settings
Ease of Access: When enabling the Mono output setting in Ease of Access - Audio, Settings becomes unresponsive, crashes, and fails to launch on subsequent attempts. Workaround: To launch Settings, perform a hard reset (hold down the button on the front of the console for five seconds until it fully powers down, then power it back on).
Display & sound: The Audio output page is under construction and some of the new settings are not yet functional. New support is planned for Dolby Atmos for home theater, Dolby Atmos for headphones, and more in upcoming builds. An announcement will be made when these new features are ready to try out; enabling these settings now will have no effect.
IGN
The IGN app launches and immediately crashes to Home.
Wireless Display
The Wireless Display app fails to launch and immediately crashes to Home.
Stay tuned for more from the Xbox Insider Program!
Jez Corden is the Managing Editor for Windows Central, focusing primarily on all things Xbox and gaming. Jez is known for breaking exclusive news and analysis as relates to the Microsoft ecosystem while being powered by caffeine. Follow on Twitter @JezCorden and listen to his Xbox Two podcast, all about, you guessed it, Xbox!
Where's the Beam support?! ☹

When I update how do I broadcast

Nothing changed with Twitch app. It'll still be pinned at the right of the screen. I don't know if that'll change in coming updates. But it is basically the same thing.

Still haven't received update still pending registration but need to know how to broadcast if the snap mode is gone

I thought I was the only one with a pending registration.

Nope me too you're not alone lol

Not a fan of the new update. No noticeable speed improvement, takes me extra steps to quit apps and be on my home screen. It's like going from Win 7 to Win 8......extra steps to do basic functions. Am I doing something wrong?

Much quicker overall for me. Regarding home screen, ya it takes an extra A A to get there but you can access more functions directly now without the need to return to the home screen.

Yeah, took me a little bit to get used to the change, but now I have to say that I've become a fan of the new setup.

Best Update ever and to ones whining how many steps it takes to get to home, get over yourself smh Broadcasting open your game then open twitch set your broadcast go back to your game and broadcast bar will appear on the bottom (to see chat you need to have another device to read it)

Love the new Update screen detailed and clear as to where the installation is and how much further to go, very clean

Still pending. Fantastic. As an aside, alpha updates sound fairly edgy !

I've noticed some bugs, but most have been cosmetic for me. Like pins not displaying properly.

Last wednesday I got a notification I was selected for the in de beta group (I'm lev. 14 in the insider app, guess not high enough for alpha). Got the update on friday. This one is for the alpha group. If your accounts are still pending, guess you guys are in the 3th ring.

I notice that I am on level 7

They've changed the Settings | Console Info page. The only options now are to change the xbox name, and reset the console. it no longer displays the last time it was updated, or the last time it checked. [Edit] They've apparently moved the missing items to a new tab: Settings | Updates This is where the ability to control whether you want to automatically recieve console and/or app & game updates

Noticed that I'm unable to play music in the background now, or view TV while on the main home screen.

My status for Xbox Insider has been stuck on (PENDING) for over four days... I have been an insider on Xbox since day one. Supposed to be on the beta ring... Reboots, etc do not help... any ideas?

Seems they fixed the corrupt text on the Home page also (with last nights update). Good.
Windows Central Newsletter
Thank you for signing up to Windows Central. You will receive a verification email shortly.
There was a problem. Please refresh the page and try again.