Here is Xbox Kinect on Windows 10 with Windows Hello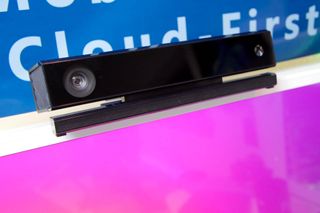 Late last week Microsoft released some early drivers for the Xbox One's Kinect to work on Windows 10. Kinect within Windows, for now, is mostly for developers to code and write things for the multi-usage sensor, but for consumers there is one thing you can do right now: Windows Hello for facial recognition with system logins.
We picked up the $50 conversion kit that Microsoft sells through their store and gave it a spin. Here are our quick thoughts and a hands-on video.
Here is what you need to know:
Windows Hello works very well
You cannot yet use Kinect as a web camera for Skype or any other Windows app
You will need a tripod or shelf to mount the Kinect if using it for your PC
You need a USB 3.0 port and some extra power in your PC
The Kinect still needs to plug into an AC outlet too
The wires are all very cumbersome
The bottom line is if you are not a developer Kinect for Windows 10 is still very much a novelty. Sure, you can use it for Windows Hello, and it works great, but you will have to spend some time hiding wires and finding someplace to stick the rather bulky accessory.
Seeing as Kinect on Windows 10 is still very new and only in an early release we hope to see it become more useful on Windows 10 going forward. However, it'll probably be some time before we see this being utilized in any standard sense. For developers, however, this is all very good news and should be exciting.
How to setup
You will need the following to make this work if you are still interested:
Kinect sensor from Xbox One or Kinect for Windows Developer Bundle ($199)
Kinect Adapter for Windows ($50) (Not need if buying the Developer Bundle)
Simple registry edits to enable the Kinect drivers to be downloaded
To modify the system registry, you need to add just a few subkeys as directed by Microsoft (opens in new tab). No restart is needed. As always, heed caution when making changes in your system registry:
Open the Windows Registry Editor (regedit.exe).
Go to HKLM\Software\Microsoft\
Create subkeys \DriverFlighting\Partner\
Under \Partner subkey, create a string named "TargetRing" and key-in "Drivers" as the value.
Exit from the Windows Registry Editor. You do not need to restart the computer after this change.
Run the Windows Update application and check for updates, or in the Device Manager, right-click the target device and select Update Device Software.
Verify your test driver is offered as expected.
Once complete, you can then head to Settings to being using Windows Hello. Just read our simple guide on how to use Windows Hello.
How to set up Windows Hello facial recognition in Windows 10
The overall setup process is very easy, but as mentioned above usage scenarios for non-developers is limited at this time.
Any developers here using Kinect for Windows? Let us know what you are working on in comments!
Daniel Rubino is the Editor-in-chief of Windows Central, head reviewer, podcast co-host, and analyst. He has been here covering Microsoft since 2007 when this site was called WMExperts (and later Windows Phone Central). His interests include Windows, Microsoft Surface, laptops, next-gen computing, and for some reason, watches. Before all this tech stuff, he worked on a Ph.D. in linguistics and ran the projectors at movie theaters, which has done absolutely nothing for his career.
What we need is for Kinect to work with virtual keyboards, and track pads.. I wonder if anyone is working on that... This would be nice to have on future devices..

I mean, Microsoft really should be leading the charge in basic Kinect development (e.g. using it to Skype, etc.).

How about make it work again in the **** Xbox?

I have 2. Both work well. Voice obviously.

I'm so glad they got rid of annoying gestures. Voice, brilliant.

Since the update to 10, I find that voice on my Xbox is not as snappy, or doesn't hear me as well. So it either works perfectly, lags or does nothing... Maybe I should try to recalibrate first. I use voice ALL the time, I've come to rely on it.

Same here. Also I think voice commands dont even work in the Netflix app anymore unless the controller is on.

$200 to login with my face. I like my $35 fingerprint reader. However, if they add support for Skype and Skype for Business, there might be a market for it in conference rooms.

Especially if it can recognize everyone's face in a conference room.. There's a lot of benefits to that.. For one, people's names..

And much smaller footprint, greatly reduced weight and waaaay few materials wasted for a simple login. Kinect's other uses, like it's purpose with Xbox make it useful.

I am not getting any of the beta drivers. I've done the registry edit. Unplugged/restarted. The usb from the kinect adapter keeps appearing under generic usb hub. Does hello require a special processor? I have an i5 2500k.

I thought they stated a while back that the Kinect didn't have the necessary sensors / camera to support Hello?

The Kinecf 2 has an infrared camera for depth sensing. Since the other systems use IR afaik, there's no reason it couldn't.

Ok. So finally got the pc to recognize the Kinect. Had to disconnect from the usb 3 hub and plug it in directly to the motherboard port. When I try to setup, I can see the Kinect turn on, but no image of me for setup. Just white box. Got a message about not enough resources. Heads up to people wanting to give this a go, might not work with your motherboard. Looks like my hardware may be a limitation. I have a Gigabyte GA-Z68X-UD3H-B3 and it doesn't work. I read about the Real Sense camera requiring 6th gen. to work and was excited that this might be a good workaround. No dice. This is an important piece of info when putting an article up. People should stay away unless you have recent equipment.

+1 for the Z68X-UD3H-B3 + 2500k combo, I have a PC with those as well :) Shame to hear that it's not enough for this extra hardware though, since with the right GPU and some overclocking love the 2500k lacks surprisingly little for its age!

Daniel, this is a bit random and off topic, but is your desktop background a little homage to Zune? The colours and design remind me very strongly of the Zune software.

it was actually this one
http://pre01.deviantart.net/219d/th/pre/f/2012/188/6/9/zune__s_last_year...

If you'd like to use Kinect 2 (and/or Kinect 1) for something else besides Windows Hello, checkout Touch Designer (www.derivative.ca). They have a free non commercial version. It's sortof like a real-time version of Houdini. For my Halloween project, I was tracking 4 people with Kinect 2.

Well... I've been wanting this ever since Windows Hello was introduced in builds because I knew Kinect 2.0 was used for development. Upon a manual driver update (Windows Update didn't detect anything new to install) the device did allow a setup using the Kinect. My only issue with it is actually having itusable for my setup. I have a 30" Dell screen and the Kinect sits underneath it, yet Windows Hello is consistently prompting me to move closer, to a point which means leaning forward every time I need to unlock the PC. Perhaps new drivers will provide greater flexibility here. Oh, one thing... you can use Kinect in applications like Skype using a tool: http://codingbytodesign.net/2014/07/20/kinectcamv2-for-kinect-v2/. Many great video calls have taken place thanks to that utility; great field-of-view, light sensitivity and microphone pickup makes it an excellent webcam (people can hear me while I'm talking at regular volume in other rooms!).

I love Kinect!!!! but will be an official update for Windows 10 and Windows 10 UWP?


Whoever is thinking of getting the adapter hub just for the windows hello feature, don't. It will not work with the current drivers available, not even if you do the registry trick to get the latest driver. It's just not compatible. Wait for microsoft to launch the final version/drivers and only then they will provide support for any issue related.
Windows Central Newsletter
Thank you for signing up to Windows Central. You will receive a verification email shortly.
There was a problem. Please refresh the page and try again.