Xbox Live Gold "Day One" membership up for preorder - includes free digital game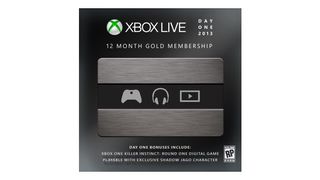 It is clear that Microsoft intends to go all out for its Xbox One launch day; the company's "Day One" edition of its console with special limited edition controller and achievement token has already sold out at various retailers including Amazon and Best Buy. Now, the company is introducing preorders for a "Day One" edition of Xbox Live Gold.
The new Day One Xbox Live Gold package costs $59.99 and includes a 12 month Live Gold membership along with a copy of Xbox One digital game, Killer Instinct: Round One, and a commemorative gold membership card.
Microsoft's standard 12 month Gold membership can be picked up for as low as $45 on Amazon, so we aren't exactly sure if this special "Day One" edition is much of a deal. Either way, the Day One Xbox Live Gold Membership card can be preordered now at Microsoft's online retail store (opens in new tab).
What do you think – is the $15 difference worth the included "free" game?
Via: Neowin
Get the Windows Central Newsletter
All the latest news, reviews, and guides for Windows and Xbox diehards.
I thought Killer Instinct was free to play anyway, but it just had micro transactions to grab up your $$$? Maybe I'm misinformed on that; KI isn't really a game in interested in. :/

Yes, you are correct. It's already a free to play game where everyone gets the same character to use at first, then you have to buy the rest. This day one Xbox Live deal basically gets you an extra character, so it's not really a "free game" with the XBox Live day one card.

Prob a trash game? Haven't looked into but round one makes me think it is like a tiny tidbit of a game....

It's another one of those horrible free to play cash grabs.

It supposedly plays pretty well, actually. It's good to see the Killer Instinct series return, even if the payment model is weird.

I have never payed over £30 for my gold in the UK (RRP is usually around £40) and this wouldn't interest me. KI doesn't interest me either and the extra £ for this seems pointless!

Killer instinct is free anyway, so its pretty much just a steel book and day one packaging you get extra.

As far as I know.. Killer Instinct will be a "fremium" with a free char (Jago) and the others can be bought individually or in a pack with all of them..
I believe this bonus will be only the free character in his "shadow" version...

My live membership is paid up through 2016 I think....what makes this any better?

Can someone please confirm if they give you the whole killer instinct game or just shadow Jago since the game is free to play already. It would definitely be worth it if I got the full game as a bonus

Yeah, they need to confirm if this is the FULL game or just an exclusive character. If it's the full game with all the characters + 1 exclusive, then it is worth it... If it's just the same freemium game with 1 exclusive character, then no thanks.

For Killer Instinct, you can either buy the game like normal or you can download a free demo that only comes with Jago, and then buy other characters seperately. Not free.

Yeah, Killer Instinct is free, as free as free-to-play games get, for every Xbox One owner. This is just a decorative prepaid Xbox Live card like we've seen for Halo, Call of Duty, etc. The positive of this card is that it finally lays to rest that stupid rumor that Xbox Live was going to double in price for Xbox One. (That arose from a currency mixup in the beta test of the next dashboard update.)

You can find XBL Gold for $35, sometimes even $30 on rare occasions (subscribe to dealnews.com). If the digital game was your choice, it might be worth considering but this doesn't seem worth pursuing.

I got two years at $20 a pop.

Back in the good ole days with target. I got a bunch of cards then but sold or gave away most of them

I love killer instinct! That is the game that has me considering the XBox One the most. I wish it would come to the 360, it was rumored years ago to be in the works and I was eagerly waiting for quite some time.

It will be totally worth it if they give you the full game. It wouldn't make sense to give you what you can already get. These "freemium" games can get expensive if you pay for everything individually.

Can you get this in Australia?

Guess I'll be "missing" out. I have a Family plan on auto pay, so as long as I have that I won't be dropping back to single. I wonder if the controllers and headsets are also "Day One" exclusives as well?