Xbox Live - Super Monkey Ball 2 brings deja vu and minigames to the Marketplace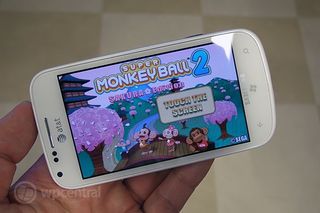 Let's face it; there just aren't enough monkeys in your life. That's where SEGA's Super Monkey Ball 2: Sakura Edition comes in. The Super Monkey Ball sequel is now available on the Marketplace and as expected, it's packed with both monkeys and balls. How could you go wrong?
After the first game's high levels of crapulence, I was concerned that Super Monkey Ball 2 might follow suit. Well, it's pretty much the same, for better or worse. The tilt controls are as finicky ever, often making it a challenge to slow the monkey ball or bring it to a stop. A new tilt meter at least shows how the game is reading your device's tilt, slightly reducing the difficulty. Basically, the tilting is not as good as a virtual stick could have been, but you can get used to it after a level or two.
The secondary goal of earning crowns on every level (by picking up all 10 bananas without dying) is just as frustrating as before. If you fail to earn a crown on a level, you'll have to play a batch of 10 levels in order to get return to it and have a shot at earning the crown again. Smart ideas like allowing players to pause and retry a level or pick a specific level and try for its crown have sadly remained in the waste bin, covered in discarded banana peels and (presumably) empty whisky bottles. Anyway, if you can put aside the desire to get all the crowns (hard as that is for Achievements lovers to do), the game will be a lot more enjoyable and less frustrating.
SMB 2 definitely one-ups its predecessor in one key area: minigames. All three minigames: Monkey Bowling, Monkey Target, and Monkey Golf work nicely and have easy Achievements. The minigames only support pass-and-play multiplayer though, unlike the iOS version, which had local Wi-Fi multiplayer. Perhaps this one got ported before Microsoft finally started allowing Wi-Fi multiplayer. You never really know with Microsoft; they don't seem to have a coherent multiplayer game plan for Windows Phone.
Super Monkey Ball 2: Sakura Edition costs $2.99 and there is a free trial. Get it here on the Marketplace.
Thanks to Zebrasqual for the tip!
Paul Acevedo is the Games Editor at Windows Central. A lifelong gamer, he has written about videogames for over 15 years and reviewed over 350 games for our site. Follow him on Twitter @PaulRAcevedo. Don't hate. Appreciate!
Super Monkey Ball is only .99 cents now. Is it worth that?

I am actually liking part 2 better even though it's ver similar... Maybe the stages are a little better-designed. Both games are pretty long, so it comes down to how much you enjoy/don't hate the tilt controls. Give the first a download and see how it feels.

I think the controls are much better than on ios. i have all 2 games for my ipod and i also bought the games on windows phone. and the controlls from the windows phone version are much better! more accurate

This first one was pretty bad. The tilt controls weren't great, the characters were 2D sprites and there were no mini-games which have been a staple for the series ever since the first game on the GameCube. I've played this one for about 30 minutes and it seems pretty decent but the demo doesn't allow you to play any of the mini games but it does let you play the first world of the standard game.

I bought all the 99 cent titles, except monkey balls. Total bummer 2 is just as dreadful. Have fond memories of the gamecube and monkey balls

SMB 1 achievements on Xbox.com still list it as Super Monkey Ball 2. Nothing went right about that game!

Do either of the games have non-tilt controls? I absolutely can't stand tilt controls! It was one of my (and probably many other peoples) suggestions for Chickens Can Dream (precursor to Chickens Can't Fly) and thankfully they introduced touch controls making it playable. I would like to play games like Doodle Jump or MonsterUp, but I won't go near the tilt controls.

I'm also not a fan of tilt controls, but I'm not fundamentalist about it, since I realized there are a few quite good, mainly driving games, such as Need for Speed: Undercover.

Tilt controls work great in the Chickens games and driving games IMO. But yes, they're too imprecise for the Super Monkey Ball games. The stage design is fairly unforgiving, so you need more precision. No such luck with the mobile phone versions.

Wonder what's next weeks xbla game

Well, another week I chose to buy an older title, this time was Fragger - excellent game!
Windows Central Newsletter
Thank you for signing up to Windows Central. You will receive a verification email shortly.
There was a problem. Please refresh the page and try again.