Turn your Xbox One into a PC with Continuum on the Lumia 950 or 950 XL!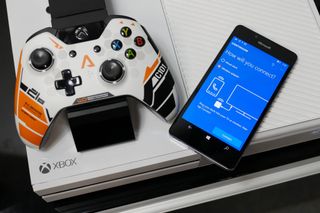 For the best Continuum experience, we recommend the Microsoft Display Dock. While some people may be able to get it for free as part of a promotion with a purchase of the Lumia 950 or 950 XL, it'll cost $99 for many others. Before you go out and decide to buy one, you can see how Continuum works with something you might already have in your living room: the Xbox One!
Let's get one thing out of the way already. It's not as snappy as using the Microsoft Display Dock. There is a noticeable lag. However, this is a great way to see how Continuum works on your new Lumia 950 or 950 XL without spending more money.
Here's how it works. You need the Wireless Display app. Unfortunately, it's currently in Preview, and you'll need to be in the Xbox One Preview Program (opens in new tab). The program is by invitation only. If your friends are already in the program, they can invite you by using the Invite friends page in the Xbox Preview Dashboard app. The Windows Central community can help you out too. Just ask nicely in the comments.
Once you have the Wireless Display app installed, open it on your Xbox One.
On your Lumia 950 or 950 XL, open the Continuum app.
Select Wireless adapter and then tap Connect.
Tap the Xbox One on the list.
That's it! You can also connect a Bluetooth keyboard or wireless mouse, but those are optional. You can use your phone's display as a touchpad and the phone's on-screen keyboard show up whenever you tap any text boxes on the screen.
The Continuum experience between the Xbox One and the Lumia 950/XL is not snappy, but it's tolerable. The output on Continuum via the Xbox One is 30 frames per second (fps) compared to 60 fps when wired via the Display Dock. If you like what you see, perhaps it'll make you purchase the Microsoft Display Dock for a better experience.
Have you given Continuum a try? What do you think? Sound off in the comments!
News
Want all the latest news on these phones? Hit these topic pages for all that we got.
Microsoft Lumia 950 XL main page
Support and help forums
Need to chat about the Lumia 950 and Lumia 950 XL? Jump into our forums and ask others what they think or get help and advice on your new phone!
Yea I use that app every day with my 640 it's awesome!

It doesn't require continuum its just displays your screen

Yes - whats really wierd is that I used to be able to display whatever i wanted on my miracast adapter with my Lumia Icon - now that I have a Lumia 950..........I can only display apps that are compatible with Continiuum - which is absolute idiocracy on Microsoft's part. Why dont apps just blow up on the screen? If a developer chooses to make their app scale, it makes it better - but there is no reason why they shouldnt allow screen sharing now that Continiuum is here on new phones.

Agreed, super annoyed by this. Netflix as an example should be able to run full screen like it previously did. More than just Netflix, but good example.

nasellok, you should be able to use your Lumia 950 in Miracast (screen clone/projection) mode instead of in Continuum mode if you want to make apps "blow up on the screen". Just drag down the toggle buttons from the top of your Lumia 950's screen and click on "connect" instead of using the Continuum app.

Unfortunately it still connects via continuum.

Wait... My Icon has Miracast?

I agree.... I m still wondering why Ms did not allowed apps to run on windows tablet starting from wp7, with the black bands when handled horizontally, exactly as apple does...
Sometimes it seems they think how not to help developers to sell apps...

In the settings of continuum, select mirror screen instead of separate screen. Now you can see anything that's on your phone on the tv like before. I connect to my Samsung smart tv, and the Microsoft display adapter for the surface. Haven't been able to claim the box yet. Always sold out.

You can choose between both continuum app screen and mirror screen in the advanced settings from the continuum phone app settings :
1.Hit the ... (why not the hamburger this confuses ppl?)
2.hit display settings
3 . Choose connected display
4. Advanced settings.

Thank you, thank you, thank you! You made my day!

It took me a while to figure out that if you change it in advanced settings and then press the back button, it just goes back to continuum mode. If you press the Start button then it lets you keep the mirrored display!

This is still possible if you just use project your screen instead of continuum.

I assume he means display mirroring. It would basically be like using Lumia Beamer with the 640.

The app Xbox connects any mobile device. It's called Wireless display

Is Lumia 640 good? They'll sell it only 98€ in here Finland and I'm thinking buying it.

I would recommend it. Had one for 6+ months and for its price it is very enjoyable, especially with w10m.

For the price its a great phone. I'd go for the XL version personally though.

Man,i reccomend you if u can afford them to buy 640 Xl or 930.

Yes. I used to have a 920, and I'm not missing much other than ois and a physical camera button. Stable, fast and responsive. Not too light, not too heavy.

I bought a 640 on Black Friday for $30. Love it so far, but think I'll like it even better when I update it to Windows 10. It's pretty impressive for a budget phone.

Did the same thing. Put 10586 on it, and it's just been just great since.

Because the 920 doesnt do wireless display to begin with

The 920 doesn't support miracast

Funny, cuz every time I try it never finds my Xbox. And yes I have the display app open and ready

Hi Wildwest310_XB1, if you use this app that mean you are in the XBox One Preview program. Is this correct? Would it possible to you to invite me? I have bought a Lumia 950 and want test this app. Kind regards Denis

Even more reason for me to get the 950xl

I would love an invite to this program. Half the reason I bought an Xbox One was to use this feature and get rid of my apple tv.

Despite the suggestion in the article, I'm pretty sure it is closed now. Invites are rarely given out by MS.

Yes it's closed but I'm not so sure that app is only for insiders I think it's in the store pretty sure they had an article about right here months ago

The app is not in the store. It's still in preview.

Give us your gamertag and one of us will invite you

Will not matter its closed

HOOD KILLA 80....send me a invite please

Hey, can someone invite me to the preview? My gamer tag is 'The MoDizzle'.

Can anybody please send me an invite? AtilaTheCuba is my gamertag.
Thanks.

Erasure25 Thanks!!!!!!!!!!

X3078, please send me an invitation. Thanks

spotremover99, can you please send me an invitation too. Thank you!

An invite would be great! Can't wait to finally get to use continumm on my own phone! My gamertag is jsblumen707

invite me please GT: Drojann0

My Gamertag is Lyndeno2, could someone invite me please? Thank you!

gamertag - AuxiliaryAuto3 Please send an invite.

Gamer tag deadiol Thank you!!!

Would love to be invited, please. gamertag: pcolliat

I, too, would love an invite! kSmitty510

My gamertag SakableBade :-)

Can't wait to try this! So glad the Ms stuff plays well together. I hope they tweak it, possibly use some of the usb ports, that would be epic. Just then need a BT sport app.

Can someone invite me to the Xbox One preview program please? My gamer tag is Mack Daddy 1

To expand on kwajr's comment, the program is now closed to new people for an undetermined period of time. They have too many people in it right now.

I tried this with my Lumia 950 - Unlocked but it could not find the XboxOne. Smartglass app works just fine. I grabbed a Microsoft Wireless Display Adapter (Miracast) and that works fine. I'll try it again tonight - maybe it was network glitch.

You need the app on your Xbox for this to work.

I've done it a handful of times already, and once a couple days ago it wouldn't connect to the xbox either. I'd say just try again.

I found power cycling the router that the xb1 is connected to helps but not as much as going wired(on xb1)

Was invited three months ago by someone from the WC community. Have not been accepted yet. Pretty sure they aren't taking any new members at the moment. Also, the Display Dock is currently out of stock for 950XL owners, but not in the store, and the code they give you doesn't work in the regular store.

Hey peachy! You were actually the one to invite me! Thanks!

Yeah, I thought so. I invited tons to it. E3 time was mental, was getting requests constantly. I nearly videoed it and stuck it on you tube. Sorry you didn't get in. My thread was very popular, lol! I think it was a decent thread, I kept updating the front page regularly. They now state that you can only invite 10 at a time. But they still don't accept them, which is a shame. There "may" be a cheeky way in, but it needs you to log in to an Xbox that is already on the preview. I detailed it in my post. I trialed it a few times and it worked before, although may no longer work. If they open it up again, drop me a line, I'll be happy to try again.

Can someone invite me into the preview program? STUFRF16

WC tried this via hdmi in? Using the usb to hdmi cable.

USB to HDMI will let Continuum perform like it does through the dock. The whole point of the demonstration was to show people that they can try out the feature without having to buy any additional accessories.

Cheers for the tip, I may have to get one of them. I actually think that the Xbox route would be my preferred choice. Continuum on my big tv, sweet! Just got to get an XL. Had waited for Dan's review, but worryingly it has yet to appear. May have to submit an ask Dan request.

And if you want to keep charging while using continuum without a dock, you always place the phone on a wireless charging pad. Lots of options, but I have to say that the build quality of the dock is superb.

Continuum cannot run win32 application then why microsoft promoting it by saying turn your mobile in full pc.

I dunno.
What is the difference between m and rt?

Because it runs Universal Windows Apps in full screen like a PC would run them.

Except, the only universal apps supported by Continiuum at the moment are made by microsoft. There are a few others - but their implementatoin leaves a lot to be desired. Lets put it this way - I have the Lumia 950 - the fact that Continiuum exists is awesome - but all the things that I would want to do with it, are currently not supported - like playing games (other than Crossy Road - i havent found any that work), or the biggest reason to use Continiuum on a 950/XL imo would be to use Remote Desktop.........except, not even that works. Not to mention that remote desktop application such as Teamviewer, and the like are also not yet supported. So much potential..........but so far, not realized.

You expected every app to work with Continuum immediately? Devs have to code for it, and it's not like they have had much opportunity to do so.

And it's not like they will as history has shown in the Windows app world...

They never said it would turn your phone into a "full" PC.

Lol rt all over again I can hear it now

This works, but it makes the image on your Xbox 4:3 and low resolution :-/ no way to change it

Yea I can't seem to figure that out either. You can go into the settings for the "second display" and it's already set to 100%. Not sure how else to get this to display better.

Mine does that too. It cuts off the edges of the display.

Yeah I have had this issue when I hook up any computer via hdmi or wireless display. It cuts off the edges of the screen and makes it pretty useless :'(

Make sure your display is set to native resolution and not forcing it at what it thinks it should be. My TV cuts of the edges but I just have to change it back to native and it works fine.

You have to change the display settings on your Xbox One console. Go to display settings and change video output to "Auto Detect".

I'd like an invite to the Preview program if there's anyone out there willing to send me one.

Send me a message, GT: Sario27

Yea my gamer tag is my name connect with me on XB1

Super lagy on any wl PC. Ms needs to update this Xbox app.

Power cycle connected router try again

30fps... Just like everything else on the Xbox Oooohhhhhh

Can someone invite me in the preview? My gamertag is: XanHein

Send me a message on XL, GT: Sario27

in the short time i had my 950xl, i tried this and it was pretty cool.

Why did you only have it a short time?

it's only been available for 8 days .. that's a pretty short time to have something

Hi, My gamertag is ZephyrPawan33. I would really appreciate if someone caan invite me to xbox one preview program. Thanks in advance. Gig'em

I'd edit that email address out if I were you. You only need a gamer tag for the invite.

To flip it around I can say the Continuum Dock works really well with the HP Pro Tablet 608; even to the point of giving some pass-through USB charging which I've not found anything else can do on that device! So the dock is even more valuable if you have a Windows 10 USB-C system. Back on topic, I really wish they'd release the Miracast to the production Xbox One OS! Its been bloody ages since they first released the beta :-(

What's sad was they did have a release date but it must've been w10 at fault(had to start from scratch)

What are you able to do with the 608 connected to the Continuum dock besides charging.

It is recognised as the Microsoft Display Dock in device manager so they seem to have baked the drivers into full Windows too. The USB ports work and I've used HDMI over USB (not tried the display port but assume that will work given the HDMI does). Charging is more trickle charge at about 1/5 to 2/5 the rate vs directly connecting the adapter and at worst it holds a steady state but very useful; particularly if doing a clean install at some point without hoping the battery lasts long enough. I've tried a USB-C to USB and pass through charging adapter in the past and it didn't work so was pleasantly surprised to see it charge at all through the Continuum dock. Odlly the HP bundled USB C adapter doesn't work with the dock (it just flashes a red light) but the microsoft ones do and naturally will directly charge the tablet too. The Microsoft ones are much more compact which is also a result though the HP USB-C adapter is useful for situations needing a really long cable (it works fine with my 950XL, just not the dock).

Tell me, please, what is a "HDMI over USB"?

Can someone add me to get preview please

Send me a message on Xbox live. GT: Sario27

If anybody needs an invite, send me a message on Xbox live. GT: Sario27

Or just use the wireless display adapter...

So this means my wireless display adapter also supports continuum!

Yes. Any Miracast compatible display target should work. But notice the lag introduced by the wireless connection. It's great for casual / occasional use. But if you're wanting to use this to be productive like a boss, you'll have a better experience with a wired display connection.

Is anybody able to invite.

So does the Display Dock also work on the Xbox One?

I haven't tried it, but I can't see why it wouldn't. It's just an HDMI passthrough, you'd probably be better off connecting it to the HDMI on your TV though.

Except how many people have more then 3 hdmi ports available

I've been invited at least twice and I never get in. I wonder if they've slowed down how many people can get preview status. Anyone have any suggestions ?

They slowed down invites awhile ago. Very rarely will let people in now (might be completely closed). They don't plan on any major changes until after the holidays anyways to avoid potential problems. I'm sure they'll open it again in the near future.

I thought they suspended invites to theorevoew.program

They did & besides that we'll not see another new dash preview till jan./feb. Which means they may not process new console registrations till then

I was invited 2 days ago and accepted and updated yesterday

Could someone be so kind as to send me an invite to the Preview Program as well? GT: kobayashi69

I will, but it takes long for you to receive it

I was planning to do that anyways

I just want more real universal apps

Hi! Can someone please invite me to preview?? My Gamertag: yigitgungor

I've been using this for a while, the only thing that irks me is the edges of the screen are slightly cut off

Lol some tv manufacturers set their edid safe area information incorrectly

The Wireless Display client on the Xbox One is one of the laggier methods to connect (with the Amazon FireTV stick being WAY worse!) The actiontec adapters and Netgear PTV3000 seem useable (very little lag, but still noticable) The Microsoft Wireless Display Adapter and HD-10 are not as good as the actiontec and netgear, but still noticably better than the Xbox One.

Well Intels certification for widi is more stringent then whats for Miracast

Got my dock today. Heavy little Thing. Well built. Tried on a crappy 15in screen at work. It looked bad, but that's down to the crap screen. Looking forward to linking it up to my 4k tv when I get home. The 950 xl work very well over Miracast. All we need now is more universal apps.

We have some new 70" TVs in our conference rooms at work. I just tested Continuum by wireless with it. Looks great. I'm going to do my next presentation while running it from my phone and walking around. They'll wonder HTF I'm doing it, to which a conversation about Windows Mobile will materialize. haha

2 birds. 1 stone. I like the approach.

Hopefully it doesn't disconnect!

​I don't have an Xbox One. Will this same thing work on a Windows 10 PC? I can't dedicate a monitor/keyboard/mouse to continuum, bit if the phone just took over my PC, I could do it.

A long time ago, they added some API's to Windows 8.1 which would allow developers to add a Miracast receiver to Windows. I know of one: airserver, which also supports AirPlay. I haven't tried it though. In theory it should enable continuum to work wirelessly with a PC. I hope that Microsoft will add support themselves through an official app. It requires the PC to have a wireless nic, which supports Miracast in hardware though - and even then the question is how much lag there will be.

For what it's worth, the Xbox Wireless Display app is one of the worst implementations of Miracast I've ever used. You're better off getting a dedicated device in almost all cases.

that's because it's not actually Miracast, it's just wireless screen sharing.

Not as bad as roku they've barely pushed updates to it

I find the Roku to be about equal with the Xbox app (and the Xbox app has barely gotten updates either). It's far better than the Amazon Fire TV Stick, too. However, the Microsoft Wireless Adapter is far better than any of those, and the Screenbeam Mini 2 is the best of any. The PTV3000 used to be good but is no longer supported.

It feels like they lost interest in their hdmi/mhl sticks once they refreshed roku 3

I was in the preview program before, but I somehow opted out and couldn't get back in. If anyone is willing to throw me an invite via PM I'd appreciate it.

Check app install history look for preview dash download reregister console

Please please someone send me the invite to the preview program? My id is nileshdd30! Thanks a ton! Nilesh

Wait, I have to project my Smartphone onto my Xbox, that is an full x86 Windows 10 PC inside, to pretend from an ARM device, that I have Windows? Hmmm that got me confused...

Good one - though I think you forgot to put "full PC" in quotation marks ;)

I have always wanted to join the preview program for Xbox One and test out the new features, but the new Elite bundle had me waiting (I didn't own any other XB1 previously). Now that I have that, I'd love to participate in the preview program, if any kind soul sends me an invite. Gamertag: Ookami117

Hi Can anyone please send me an Invite for the Xbox one Insider Preview Please... Thanks

I know it's not a big difference, but you can swipe up on the nav bar to hide it when taking screenshots.

So Continuum can be used with the Wireless display adapter? Sounds pretty much the same to me.

Of course it can... This is not some proprietary locked in copied technology like Chromecast. This is the original: Miracast.

I'll be someone's absolute best friend for life for an invite! Gamertag: Bradmente

Please would you be able to invite me, I would be forever greatful. Gamertag: aussieguy24

Isn't the Xbox a PC basically, if the actually let Universal apps run on it. It runs Win 10 already anyway.

Yes, both the ps4 and x1 run on custom jaguar socs from AMD. Albeit it on the low end when compared to actual PC parts.

Would be cool to add a wired USB connection as an option for a Continuum enabled device. Not sure how feasible that is, but would create a nice living room experience. Either that or a dock that would allow USB plug-in. I think the current one is just HDMI out for video.

Can someone please send me an invite. My gamertag is HAYSTACK 510. Thank you very much

I have done this on both the Xbox and the Roku 3. Both worked flawlessly. It is the boss. Can't wait for my dock to come in. Oh and the USB port on the phone did a great job with the wireless dongle of my logitec keyboard and mouse.

Can I get an invite...DJonFuego

Can someone please add me to the preview program? my gamertag is A1l2e3x4pwns. Thanks

It also works fine with Screen mirroring on Samsung TV's.
For everyone not in the Prewiew Program.

I've been using it for a couple days. Slight lag but not too bad.

So does this mean my Xbox One will now screen share my Lumia 640 or is this just for Continuum?

im in the phone and pc preview can anyone please send me an invite my to the xbox preview my gamertag is geracieson somebody please

Well, hopefully they will improve the quality of the XB1 Continuum experience as it comes out of beta...but that there is an XB1 Continuum experience [coming] in the first place is awesome! This will be killer if/when the Intel/win32 version of Continuum comes out next year or so! Cheers!

I'm sure they stopped accepting invites for the preview due to over capacity and no one bothering to do what they are supposed to do Posted via the Windows Central App for Android

Also this works with any device that has miracast not just windows phones, also with windows tablets and android phones among other things Posted via the Windows Central App for Android

Please can someone invite me, Tomskyblue, to the preview

If anyone has an extra invite, I would love to try this. My gamertag is conrat2000.

Would love an invite, Runar Graybeard :)

ok, so 1st, i need invitation for the Xbox review. my gametag AlexAngelLong 2nd, i need the Windows central New UWP app

I would love an invite too, incase anybody still sends out some :) My gamertag is sepppppppp Thank you!

Continuum actually prevents me from buying a windows phone. I don't feel like paying extra for feature I will never ever use.

Anyone can get me an invite, please? My gamertag is PatrickLiuX360

Woud love an invite, like many others, as well.. But anyone willing to PM me vs positing gamertag all over a public comments section of a website?

Hello, if anyone has additional invite for the wireless cast app, it be greatly appreciated If one could be sent. GT: W0LFV41N Thanks!

I would love an invite to the program. I was fortunate enough to be in the 360 beta program and loved it! If anyone is feeling generous GT:CODYZRIOT Great article by the way!

With all of the new members, would one of you truly beautiful people grace me by means of an invite? GamerTag: AtlantaCalaway

I tried this (Lumia 950 XL) and it worked really well except for two things. The first time I ran it, I got a green scren with white arrows on each corner - I was supposed to adjust the screen size on this step but I didn't. Now I can't get back to that screen. I think it's the Wireless Display (Preview) app that displayed this. I've even tried un-installing the app, re-starting my Xbox One, then re-installing the Wireless Display (Preview) app. Still doesn't get to the scren size setting screen. :( This is annoying because the edges of the screen aren't visible (for example, in the start menu I can only see the upper-right corner of the Start icon). It's usable, but it'd be downright awesome if I could fix the screen adjustment issue. Xbox Support was no help, and Windows Phone support is closed on weekends apparently. Also, sometimes if I connect my phone, then disconnect, then reconnect again I can't reconnect successfully until I restart my phone.


Would like a Preview Program Invite, please! Gamertag is Primordium0457

Tried this and got an awful low resolution in 4:3 on my Xbox and can't see any way of altering this. Anyone got any thoughts of seen this themselves? I think someone mentioned similar in a previous post but no answers there.

I get the same thing too via the xbox app.

When I used on XBONE, it isn't full screen 16x9. Only 4x3. What am I missing?

Same here unfortunately. No idea why :(

I would love to be in the xbox one preview program if someone would be so nice and invent me my Gamertag is "Manu Hanake"
Thanks

Just picked up the 950xl and would love to try this out. If I could get an invite, I would appreciate it. Gamertag is MsgtFlash.

Hi, can someone please invite me into the preview? Please please please! My gametag is MESSERSchnitt70...if I invertantly shot you in some game...ummm sorry :-)

can somebody invite me to the app? my gamertag is lifeguard144 thx.

Can you please invite me to the Xbox one wirless display preview program, it would be much appreciative!

My gamer tag is "zPoschyy"

Hi! Would someone please invite me to the Xbox One Preview Program? My Gamertag is "H34DTURN3R". Thanks in advance! -Austin

Hi everyone, some body can send invitation to XboxOne Preview Program ?? My gamer tag is: LesserKnight Thanks a lot

Hi, all comment seems 10 months old. Can anyone invite me to XBoxOne Preview Program ? My Gamer tag is: ChrisYun6171 Thank you

Hi All! I just unboxed my Lumia 950xl and I am willing to rock it on my screen thru the xbox. Can anyone please invite me to XBoxOne Preview Program ? My Gamer tag is: Allmonte Thanks!
Windows Central Newsletter
Get the best of Windows Central in in your inbox, every day!
Thank you for signing up to Windows Central. You will receive a verification email shortly.
There was a problem. Please refresh the page and try again.