Xbox One Dolby Vision HDR: Everything you should know
With Dolby Vision coming to Xbox One, we've wrapped up all the details you need.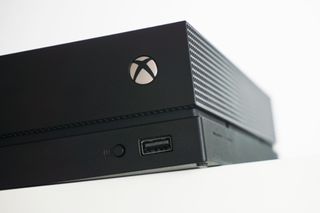 (Image credit: Matt Brown | Windows Central)
Microsoft's top Xbox One consoles sport High Dynamic Range (HDR) support, further enhancing visuals for supported games and videos. It's now delivered a highly-anticipated firmware update with support for "Dolby Vision." Bringing potential visual upgrades and new content to the platform, we've wrapped up what you need to know about its arrival.
Dolby Vision basics explained
Dolby is among the leaders of progressive media technologies, with its name attached to audio and video solutions used worldwide. Dolby Vision is its in-house HDR technology, promising improved image handling across supported displays. Its various benefits help colors look richer, ensures an increased contrast ratio, and generally pulls more details from images. While the HDR10 standard is a common rival, Dolby Vision builds on the same technology, essentially pitched as "premium" variant.
Dolby Vision vs HDR10 on Xbox One
Both Xbox One S and Xbox One X previously offered full HDR support, with gains across supported games and videos. Until now, Microsoft has limited its HDR support solely to the HDR10 standard – a widely adopted royalty-free solution. While Dolby Vision is superior on paper, its license fee for manufacturers has often made HDR10 the preferred solution. Regardless, a fair share of both hardware and software solely supports the Dolby Vision technology.
Dolby Vision primarily extends the potential of HDR10 technology with improved color tuning. Its unique dynamic metadata is processed on a frame-by-frame basis, allowing color settings and brightness to be optimized on the fly by displays. The result is an improvement in color accuracy, in accordance with the current scene.
The Dolby Vision standard also supports more colors and higher brightness on select displays. While HDR10 can support 10-bit panels capable of displaying over 1 billion potential colors, Dolby Vision can 12-bit panels with over 68 billion variants. Similarly, Dolby Vision accommodates for 10,000 nit displays for over double the peak brightness of HDR10's 4000 nit limitation. Although benefits variant between hardware and content, Dolby Vision has the capability to overshadow HDR10 in many circumstances.
How to use Dolby Vision on Xbox One
Microsoft has released Dolby Vision support on Xbox One, which opens the console to a new pool of HDR content. Initially, support is limited to video streaming applications, starting with Netflix's existing Dolby Vision video library. Although an initial report from CNET claimed Blu-ray disc support is in the pipeline for this fall, Microsoft has since confirmed this is not the case.
To take advantage of Dolby Vision, you'll need an Xbox One S or Xbox One X connected to a compatible display. Formal support is limited to just a strict pool of 2017/2018 models from LG, Sony, and Funai right now, meaning your Dolby Vision display might be excluded. Luckily, we've wrapped up a list of every display compatible with Xbox One Dolby Vision today.
Check our full guide for step-by-step details on using Dolby Vision HDR on Xbox One.
How to use Dolby Vision HDR on Xbox One
Expanding your range
Dolby Vision is a major addition to Xbox One, further solidifying the console's capabilities as a cohesive entertainment center. Are you planning to use Dolby Vision? Drop into the comments section below with your thoughts on the technology.
How to enable HDR for Xbox One X on popular 4K TVs
Updated October 11, 2018: Refreshed following the October 2018 Xbox Update public release.
Matt Brown is Windows Central's Senior Editor, Xbox & PC, at Future. Following over seven years of professional consumer technology and gaming coverage, he's focused on the world of Microsoft's gaming efforts. You can follow him on Twitter @mattjbrown.
Despite what some sensitive xbox owners think, the Xbox One S/X have been an excellent streaming media player and it just getting better. Other than a few cavants (for example if you are a heavy user of Plex), the average owners can have their Xbox as their default streaming device.

I'm a heavy Plex user on my xbox, what's the caveat?

Xbox using Plex is useless without pass through audio. Bought one and had to return it. Bought an NVidea box instead. Pass through audio is the only thing I need and as usual MS delivers everything but the one necessity... they are starting to remind me of Apple.

I'm not sure what's going on with Plex, but it hasn't been a great experience lately. I used to enjoy using it on the Xbox and it direct played almost everything. Not anymore. I've been resorting to the Apple TV 4K for my video streaming needs for now. Another thing I find annoying is how upon launching the Netflix app on Xbox One X, it automatically kicks on HDR. This bug if you call it has been present since the launch of the One S. PS4 also has the same HDR bug when it comes to Netflix. If they are intentionally forcing HDR on game consoles upon just launching the application, then they seriously need to reconsider and just give us the option to match the dynamic range based on content. That was one of Apple TV 4K's early mistakes when they forced the Apple TV 4K to display everything in HDR without the option to match dynamic range. Apple has since then corrected the situation by releasing an update allowing users to do just that, so that HDR isn't on all the time.

Once Xbox has true system wide bitstreaming, then I will make it my default streaming device.

Another great feature that Playstation doesn't have. Great job Xbox!

This would shift me from trying to find a good HDR10 TV to trying to find a good Dolby Vision TV unless the cost increase is not justified. Which really means, I will just need to find a TV I and not have to worry about if Xbox will support HDR on it. That will make it much better when I start shopping.

The thing to remember, and is often confusing in all the literature about HDR is that everything falls back to HDR10 if you are missing Dolby Vision somewhere in your chain of devices. If you play a Dolby Vision disc in a non DV player it will fall back to HDR10. If you have the player but not a DV capable TV it will fall back to HDR10 on playback. The same goes for the reverse if you have a DV television but not a player or media. So if costs are a factor stick with HDR10 but if a device is on sale or in your price range go ahead and buy a DV player, you'll still see the HDR10 benefits and you could slowly replace individual components with DV as prices drop and you'll see the benefits once all your electronics line up.

Almost all of LG's 2018 range has Dolby Vision so depending on your budget there would be something in there suitable.

I guess Dolby made the license free enough to make support worth adding.

They already have most audio formats supported with Atmos. I'd like to see dts:x later too. But might as well!
This is a huge game changer because of the limited players you can but with DV! Lg made one and it's ****, surprisingly. I returned immediately as it's so limited as to what you can tune. Not worth the 300 USD imo. I already have an X and welcome this change. Netflix supports DV but not Atmos or most formats likely due to bandwidth restrictions. I don't mind streaming quality but UHD BD is the ultimate way to go!!! Back when Atmos support came out I wrote to Xbox/Ms inquiring if this would ever come and nobody had answers so I'm glad it's coming!

Netflix can stream Dolby vision and Atmos simultaneously, but not 4k + Dolby vision+ Atmos, like you thought, because of bandwidth. Vudu can transmit all three. I have a complete Dolby vision setup.

Great news. I am already using Xbox as streaming device and Kinect for voice commands. Shame they discontinued such an awesome kinect device which has much potential for improvements.

This feature is USELESS without Blu-ray support. If you have a Dolby Vision capable TV then you are already getting Dolby Vision from the streaming apps built-in to your TV. This is still going to force people (I fall into this category) that want Dolby Vision on compatible 4K Blu-rays to go buy a dedicated 4K Blu-ray player that has Dolby Vision, thus making the Xbox One's built-in 4K Blu-ray player USELESS.

Built in apps are rubbish performance wise, even if it doesn't offer Dolby Vision via 4K Blu-ray it will still give people an upgrade in performance if they haven't been using an external media device. Netflix suffers from horrible ghosting on the built in app - you get a huge difference just from using a Chromecast ultra!

I still have a slight pause and judder once or twice per film on xbox one x when playing 4k discs. Update a while ago was supposed to fix this but mine still does it. I have LG oled if anyone has any ideas?

so games with HDR won't take advantage of this..

Your comment ... latency under 200 ms ... is way out of touch ... latency should be under under 100 and preferably under 50 for on-line multi player gaming.
Windows Central Newsletter
Thank you for signing up to Windows Central. You will receive a verification email shortly.
There was a problem. Please refresh the page and try again.