Xbox One February update preview brings Game Hubs, TV updates, more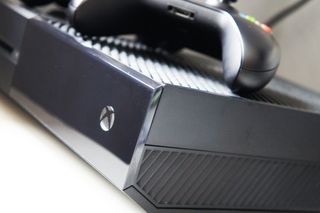 Microsoft's Major Nelson has announced a new update preview for the Xbox One today. The update brings several new features, but the biggest is probably the addition of Game Hubs — a one-stop shop for leaderboards, game broadcasts, and clips based around individual games.
Here's a run-down of what's new in the February preview:
Game hubs – New in preview this month, game hubs are the go-to centers for all sorts of interesting content around your favorite games. Every Xbox One game will have a game hub where you can see which of your friends are playing the game, compete with your friends in game leaderboards, dive into the coolest game clips and game broadcasts, and follow the game's VIPs and top players.
Custom backgrounds and tile transparency – We listened to your feedback and added additional tile transparency to the Home tiles to make your background images more visible. As a reminder, to set a custom background, go to Settings > My Xbox > My background. Note: some items can't be made transparent due to usage rights/restrictions for certain images.
TV updates – We're releasing a lot of updates to the live TV experience and features are being released to additional countries in preview this month:
OneGuide for the Netherlands – Support for OneGuide will continue in preview for the Netherlands and the missing channels for the Netherlands OneGuide listings will become available over the next few weeks.
TV trending in OneGuide – As you scan the detailed OneGuide TV listings, you can see which shows are trending by a "Trending on Xbox" note and associated icon. Xbox – live TV trending is based on the number of Xbox One owners currently watching that show in each country, pulled from anonymous data collected at a national level. Currently, Xbox TV trending is available to all members in the U.S., UK and Canada.
Live TV trending (new countries) – France, Germany, Brazil and Mexico will begin seeing live TV trending data in Xbox OneGuide.
Improved control of TVs, set-top boxes and audio/video receivers – Xbox One will work even better with more devices. This month's preview release contains updates to the IR blasting database for new models and addresses issues reported by our fan community.
"Trick play" with Xbox One Digital TV Tuner – Preview members with the Xbox One Digital TV Tuner in supported countries (UK, France, Germany, Italy and Spain) will now be able to see video frames when fast-forwarding or rewinding paused TV on your Xbox One consoles.
Live TV streaming on Windows Phone and Android – We are continuing the preview of live TV streaming on Windows Phone and Android devices for Xbox One Digital TV Tuner owners in the UK, France, Germany, Italy and Spain.
If you're a member of the Xbox One Preview program, you can check these new features out now. What are you guys looking most forward to?
Source: Major Nelson
Windows Central Newsletter
Get the best of Windows Central in in your inbox, every day!
Dan Thorp-Lancaster is the former Editor-in-Chief of Windows Central. He began working with Windows Central, Android Central, and iMore as a news writer in 2014 and is obsessed with tech of all sorts. You can follow Dan on Twitter @DthorpL and Instagram @heyitsdtl.
Yaaaayyy..transparent tiles. Great! But should we be expecting an update this January?

Preview members, yes. Regular folk get it in February ;)

The hint was the article referring to the February update. :-)

> to set a custom background, go to Settings > My Xbox > My background. Note: some items can't be made transparent due to usage rights/restrictions for certain images. And the moron companies that don't allow a transparent tile won't be on my start screen, which competely defeats their brand dictatorship. Massive idiots of the highest order.

is it too late to join the xbox one preview?

you need an invite to the preview program?

Can I please get a preview invite please! My gamer tag is : Thebaddguyy thank you to all.i really appreciate it

Have a look at the Xbox One forum on WC.

You can be invited but Microsoft is the one who will send more info

Hello, I will be very grateful to you if you could send me the invitation too! My tag "Dmitry Bunevich". Many thanks in advance!

Yeah, how do you get into Xbox preview program?! I need it to be in it! Please help! Sean1robertson

Nope, cause google sucks d. He should search on Bing.

Well, they're more translucent than transparent, honestly. I prefer the Windows phone 8.1 implementation. Still waiting for them to fix the idiotic "backwards tile layout" in smart glass. And what's with Game Hubs? Just spent a little time perusing it, and it seems like a knockoff of Nintendo's Miiverse, but without any of the cool factor.

What's OneGuide? Is it like Tour Windows XP?

One Guide is the TV listings guide that the Xbox uses. Shows channels and programs in those channels.

Also combines your new Netflix, Hulu, Comedy Central, ect apps' shows INTO your regular live tv show's guide. Idk if that makes sense.. Combines your TV shows and your streaming shows into one tv guide.

As soon as I read "can check these new features out now" I went full "Grandpa" Joe Bucket and got out of bed...

I looked to the preview app. A no go system then check for updates and I'm installing now :)

Bwahaha! One of the funniest comments ever. Made my day.

Tell me about it, woke up for water at 6:50 AM, was planning to go back to bed, then did the mistake of checking Windows Central and I'm now half asleep downloading updates...

Transparent tiles are the only thing that's relevant to me. I do none of the TV stuff on the Xbox One (it's a gaming console). Pity they still haven't implemented screenshots...or worst, we apparently will still NOT be able to use images from our OneDrive to set as backgrounds...I mean...really, Microsoft? Not from OneDrive? smh...

I'm the opposite. I'd say 80% of my One usage is media/movies/TV, including One Guide. Games come a distant second.

I'm with ya on that. The Games Hub seems to be completely useless. Wish they would have spent time making the UI snappier and fixing the TV stuff. Also, using WPCentral.com on my Windows Phone is an awful experience and barely works. You guys might want to take a look at it. It's not good when WP users can't read WP news on their WPs.

Not having tho issue n I am on this app everyday

Not the app, but the website. I have issues with it rendering properly and also the reply link on the comments doesn't seem to work. Using a 1520.

I have had no issues running the WPCentral app on my Lumia 1520. What windows phone are you having trouble running it on ?

I think he means the website, which is pretty slow and awkward on any phone but most of all Windows Phone.

I use mine 50/50 for games and media. The games hub is a really nice idea. You can now see detailed comparisons between you and your friends for every game as well as the best players on Xbox. It compares stuff like hours played, total scores, percentage campaign completion, etc. (it is different stats for every game). I wonder if we will ever get live TV streaming to SmartGlass in the US. It sucks to see it become available everywhere else but here. :(

TV streaming is not available "everywhere else". I live in Sweden for example, and I don't have it and I'm sure it's not available in many more countries. You can feel better thinking of how many features USA get that are NOT available elsewhere to feel better.

What is useless to you might be useful to others. Don't be so egocentric.. Sometimes when I am checking my achievements for a game, I want to know which of my friends have the same game and their progress on it so we can party up and play together. Makes it all the way faster and more convenient now. Also, you're the only one complaining about the app. Works perfectly fine here, always has been. Check your end

Please read. I said "WPCentral.com" I never mentioned the app. The Games Hub is completely useless to me. I do not speak for everyone here. I can only speak for myself.

Well, why are you not using the app?

How does someone get invited to the preview?

Most of my usage isn't games. I love the ability to flip to what ever I want to do the moment I want to..

I would say 60% media and tv 40% games... for me in in Brazil...

Phil Spencer tweeted out today that the screenshot feature will be coming very soon. My guess preview members will get it next month or the month after.

You complain alot. Have you ever created a UserVoice thread about your requests?

Yes. Though in this case, I didn't need too. They had already been created. You see, I actually take the time to reach out to developers (big or small) and provide feedback. I'm not expecting things to fall from the sky at my whim. As many do.

+1020 on using images from OneDrive as wallpaper. That should have been implemented even before the USB option.

I would be happy if my Bing daily image went to my tv automatically :)

There's always a complainer. Always.

No more photo contests.....!!!

Dude, it's Tuesday, not Wednesday. Also, way to be off topic. Anything else you want to share with us? How was your day? What did you have for dinner? What are your thoughts on that new app that is out? lol

Daniel, what colour are your curtains?

Wtf is up with all the t.v. Crap!? I bought a videogame system not a damn set top box!

Everyone one is different. I bought it for the media integration. We count too, sorry! Also, last I checked you can still play those games just fine ;)

I bought it for the TV "crap." It's just a shame it is frustrating most time. The OneGuide is slow and very buggy most times.

Maybe you should read about things before buying.

@PrivateJoker1269.
One would have thought since it looks and weighs like a VCR from the days of old, it would have been a huge red flag that it is not just a "video game system" :P.

Crazy that they aren't consulting the most important user about his opinion on what updates they should do.

Erm, but they do though... http://xbox.uservoice.com/

So what video game features do you want added?

So many TV updates :/ where are the new avatars, video and image messages, etc... So many things missing or that need to be improved

http://au.ign.com/articles/2015/01/05/microsoft-updating-xbox-avatars

Or how about the ability to play music in the background, like the 360.

Waiting for this as well. Maybe in a package with Windows 10?

No begging for preview invites yet? People are slacking!

Lol. We were all begging for an invite at some point. Except a few.

Beg I was offered lol actually I don't quite remember how I became a tester.

Anyone got one for me?
:)

matadorprime here... being a begger. Lol

Maybe if there was anything worth begging for...

Still wishing we got the tv tuner in the u.s. I don't really watch tv, hence I don't pay for cable but I hate not being able to use my Xbox to the fullest simply cause I only want ota tv. I still feel like watching every once in a while and I can't even flip channels cause antenna tv works different than cable.

I have tried it with my HD DVR box and love it but don't want to shell out$12/month to TWC for another box

I watch OTA channels through my Xbox. I have a Homeworx TV tuner hooked into the One. I also use voice commands to change channels. And it's all for FREE, except for the cost of the tuner( approx. $35).

Do a search for an ATSC digital adapter. They are all over the place, just not made by Microsoft. I use an HTPC to watch TV. I had to tell the Xbox One that I had cable to get channels in the OneGuide and then I had to edit the channels in Windows Media Center. I hope they fixed the Antenna IR codes so I can get more accurate guide data.

I hope its compatible with upcoming Sling TV

There will be a Sling app when the service is launched.

Sling TV service is coming to Xbox One and you will get one month free on Xbox. This was announced at CES.

I hope the IR update fixes issues with my Foxtel (australia) remote. When I have the xbox on the same time I'm watching foxtel, the foxtel remote doesn't respond and sometimes pressing down goes up and vice versa. The xbox IR is interfering with the remote somehow. also anyone else get split second breaks in audio while watching videos?

I'm looking forward to transparent tiles. I'm just too lazy to get out of bed at the moment to install the update. What I do what to see is Game DVR to support clips over 5 minutes. Maybe like 15 minutes? Then Upload Studio support more than 5 clips. I'd like to make more use of my unlimited OneDrive storage.

Don't get me started overhaul the whole app!
background uploading... Temp saving to local storage as you create parts then compile and upload after. Option to directly upload to YouTube. More video transitions... External in sounds and music abilities... I would use upload again... Upload is slow on a .80 mbps upload connection

My XB1 is awesome already! With these additional updates, It just makes it more Spectacular.

Spectacular with a capital S!

Looking forward to customization features!

Needs tv tuner in Australia

Does this mean the Channel Master DVR+ is finally supported by the Kinect IR Blaster?

I wish they would find a way to update the pass-through to know what it's being used for. I know they're concerned about using Twitch to illegally stream TV and whatever, but I'd love if I could use the pass-through on my Wii U, then use my One to stream Smash or Kart on Twitch instead.

What some of you guys? You expect for all the cool features to be included in one update. When its really not simple code. Probly some of you guys dont even how to code a software and nag about how slow MSFT is with the updates.

Don't forget the whole thing will be overhauled when windows 10 comes I think....

OneGuide for Australia please or perhaps the TV tuner. I'm sick of expensive Foxtel.

Not too excited with the upcoming updates. The media side is still shonky. They should improve the media player to support mkv and many codecs, support for subtitles, etc. I got plex with plex pass also a shonky one compared to the android version. At this point, my android Minix box is still the king. I want to get rid of this but when can that be?

MKV support is already there, they just need support more codecs. If you're using Plex, then that shouldn't matter as anything you have will be transcoded to play on the Xbox. The app is missing some features like music streaming though.

I didn't see that my Xbox was updated
Nevermind, just started updating it!

Games Hub!!! Wait... didn't they break those in WP 8.1? Now moving to one os to rule all.. hubs are back?? WTF?

Hubs hubs guns which are good which are bad.

I don't understand what the Games Hub are, just that "Every Xbox One game will have a game hub". Does that mean it's like Forza and Kinect Sports Rivals now, which have separate apps as their hubs where I go to them for information about the game? So that means, if I have 30 games I have to have 30 separate apps (that's dumb). Or, what exactly is a game hub? And how will I access it?

Can I get an invite gt is WARose

This is nice and all but they need to fix issues like party chat and they need to make it where we're able to play music without having it snapped..

Party chat still broken? I gave up on it.

I like my One a lot. But why is it my 360 can do things the One can't? Settings menu so I can change things? The option to eject a disc? When I go to achievements why does it automatically snap? Why can't I change that setting so it always goes full screen? Why is it soooo hard to find add ons and dlc for stuff I own? Sigh. I'm really not trying to complain. I do like the system, but man is it not user friendly. Look at this update. I understand many want the tv stuff. I don't. Is there an option to not download it and do that later if I change my mind? I plan on never using the one guide. That's just space being taken up on the HD. The one major thing I miss the most? Holding the Xbox button and getting a million options at my fingertips (enter a code, go to settings, mess with friends stuff, so much from one press). Now I do that and it asks if I want to shut down.

Um try the menu button next to the Xbox button ;)

What? You can't eject a disc? I don't understand that complaint.

"why is it my 360 can do things the One can't?" Because the 360 is more than 9 years old and the One is barely more than a year old.

Wait, how does that make sense? Wouldn't the reverse stand true? They had the 360 to learn from for 9 years, shouldn't the One have everything from that plus more?

It takes time to code things. The One will have everything the 360 has and more, but it's not as simple as pressing a button and everything the 360 does magically appears on the One's OS. Everything must be coded and tested.

Any big news for Australian TV support... Hoping for one guide to be compatible with FetchTV!?!

I'd love for them to fix the issue with running cable through the OneGuide. I had to disconnect my Charter and run it outside the box. Invariably, it would freeze and lag and lose all audio. And I can't stand next to it 24/7 to be tech support for a family who shouldn't have to constantly hard-reset the device. I'm disappointed.

Could I get an invite plz gt nazzz92 I've been in all the 360s previews surprised I didn't get into this one automatically

Hmm. Not much for our household. I'm a PC gamer exclusively, so none of the gaming-related updates interest me. I HATE transparent tiles and all the ugly backgrounds messing up the clean look of the Live Tiles on my Windows Phone, wo there's no universe where I'd want to mess up my Xbox home screen, either. I don't care what my friends are watching, playing, listening to or doing, so "Trending" is a ridiculous feature, geared for people who have no independent will of their own. Looks like the only thing I can use is improved controls of connected devices.

Transparent tiles are different than in Windows Phone. They're actually transparent as you can see through them so you can see the background you set. It's completely optional so I'm not sure why you're criticizing it.

Received this 5mins. ago "The 1502 update preview is now available for all Preview Members! Launch the Xbox Preview Dashboard from this message on your Xbox One to see what's new, complete Quests, and give feedback. Thanks for your participation in the Preview Program!"

I'm still trying to figure out how to get into the Xbox One Preview Program. I have a day one console, I'm proficient with both my computer and writing skills, and I'm 44 years old. My gamer tag is UnckeFester1970. Any help would be certainly appreciated. TY.

What's your gamer tag? I can invite you in.

Hi mate, if you're feeling generous you could throw me one? GT is same as on here. :)

Ditto too if your feeling generous. Tag is seedosrun

Trying to get into the Xbox One Preview program. You stayed you may be able to help. Anyways, my gamer tag is UncleFester1970. The U and F are capitalized. Any help on getting invited into the program would be certainly appreciated. TY.

No DVR, no go. I don't know why they keep pushing this live TV crap. I don't know anyone that watches Live TV anymore.

I've started watching it more since the TV tuner tbh, really slick and enough for the amount I watch. Given didnt even expect it then I'm with Daniel on the media features. I game a lot on the weekend but in a working week its great to be able to flip between all the media services and get a quick game in too all from tbe same input. Its these features that make it more than a PS4 for me.

I do, and now you know me. Problem solved. :)

Oneguide for the Netherlands! Finally!!

Custom channel sorting and numbering, pretty please..

OneGuide makes no sense to me as it contains a lot more channels than i am subscribing to, and the ones i do have are in the wrong number/location. Altibox, Norway.

You probably set it up wrong. I had the issues with the wrong channel numbers too, I selected the wrong preset.

You can filter out channels you don't want my marking them as 'favorite' and then going solely to the 'favorites' section instead of the 'tv listings' section.

wish trick play would work on media player, for me, every file i play when ffw, rew etc, just stays static and doesnt show you the progress

I noticed Major Nelson had a "Search" option in OneGuide and a "What's on" section on his home screen. Are these widely available in the US? I don't have those options in the UK. Anyone know what is on the "What's on" section?

If you have TV set up, you will get popular shows on right now, along with Staff picked YouTube videos such as trailers, and Twitch streams broadcast from an Xbox One. If TV is not set up, Popular shows will be replaced by popular movies to watch on Xbox Video.

Cool, thanks for that. I have TV set up in the UK but seems like that section doesn't exist here. Sounds like it could be pretty great. I'm really liking the "Trending" section in OneGuide lately.

Most of the t​iles aren't transparent which defeats the purpose of having that feature.

Screenshot is the biggest feature I'm still waiting for.

Still don't know why they are doing passthrough on live tv in the US. They've already written the software that is cable labs approved for the PC. No reason you shouldn't be able to plug an HD homerun and a hard drive in and use this as a DVR. Bye bye cable box, and an Xbox one purchase for me. Now? Meh.
This is a perfect closed system for this that the average user cant screw up.

Cool! But will windows phone get games hub back? :-)

How 'bout a way to pin games I play more as a single group tile on the home screen or allow for more items to be pinned on the home screen? That would be more useful to me than all the leaderboard and social media stuff.

Can anybody, please, send me the preview invite ? greatfish

Live tv streaming? Woah that could be awesome.

Why no Live TV OneGuide integration for Australia?
Windows Central Newsletter
Thank you for signing up to Windows Central. You will receive a verification email shortly.
There was a problem. Please refresh the page and try again.