10 Xbox One mouse and keyboard games we're dying to see
Xbox One mouse and keyboard support could draw major franchises, while improving existing titles.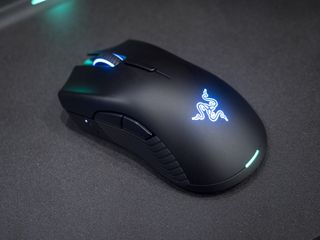 Microsoft recently unveiled plans to roll out Xbox One mouse and keyboard support, offering the first everyday alternative to the standard controller. While offering a different way to play, Microsoft also hopes the feature will bring new games to the console that simply can't adapt to the controller. Further blurring the lines between systems, the feature could have a big impact on the future of Xbox.
We've lined up 10 titles we're dying to see on Xbox One with support for mice and keyboards.
Xbox One Mouse and Keyboard Support: Everything We Know
Heroes of the Storm
Heroes of the Storm is Blizzard's take on the DOTA gameplay format, and given the popularity of other Blizzard titles like Overwatch and Diablo on Xbox, bringing across Heroes of the Storm seems like a no brainer.
Heroes of the Storm features heroes (and villains) from across decades of Blizzard history, including Diablo, Warcraft, Starcraft, and many more. Teams of players go head to head in a hero-based strategy format across a variety of map modes, typically with the aim of pushing the enemy back to their keep and destroying it. Heroes of the Storm is vibrant, fun, and a little easier to get into than some of the other DOTA-type games out there, making it a good fit for console.
Age of Empires IV
Age of Empires is an icon among Microsoft's property lineup, among the games that shaped today's real-time strategy (RTS) scene. Despite the series' decade-long hiatus, Age of Empires IV is in the pipeline at renowned strategy studio, Relic Entertainment. We're yet to receive details beyond a brief animated trailer, however, know the game is a planned Windows 10 exclusive.
Xbox head and Microsoft's Executive Vice President of Gaming, Phil Spencer, previously discussed how mouse and keyboard support will open the platform to previously isolated titles. Overcoming the limitations of a controller could justify Age of Empires IV's Xbox One debut, showing Microsoft itself is committed to the feature. With Age of Empires Definitive Edition on Windows 10 and two further remastered on the way, the series could find a second home.
Halo Wars 2
As Microsoft's own RTS already on Xbox One, Halo Wars 2 is an obvious candidate for mouse and keyboard integration. In the wake of Xbox Play Anywhere, the game was developed for console and PC and served as a great entry-point for RTS newcomers. While among the few strategy titles that nailed gamepad support, the keyboard is still favorable for many.
Leading up to the Halo Wars 2 release, Phil Spencer agreed that mouse and keyboard support "makes sense" for the game's launch. That period has sailed, but the statement still remains true today. Throughout Microsoft's existing in-house lineup, there's no better game than Halo Wars 2.
See at Amazon (opens in new tab)
Fortnite
Fortnite is dominating the world through its battle royale mode, capturing the hearts of millions with tense last-man-standing gameplay. It's also changing up long-established industry standards, convincing major platform holders to adopt new policies in support of cross-platform multiplayer. And with cross-play realized between PC, console, and mobile, Fortnite could provide ideal backing for Xbox One mouse and keyboard support too.
As with all multiplayer shooters, the implementation is critical to ensure a balanced arena for all. The high-stakes nature of battle royale rewards precise aim and a high-DPI mouse provides heightened accuracy over standard thumbsticks. However, Fornite already has a proven method of handling differing inputs, meaning mouse and keyboard isn't a major step. If any game can sustain the mouse and keyboard lineup, Fortnite is one to watch.
Gears Tactics
Microsoft discussed several Gears of War projects at E3 2018, featuring the highly-anticipated Gears 5, alongside a duo of spinoffs. The highlight was a new XCOM-style turn-based strategy project, named Gears Tactics. And in a rare move for Microsoft, the title is currently pitched as a PC-only experience.
Although the current state of Gears Tactics is unknown, the franchise's roots mean an Xbox One debut wouldn't be surprising. As an experience seemingly designed for mouse and keyboards, its arrival would ensure the widest reach, without compromising on the original vision.
World of Warcraft
Another Blizzard game, World of Warcraft is quite easily the world's most successful MMO of all time, enjoying a healthy subscriber base for 14 years. Taking place in the Warcraft universe, player factions of the Horde and the Alliance battle it out across a huge, huge variety of PvE and PvP content, including up to 25-player raids, difficult and dynamic Mythic+ 5-player dungeons, and various competitive modes.
Blizzard would have to completely upend the UI, controls, and balance of the game and its legacy content in order to make it work properly with a controller. Simply adding it as an exclusive mouse and keyboard-only title would vastly improve the PC game's reach.
See at Amazon (opens in new tab)
Civilization VI
It's hard to talk strategy without the Civilization series, which still sits among the top of its genre. Civilization VI, the latest installment, further builds on the Sid Meier's empire, challenging players to scale nations over the years. Players will need to grow their influence on the world while defeating rival power-hungry factions.
Civilization VI's debut on Xbox One would be a huge addition to the Xbox One library and could draw the attention of other major players in the strategy space. With its arrival on iOS and Nintendo Switch, here's hoping Xbox is next.
See at Amazon (opens in new tab)
Stellaris
Paradox Interactive's latest strategy hit is soon headed to consoles following its PC success. Focused on space exploration, the title sees players building large-scale fleets, with rewards for uncovering universe secrets.
Paradox has been among the recent wave of historically PC-focused publishers making the move to console. Its previous console release of Cities Skylines is a port done right, with user interfaces and controls overhauled for controllers. However, for those looking for the original experience, additional mouse and keyboard support would be welcomed.
Dota 2
Dota 2 is the monolith of PC gaming, regularly positioned Steam's top-played games, just beneath PlayerUnknown's Battlegrounds (PUBG). Overseen by Valve, the multiplayer online battle arena (MOBA) has maintained a player base for five years, with steady growth in 2018 too. The game is also dominating the esports space, securing the world's largest prize pool at "The International 2018."
Valve has made no indication of expanding beyond desktops, however, is easily the biggest game absent from Xbox. While earlier titles from the publisher are on console, it's unlikely they'll sever Dota 2's heavy ties to the Steam platform.
League of Legends
After nearly a decade on the market, League of Legends still remains a huge title among PC gamers. The hero-based MOBA pits teams of five in competitive battles, with regular updates drawing millions of daily active players. Between its free-to-play nature and easy-to-grasp mechanics, it's the go-to title for both casual and hardcore gamers.
While League of Legends has been historically tied to Windows and macOS, the game hasn't had a real chance to expand to new platforms. Mouse and keyboard support could open the titles to millions more, making that transition considerably easier.
Your thoughts
Which mouse and keyboard games would you like to see on Xbox One? Drop into the comments section below with your top picks.
Windows Central Newsletter
Get the best of Windows Central in in your inbox, every day!
Matt Brown was formerly a Windows Central's Senior Editor, Xbox & PC, at Future. Following over seven years of professional consumer technology and gaming coverage, he's focused on the world of Microsoft's gaming efforts. You can follow him on Twitter @mattjbrown.
Battle Field, All Call of Duties, Tom Clancy Games...etc
When will we be able to use keyboard and mouse with Edge and other apps, bound to be a big user base for that.

Battlefield (Crossplay?), hopefully. I'm crossing my fingers for FPS and RPG (Skyrim, Witcher 3) Watching someone play BF1 on a PS4/XB controller nearly gave me a nervous breakdown at how long it took to properly aim. KB/M could transform console FPS so it isn't relying on aim assist or 5 seconds of aim->overaim->overcorrect->hit the player.

No mention of total war series? My next paycheck would probably go to an Xbox if they would release total war games

Omg, if World of Warcraft came to Xbox. 😍

RuneScape! Old School and RS3!

Final Fantasy 14 wasnt mentioned, by far one of the best mmos going right now FF14 A Realm Reborn, Heavensward and Stormblood expansions need to come to xbox one, game works well on ps4 with controller and M/KB support, hopefully Square Enix ports ff14 to xbox one soon now that MS allows cross-play with PC and other consoles which SE wanted MS to do in the first place before MS allowed cross-play now that the restrictions are lifted from MS SE should bring ff14 and its expansions to xb1.

sims 4 would be good mouse and KB
Windows Central Newsletter
Thank you for signing up to Windows Central. You will receive a verification email shortly.
There was a problem. Please refresh the page and try again.