Xbox One May 2018 update: The complete changelog
Catch up on everything available with the latest Xbox One update, including 120Hz support, Discord integration and much more.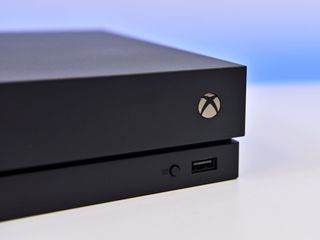 (Image credit: Windows Central)
Microsoft has released its latest major update to Xbox One, delivering various new features to the console. Following up on a feature-packed release last month, the May update expands the video, social and content sharing capabilities of the Xbox family. Among its highlights is native support for 120Hz displays, Discord integration, new game sorting options and much more.
The May Xbox update once again falls within the Redstone 4 development branch, under version 1805 of the operating system. Following its public release to all Xbox One users, here's what to expect once it hits your console.
120Hz refresh rate support
The refresh rate of your display refers to how many times per second the screen refreshes its image. It's measured in hertz (Hz), and the higher the number, the more times per second your TV or monitor refreshes. With a higher refresh rate comes smoother gameplay and potentially reduced reaction times, making for an improved experience.
The May system update further expands the Xbox One's video capabilities, adding support for 120Hz displays. This doubles the console's standard 60Hz output, with support seen across specific games and apps.
To take advantage of the feature, you'll need an Xbox One S or Xbox One X connected to a display with 120Hz capabilities. The display must also utilize an HDMI 2.0 connection, rather than DisplayPort or other video interfaces. Due to hardware limitations, 120Hz is also currently limited to 1440p or 1080p resolution – for full 4K, you'll need to leave this option disabled.
This expands on recently added video options from the April update, including support for 1440p resolutions, variable refresh rates (VRR) via FreeSync and auto low latency mode (ALLM).
Xbox One 120Hz support: Everything you need to know
Discord account linking
The May Xbox update also allows for Discord and Xbox Live profile linking, following a previously announced partnership. While Discord's voice and text chat services aren't be available, this early integration ties your Xbox One activity to the service's social features.
After linking accounts, Xbox Live activity will be reflected in your Discord status. This allows Discord friends to quickly track your current session and hop on their console to join. However, without a Discord app currently on Xbox One, the experience is still heavily tied to PC and mobile.
How to use Discord integration on Xbox One
Trim Clips in the Guide
Microsoft has been slowly phasing out the time-worn Upload Studio app on Xbox One, shifting video content creation tools to native components of the operating system. After recently revamping video sharing on Twitter, improvements are being made to editing directly on the console too.
Following the May update, recorded game captures can be quickly trimmed without leaving the Guide menu. When viewing recent captures, a "Trim" menu option displays a streamlined interface for cutting clips on the fly. This cuts out Upload Studio entirely, further reducing its relevancy for Xbox One users.
How to trim Xbox One game clips using the Guide
More features:
Outside of the biggest changes with this update, smaller tweaks have been implemented across the OS, including:
While Xbox One is a great gaming system for kids, keeping them safe is just as important. A reworked family settings hub has hit the console, with clearer breakdowns of restrictions and areas that require closer attention.
Changes to the new Xbox Accessories app also refines the experience of managing controllers and other accessories from the console. With a new tabbed interface and cleaner style, the app closely resembles the rest of the operating system.
More shortcuts have been enabled for the Xbox dashboard. Following the update, pressing the View button at Home enables content block editing, while pressing View on the Guide displays more capture options.
Your thoughts
What new features would you like to see on Xbox One? What do you think of these changes? Let us know in the comments.
Updated May 24, 2018: Updated this post to reflect the public rollout of 1805.
Windows Central Newsletter
Get the best of Windows Central in in your inbox, every day!
Matt Brown was formerly a Windows Central's Senior Editor, Xbox & PC, at Future. Following over seven years of professional consumer technology and gaming coverage, he's focused on the world of Microsoft's gaming efforts. You can follow him on Twitter @mattjbrown.
While this stuff is certainly nice, the biggest thing that MS could add for those of us who are either Gold subscribers or X owners would be the ability to turn off ads on the home screens. I spent the money for a premium product and a premium service, and the constant barrage of ads trying to sell me things the second I turn on my X makes it feel incredibly cheap.

just saying.. but there's a bunch of tutorials on how to get rid of ads.

I have an X, Gold, Game Pass and EA Access. The ads don't bother me at all (I think they're smartly designed). However, choice
is always a good thing.

What ads you are talking about?
2 still images on your home tab?

Yeah... I think this is an overreaction. The two tiny adds are very minor, and often of interest.

There are three features that Xbox needs desperately and has for years now: 1 - The ability to turn off ALL ads (we already paid for the console) 2 - The ability to turn off all social features 3 - A REAL black theme, not that grey sh*t they've been pushing lately. But since none of these three will happen, the Xbox UI will continue to be the colossal piece of sh*t that it is, which is why I and many others have returned to the PlayStation.

Yet: 1. Sony have ads on the PS4 that you can't turn off, they are just hidden away from end users behind the menu system.
2. Sony have no way to turn off social features on the PS4 either.
3. Personally I like that "...grey sh*t..." UI which looks far better that that true black sh*t that you want.

1 - If Microsoft hid the ads on the store or the social tab instead of spamming me with them on the Guide and front and centre of the UI, I'd be more benevolent. So yeah, Sony has the upper hand here. Sorry. 2 - And yet, again, they don't spam me with that crap. Unlike the Xbox which keeps showing me useless social tiles about "person X is playing this" and "join this club here" etc, as if I gave a sh*t about any of that. 3 - And I don't, neither does my OLED TV. Therefore, I consider the UI sh*t. Deal with it .

But you said you returned to PlayStation so why do you even care?

You know, lately I'm just finding myself scrolling the comments just for your pic to see what you're gonna complain about today. Something different or just the same sh*t. Today you have not disappointed. Carry on buddy, carry on

Still no word on the new avatars? Didn't they recently say end of April?

They have not said anything; that was only a rumor. There was a video leaked last month allegedly showing the state of development. Graphically it looked great, but there was no sign of the promised new customization options (wheelchairs, prosthetics, piercings). If accurate, they seem to have quite a way to go before release.

A avatar with no application is just meaningless. It can only be revealed after the Unity and Unreal integration.

"More Shortcuts" isn't accurate. They just moved them. (For example, editing content blocks was always a thing, you just pressed 'Y' instead of 'View' before.) Not really that exciting.

Has this been released in alpha release?

Im so stoked for this update!!

What I want is for them to fix the sloppy sound implementation. The fact that you can only get proper bitstream when playing discs is just unacceptable. Apps like Kodi, Plex etc cannot send Dolby Atmos DTS HD-MA or Dolby TrueHD directly to the receiver without decoding into multichannel it or downmixing it to plain Dolby or DTS. What the f... Nadellasoft?

As a stream it be cool if y'all put twitch, Facebook, YouTube back on where I wouldn't have to use mixer. I should be able to choose what I want to stream on. I enjoy Xbox but PS4 I can pick where I want to stream.

I'm so happy your FINALLY adding groups! Now hopefully I can finally get all of my games and apps into my pins. Now all you need is to add an Add-instead tab to games and apps so we can easily access dlc for games we no longer have downloaded.

An update that I would like and some of the other Xbox owners out there might also like is the ability to delete unwanted achievements.

I'm looking forward to the grouping of shortcuts. Being able to file away all the Call of Duties and Forzas into a pop out group will help if it's done well.

The X box one needs a 4k upgrade ..people payed 499 brand new and was said to be the latest and greatest,, until xbox 1s and one x were put on the market...now your original xbox one is no longer the latestand greatest..so Microsoft get off the cash flow and give the people what they want!!

These changes are good and all, I always welcome changes that better improves the console but nothing really is here for X's owners with full 4K TVs. An added feature I would like to see be integrated and I'm sure many X owners will appreciate this is the ability of having the option for DOLBY VISION AND HDR10+. This will truly make a lot of people especially X's with full 4K TV's like myself happy. It will truly make the console a superior beast among all consoles. Don't get me wrong, I love how the games look on HDR10, I would just like to have the preference to switch to iether Dolby Vision and HDR10+ and back to HDR10. Now I must say, I don't think Dolby Vision content looks better than HDR10 even though I've read many times that Dolby Vision is better maybe on paper and specs but not to my eye. I feel HDR10 is better visual than Dolby Vision especially on Netflix. However having these options to switch back and forth would be great added feature to enjoy on games and movies on the X with a full 4K TV.

Please FIX the "Recent Players" list. It's BROKEN. I can't add any new friends.

In a new update I would like the consoles to be able to stream gameplay straight onto YouTube.
And because I live in New Zealand I would also like to have cortana.
Windows Central Newsletter
Thank you for signing up to Windows Central. You will receive a verification email shortly.
There was a problem. Please refresh the page and try again.