Xbox One April 2018 update: The complete changelog
Catch up on everything added in the April Xbox Update for Xbox One, including 1440p support, Mixer controller sharing, and more.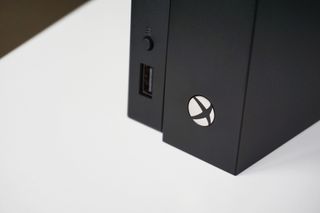 (Image credit: Windows Central)
Microsoft has released the next big Xbox One update, delivering an assortment of improvements to the console's operating system. Succeeding the "Xbox Fall Update" released last year, the "April Xbox Update" brings long-awaited support for 1440p displays, AMD FreeSync, Mixer controller sharing and much more.
Following a shift to the "Redstone 4" development branch, Microsoft has released various new features to the public. With changes to be seen system-wide, we've rounded up every new feature.
1440p support for Xbox One X and Xbox One S
One of the Xbox One X's flagship features is support for 4K resolutions, outputting significantly sharper images across supported media. Although consoles connected to 4K displays provide the best experience, its supersampling capabilities deliver notable benefits on lower resolution displays too. But with supersampling currently limited exclusively to 1080p, 1440p (2560 x 1440) displays see a lower than native resolution.
The April Xbox Update adds support for native 1440p outputs, providing a middle ground for between 1080p and full 4K. This gives a notable resolution bump on these displays, rather than upsampling from 1080p as seen in previous implementations. Most "Xbox One X Enhanced" games will now look crisper, while high-resolution video content will see similar upgrades on Xbox One X and Xbox One S.
How to enable Xbox One 1440p support for Xbox One X and Xbox One S
Variable Refresh Rates for Xbox One (AMD FreeSync)
"Variable Refresh Rates" (VRR) adapts the refresh rate of your display to that of outputted content, reducing screen tearing and stuttering, without the input lag suffered when using a similar solution known as V-Sync. Xbox One supports AMD's FreeSync VRR technology, allowing the console to communicate directly with FreeSync-compatible displays. This makes for a much smoother overall experience for gamers, provided they have the hardware to take advantage of it.
To use VRR on Xbox One, you'll need to use a display that supports FreeSync over HDMI. The Xbox One X and Xbox One S can also take advantage of High Dynamic Range (HDR) via FreeSync 2, while the original Xbox One is limited to the first FreeSync revision.
Xbox One FreeSync and Variable Refresh Rates: Everything you need to know
Auto Low Latency Mode for Xbox One
Further improving refresh rates comes "Auto Low Latency Mode" (ALLM), which automatically adjusts latency on the fly, to make for the smoothest, lag-free viewing experience. While display latency doesn't detract from navigating menus and watching video content, gamers strive for the quickest response times for their titles. When ALLM is enabled, display settings can be adjusted on the fly to account for the type of content currently on-screen.
For now, ALLM is hard to use on Xbox One, being limited to only a small number of displays under the HDMI 2.1 specification. For now, this largely futureproofs the console for when HDMI 2.1 sees wider adoption.
How to enable Xbox One Auto Low Latency Mode
Mixer controller sharing
Microsoft's Mixer live streaming service is built around interactivity, with an existing assortment of features designed to foster closer streamer-audience relationships. The April Xbox Update expands upon this with "controller sharing," by allowing streamers to digitally pass the controller to their viewers.
Once enabled, a Mixer streamer can hand off control of their console to one audience member. Connecting a controller or using an on-screen controller replacement, they can provide button inputs, like the console's existing "co-pilot" feature. Paired with Mixer's FTL streaming technology, the feature can deliver low latency gameplay across the globe.
How to use Xbox One Mixer controller sharing
Scheduled Themes
While a simple concept, "Scheduled Themes" is a welcome addition to the Xbox One OS. Complementing the "light" and "dark" themes implemented last year, the feature aims to deliver a dynamic color scheme to the console.
Although the dark theme is generally easier on the eyes in dimmer environments, light themes offer improved visibility in brighter locations. Using Scheduled Themes, the console automatically shifts between the two themes at set times of day, securing the benefits of both themes around the day and night cycles. For more information on Scheduled Themes, and a step-by-step guide to its implementation, make sure to check our extensive post on the subject.
How to use Xbox One Scheduled Themes
Direct Twitter sharing for Xbox One
One of the major aspects of the Xbox One's social features is the ability to share video clips and screenshots of gameplay natively through the console's integrated "Game DVR." Social sharing features expand this beyond Xbox Live, with integration for services like Twitter and OneDrive.
The April Xbox Update reworks the console's Twitter integration, with improvements to content sharing on the platform. While all content was previously uploaded to Xbox.com and linked via a tweet, this allows clips to be shared directly with Twitter's video player. This makes it easier for followers to view Xbox One uploads without leaving the service.
How to share Xbox One game clips on Twitter
Microsoft Edge improvements
While Microsoft Edge found a home on Xbox One some time ago, its capabilities are dampened in contrast to its full-fledged Windows 10 counterpart. Microsoft has delivered improvements to the console experience in this update, through a new controller-centric user interface and expanded feature set.
Welcome features from the PC version have hit Xbox One, all contributing toward making Microsoft Edge a more viable console web browser. Among the additions is downloading and uploading files, tab muting, read aloud and autofill. Changes also appear to have been made to the EdgeHTML engine, delivering further rendering improvements to Xbox One.
System-wide audio changes
A new widget has made its arrival through the Xbox One's Guide menu, providing a new way to manage audio. If background music is playing while a game open, audio levels can be balanced between the two sources. This expands on the previous volume options, where background audio levels could be raised and lowered around game audio.
Audio changes are also being rolled out across the OS, with revamped sound effects paired with user-interface interaction. These will support spatial audio with surround sound systems too, adding a level of depth to system menus.
More features:
Outside of the biggest changes with this update, smaller tweaks have been implemented across the OS, including:
A new Games with Gold tab has been added to "My Games & Apps," as a single stop for free titles redeemed with Xbox Live Gold. Like the Xbox Game Pass subsection added in the 1802 update, titles can be quickly installed through this tab.
An EA Access tab has been to My Games & Apps, allowing subscribers to view titles currently offered through the service.
Improvements to Mixer broadcasting are here, with numerous refinements to stream management. Improvements include seamless streams while switching games and the ability to retitle broadcasts directly from the Guide menu.
When viewing Xbox Live clubs, options can filter content by "What's Hot" and "Top Posts." "What's Hot" posts algorithmically sort currently popular content, while "Top Posts" list the most popular feed items in a club's history.
Club administrators have recieved advanced invite filtering tools, allowing club invitation requests to be sorted by specific criteria.
Tournaments have expanded beyond Xbox Live clubs, with new open tournaments tied directly to Game Hubs. This allows players to start and participate in tournaments without being enlisted in a club.
Your thoughts
What new features would you like to see on Xbox One? What do you think of these changes? Let us know in the comments.
Updated April 24, 2018: Updated following the release of the April Xbox Update.
Windows Central Newsletter
Get the best of Windows Central in in your inbox, every day!
Matt Brown was formerly a Windows Central's Senior Editor, Xbox & PC, at Future. Following over seven years of professional consumer technology and gaming coverage, he's focused on the world of Microsoft's gaming efforts. You can follow him on Twitter @mattjbrown.
Would Love To See The New Avatars Added

And they should launch with new Avatar games.

Make Cortana turn up the volume to a specific value instead of incrementing by already set number like..."Turn up/increase the volume to 20". Also bring more system commands to Cortana

1. Would like to see Dish support. So I don't have to use the remote for Dish context menus, etc.
2. Avatars has been showcased. I don't care for them, but they need to deliver rather than delay.
3. Offline mode for Netflix. The network can be ****** so if we can queue ahead of time that would be great.
4. Better voice anything and everything. I have to say "Volume Up" like 3 times before it'll catch. "Xbox Play/Pause" is the worst. See that? Real features don't have to have a social aspects to provide value. I wish Microsoft would get this concept. The rest of the listed features are still boring.

Even with 1802 installed, i still don't have the game pass tab added in my games and apps, same for the schedule theme. Both aren't there. Canada here. It's maybe region updates, dunno. I tried everything, hard reset to public release on my other console, nope. Delta and omega insiders, nope. Frustrating. Anyone else have the same problem? Btw can't wait for the dolby atmos Sound OS.

I'm also missing a couple of features I thought were supposed to be pushed out to the public, scheduled theme, game pass tab and the, "surprise me" option

They desperately need to work on Cortana performance and controls. She is very slow to react. I also tried to make a Skype video call yesterday without a controller, and while it's possible using a media remote I found it near impossible to do using voice.

I think i speak for all countries without (xbox) cortana support when i say that it shouldn't take this long to support countries like Australia (where i am) even though its supported on Windows 10. How does that make sense? Support on Windows 10 but not Xbox One? I would use cortana all the time because i like to be able to do things quickly.

Cortana needs so much tweaking to performance, that I went back to the old xbox commands. Even those i have to say a few times. They need to address that, bring snap back, launch the new avatars, etc. An extra setting for resolution wasn't needed right this second in my opinion when there are other things that could have been added. Controller sharing through mixer? Really? So instead of watching someone else play the game, the viewer is going to play it for them? Is this really necessary?

Wish they'd let you turn of the forced V-Sync on X1X. It adds input lag which is especially noticeable on backwards compatible games.

Isn't that what the performance mode does on BC titles. Just go into the 360 options screen and right tab to Xbox one X and you can choose between graphics and performance. Choose performance and it doesn't force V Sync to my understanding but you lose the graphics improvements they added if any.

Woud love to see HDMI passthrough optical audio sync fixed. Just enabling optical audio puts the HDMI audio out of sync intermittently. This is pants. Ideally there should be configurable delay (picture or audio).

I stopped using that a year ago! Total trash! What good is passthrough if its out of sync!!!!!

and for the next update!!!!! we will be releasing more things that "we" want you to use!!!!

I just want the ability to shrink the screen a bit, overscan is an Issue and PS4/Switch have the ability.

Just curious... what display do you use that has an overscan issue? Projector maybe? I haven't used a screen in the last fifteen years that didn't display the full image, but I'm sure they're out there.

How about more Xbox Avatar features; new outfits for free

I think i speak for all countries without (xbox) Cortana support when i say that it shouldn't take this long to support countries like Australia (where I am) even though its supported on Windows 10. How does that make sense? Support on Windows 10 but not Xbox One? I would use Cortana all the time because I like to be able to do things quickly. Its just a 'bit' ridiculous.

Make Microsoft Edge the same as it is on the PC, it's a pain in the ass to use on the xbox. Would save me having to use my pc for surfing.

I want this update to finally arrive. MS has been A/B testing the Game Pass / Gold / EA Access tabs in the My Games and Apps menu, and the install / update progress bars in the guide, constantly turning these features on and off on my One X. And since I'm not an insider on Xbox, and haven't even shared any feedback about it so far, it is mildly annoying to say the least 😀

When will the keyboard / mouse support coming?

Will they finally fix the most annoying even though small issue that you cannot change date/time format without changing language. English Canada and US defaults to 12 hour clock with no way to set to 24 hour... I cannot stand 12 hour clock, also want date as yyyy-mm-dd, not mm-dd-yyyy.

note to Windows Central, your comment editor is now hell on Windows 10 Mobile. Edge takes forever to load the editor if it does at all.

No keyboard and mouse support for apps?!?!?!? Are you kidding?! How long do we need to wait for this???

Aaaaand it's still filled with f*cking ads.
And the UI remains the same ugly grey and with the terrible navigation scheme. I think I'll continue to stick to the PS4 and leave my Xads turned off.

Lol! These few ads bother you that much? I hope you don't use Facebook or Google much.

So can i take my tv off of game mode and switch it to normal and there wont be no lag? Lol

Support for dolby atmos to be sorted out as will not allow recievers to put out atmos without pictures disappearing or game having no sound when audio is put through reciever.

I just want to be able to record the game chat and the party chat vocies when i record videos using game dvr .
This feature already supported on Windows 10 why not on the xbox too .

Bring back snap stop giving us staff people don't want or use

Weird Microsoft Edge behaviour: when I open it, it does not occupy all screen space.

I don't know what's you have have done to Microsoft Edge. But it's ****. Since the update. My xbox has been laggy. It keeps freezing and if I go to the home screen it does to same on there. I've have rebooted it. Still the same. I've checked my Internet connection. That's all good. Is there a bug or something with the new update.
Windows Central Newsletter
Thank you for signing up to Windows Central. You will receive a verification email shortly.
There was a problem. Please refresh the page and try again.