How to share Xbox One game clips on Twitter
It's now a lot easier to tweet your Xbox One game clips. Here's how the new Twitter integration works.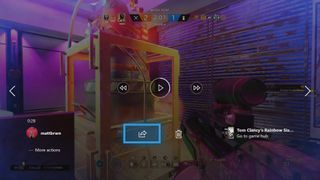 It's soon going to be a lot easier to share your favorite Xbox One game clips to Twitter. As one of the new features on its way with the upcoming April Xbox Update, Xbox One owners will have the ability to upload their captures natively to the social network.
Unlike previous implementations where shared content was hosted on Xbox.com, this integrates clips and screenshots directly as Twitter uploads. These are the steps to take advantage of Xbox One's new direct sharing with your Twitter account.
Connecting Twitter to Xbox One
Before sharing clips and screenshots through your Xbox One console, you'll need to attach your Twitter account. When first attempting to share recorded content, a sign-in prompt will be displayed. This is a one-time sign-in process, with future sessions filing your credentials.
Open Home on your Xbox One.
Press RB twice to navigate to the Community tab.
Select the Manage captures tile.
Select a clip or screenshot to share.
Select the share icon indicated by a curved arrow.
Choose Twitter.
Select Sign in.
Enter your email address or username using the on-screen keyboard.
Enter your password using the on-screen keyboard.
Select Sign in.
After completing the sign-in process, content can now be shared on Twitter from your Xbox One.
Sharing Xbox One clips and screenshots to Twitter
Whenever viewing your recorded Xbox One game clips and screenshots, these can now be shared directly through Twitter. Cutting out the middleman and hosting content directly on the site, it'll be easier for viewers to check out uploaded videos. Embedded screenshots and clips are handled automatically, leaving you just to write out an accompanying status for the tweet.
Open Home on your Xbox One.
Press RB twice to navigate to the Community tab.
Select the Manage captures tile.
Select a clip or screenshot to share.
Select the share icon indicated by a curved arrow.
Choose Twitter.
Enter your tweet using the on-screen keyboard. Mentions, hashtags, emojis and other special characters can be used.
Select Share now to publish your tweet. Leave your Xbox One while the clip is uploading. A confirmation will appear once the tweet is live.
After completing the above steps, you Xbox One content will now be shared on Twitter. These can be viewed on the Twitter website and other applications, like any other image or video content, as seen in the tweet sent as a part of this guide:
https://twitter.com/mattjbrown/status/973604090570792960
Over to you ...
The Xbox Spring Update brings a variety of new features, including support for 1440p monitors, Mixer controller sharing and more. Make sure to drop into the comments section below with your thoughts on the update.
Updated April 24, 2018: Refreshed this article following the feature's public rollout.
Windows Central Newsletter
Get the best of Windows Central in in your inbox, every day!
Matt Brown was formerly a Windows Central's Senior Editor, Xbox & PC, at Future. Following over seven years of professional consumer technology and gaming coverage, he's focused on the world of Microsoft's gaming efforts. You can follow him on Twitter @mattjbrown.
Can someone please send me an invite to the preview program !!!! GT: PyroSol08

Follow me on Xbox one. I'll invite.

Hi will you invite me arachNED

What's your Xbox gamertag, so we can follow you for an invitation? "ya billy"?

What's your gamer tag? Mine is Stephen7ylore. Follow and I'll follow back!

I would love an invite if you still have some available! I aded you on Xbox.

Me too please :) gamer tag: zapellat

Ok now wait 3 days for message from Xbox with your invitation from them

I'd like this too, but need an invite.

Would love to be part of this please.. GT: ch33zy

No prob just follow me on Xbox one

Follow me on Xbox for dank Battlefield 1 clips or if you need help in a game, with achievements, etc, my GT is Quazzon

We need more "share" apps, facebook, Instagram, even YouTube...

How do you turn off automatic game clip recordings? I made 7000 automatic clips while I played Ryse. Most annoying.

I feel like some games do it, some don't. I noticed ryse did that too.

Those recordings are just temporary, FIFA 14 did this a lot but Fifa 15 not so much.

Done. Need my email? Raesu@outlook.com

No anyway sent just wait three days

I Want a Invite to preview! Can anyone send me Gamertag: LuizAF

would love an invite, if anybody can help me out it would be great.

I would love an invite: nyrmaniac2357 Also, is there a way to autoupload game clips to OneDrive? It seems that the only way to get them there is to go through the editor.

Invite please... gamer tag: adptbl

Glad it works less YouTube required

I'd like an invite too please. gt: spatel82

Totally following you Ya Billy! Thanks for hooking us up!

Invite please! to xbox one preview Gamertag: Smilez787

Would like an invite, GT is Arazius to anyone who feels generous

My biggest issue is the clips not play natively in Twitter. You shouldn't have to click on the link and go at another page. It should play right there.

I would also like an invite to the preview program. My GT is VermillionRed. Thank you!

When is Microsoft bringing back game share with your friends to Xbox one?

Follow me on Xbox. I'll invite anyone. GT same as username

I'll do that. GT CommadoreBob

Hey SlayerSpecial... I would appreciate an invite too GT: tropolite and I just followed you. Are these invites available to those in Australia too? Cheers and thanks

Following - please send me an invite when you get a chance. CloggedLion

Please add me im following u too! Same username as here :)

plase invite me, my GT is Zeejan

Seriously? People actually record themselves playing a video game and then watch instant replays and post them as of it is some sort of major accomplishment or badge of honor? I'm not sure I've heard of something so lame and so vain in quite a long time. It's like everyone wants to be the Zsa Zsa Gabor of the video gamers.

Take it easy, bro. So that's one use case scenario. Another is you just bought this really cool game for $60 and ten minutes in you hit a glitch that you can't get past. So, you record it and tweet it at the game developer and they release a patch that fixes the glitch because they had video footage of the actual glitch to examine.

or it could be you did something awesome/funny/memorable that you want to share with your twitter followers for whatever reason. It takes about the time a normal commercial break is, to complete a clip editing>then share. Also, it's fun.

Yep. I personally love having Twitch streams and game clips on games in the online store. Gives me a chance to see some gameplay before deciding to buy. There have been some games that I didn't know much about, because a description didn't tell me what the gameplay was like and the images the publisher provided didn't show me much, so I watched a handful of gamer clips and found out what the gameplay was like and whether it was a game I'd play or not. Lots of uses for gamer clips.

No, I record video games because I want to and always have since I saw a guy share Mario Bros 3 secrets in a segment on Alabama Public Television in 1990. I have a grand total of 150 subscribers and I think 39 of them are bots. Whether anyone watches is up to them. I do it for the enjoyment value. Obligatory youtube channel link: https://www.youtube.com/channel/UCW8orn0_Mj8YFF6OKbCHqbA

Can someone invite me? PC calixto

Can someone please send me an invite. HAYSTACK510 Thanks

hey, Can i get an invite peeps, my GT is Mr Mattius ​ ​

Interested in getting this update early. Please invite me to the preview program. My GT is brot2ubyQ. 'preciate it!

can i get an invite please
@gemidriver

Mark, why are you a Liverpool fan? Lol.

Some one send an invite plz.

I would really love to be part of the Preview Program... My GT is JoseEBM30

cant wait to see the day that upload studio is updated to bring: - background syncing .. i cant stand watching a video upload this is near 2015 space age shizzle... give me a basic thing!!! - upload to youtube.. a basic i must do on my computer or from the youtube app. still would be nice to select only once and it would upload. multiple videos saved to hd first then compile later and upload all at one time... i found there are limits to videos abilities to controll effects and length of voice recording. I would like to be able to work on parts of a video then compile them together and only upload it one time not 5 times for 5 parts and a 6th time for the final pice of the total video. ability to add and chose which effect you want on which part of the video. when combined... basic would be nice if you were just going to make a titanfall video start with titanfall then select fire for one part then night vision for another. i wish we could have more control. ability to record voice per part of a 5 part video then instead of the whole video. a basic if you can talk and not make a mistake in 5 min. you got 5 parts let me recorde the voice per part not per the whole combined 5 part video. ability to recorde voice for longer then 5 min on a video. this cause an issue one time for me. was an issue on a long race so I cut the 7min race to one lap and then recorded my voice to that part of the race then compiled it to uplad it later. you can see some of my youtube videos here: http://www.youtube.com/user/mikeborody/videos I think i may use the twitter more for little clips I want to share. It is alot of work to make a video.. some took hours of gameing. then the work to combine then and make the final clips . then uploading them on my slow internet. I hope microsoft well xbox works on there ability to give users more abilities to upload studio. I wonder tho if upload studio will come to windows as this abilitiy would be nice to share in windows gameing aswell. I would think there is more commeing if shareing to twitter is here now. I look forward to my future gameing :D one of these days I will make part to of plants vrs zombies.

Can someone invite me to preview program? my GT: Royped Thank you

Any chance someone would invite me to the program please Gamertag is gally06, much appreciated

this is awesome can someone send me an invite to this program. my gamertag - L0rd 0din - those are zeros. thankyou.

i just bought an xbox one... can someone invite me? my gamertag is: zeejan thanks!

I did not know who added me on the Preview Program, if you're out there... thanks! :)

Please invite me too! My Gamertag is Blindguy10. Thanks!

Send me invitation for Xbox One Preview Program please! GT Daniellitexion

Hi, Everyone! I'm glad to be apart of the windows central group! I look forward to commenting on upcoming topics soon, I would be really greatfull if someone could invite me to be apart of the Xbox One preveiw program! Thank You!
Windows Central Newsletter
Thank you for signing up to Windows Central. You will receive a verification email shortly.
There was a problem. Please refresh the page and try again.