Microsoft launched the Xbox One S All-Digital Edition earlier this year, cutting the disc drive from the makeup of its entry-level consoles. It looked to be a bold shift from the norm, adapting to an always-online era, reducing hardware costs for those invested in digital entertainment. It made sense on paper, but with an original price of $250, third-party retailers with Xbox One S consoles undercut the newcomer. In short, it was probably among the worst deals in gaming.
But with Black Friday here, the Xbox One S All-Digital Edition has finally found its place. Microsoft pledged that its disc-less console would drop below at least $50 below Xbox One S in formal reductions, finally demonstrated with worldwide discounts on consoles. That includes the new Xbox One S All-Digital, bundled with three digital games for $150, serving the cheapest endpoint to enter the Xbox ecosystem on Black Friday.
Game on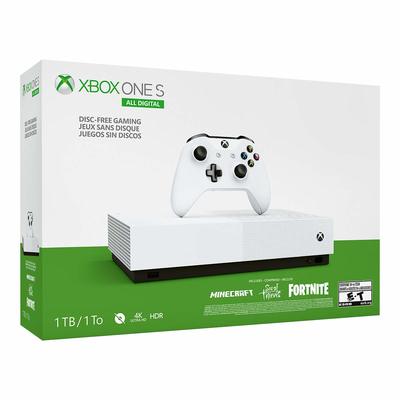 This bundle includes the console, 1-Month of Xbox Live Gold, and download codes for Minecraft, Sea of Thieves and Fortnite Battle Royale.
$149.00 $199.00 $50 off
The Xbox One S All-Digital is the same as the standard Xbox One at heart, delivering HD gaming across Xbox One titles, supported by 4K video playback. The only major limitation lies with the absence of disc compatibility, which locks the console down to digital purchases and subscriptions like Xbox Game Pass. Included are codes for Forza Horizon 3, Sea of Thieves, and Minecraft for that head start, accompanied by ongoing $1 Xbox Game Pass Ultimate deals for 100 further titles on-demand, with Xbox Live Gold.
I've been hesitant to recommend buying an Xbox One this Black Friday, with the next-generation Xbox Project Scarlett looming for 2020 with substantial hardware upgrades. However, with Microsoft committing that all titles in the foreseeable future will run on Xbox One S, it's a fitting entry point for those looking at savings.
There are still reasons to buy an Xbox One S, whether attached to physical discs or an avid 4K Blu-ray user. That console still has relevance on the market given its flexibility, also available for less this weekend. The All-Digital isn't designed for enthusiasts chasing 4K resolution or playing hundreds of titles. It's perfect for getting your foot in the door for casual gaming. And nails the execution, as some consoles hit as low as $150 in the U.S. and £99 in the UK.
The Xbox One S All-Digital Edition is currently $150 at Amazon, which includes the console, controller, and three bundled games. That price beat the PlayStation 4 and Nintendo Switch wherever you look, providing ideal value for affordable couch gaming.
Netflix for games
Save on Microsoft's three-in-one Xbox and PC subscription.
Wrapping together Xbox Game Pass for Xbox, Xbox Game Pass for PC, and Xbox Live Gold, this trio of services delivers the full experience in 2019. And for Black Friday, grab a bundle of three months for just $1.
$1.00 $45.00 $44 off