Xbox One vs. Xbox One S — It's not all about 4K
By Jez Corden published
Two types of Xbox One consoles are available today, and 4K support is a big differentiator between them.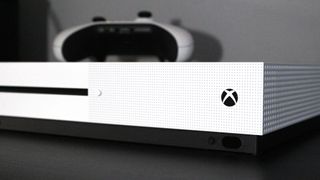 The Xbox One S is widely regarded as sexier, sleeker, and more convenient than its aging sibling, with a 40 percent reduced physical footprint, internal power supply, and various other improvements. Still, for those who already own the Xbox One, the decision to upgrade isn't simple. For those interested in jumping into the Xbox One ecosystem for the first time, the original console can be purchased for a little less.
The Xbox One S's flagship feature is the fact that it powers 4K media experiences, including UHD Blu-rays and Netflix. It also comes with HDR support, providing richer colors, deeper contrasts and brighter highlights. Still, when you consider everything, is the upgrade worth it?
The hard differences
While the Xbox One S does pick up some infinitesimally small performance boosts owing to a more efficient processor, gaming and browsing are nearly identical across both systems. Apps won't load any faster on the S, and save for HDR, you won't see any improvements to your games. It's better to think of the S as a revision of the Xbox One, rather than an all-new console. Here are the main differences:
The Xbox One S is roughly 40 percent smaller than the Xbox One.
The Xbox One S is designed to be placed vertically, without damaging discs or interrupting airflow.
The Xbox One S has an internal PSU, ditching the Xbox One's huge power brick.
The Xbox One S has an integrated IR blaster for controlling your TV, while the Xbox One requires Kinect.
The Xbox One S does not have a Kinect port, requiring the use of a (free) adapter.
The Xbox One S can power 4K media experiences (Netflix and UHD Blu-ray) and HDR for both media and some games.
The Xbox One S looks a lot sexier and comes in various colors.
On paper, the Xbox One S looks as though it dominates the Xbox One in every sense, but in practice you might disagree. The story of upgrading to the Xbox One S is more about the little things, rather than a sweeping upheaval of your existing Xbox One experience.
I upgraded to an Xbox One S, and I don't have a 4K TV
At my girlfriend's place, we were previously using a regular Xbox One for gaming and media, without a Kinect. I recently decided to pick up the Storm Grey Xbox One S 1TB (opens in new tab) to replace it. My reasons might not be that compelling to some, but for me, it felt like the right decision.
Our place is pretty small, and the Xbox One lived on the desk, next to the TV. Since the original Xbox One will scratch discs when placed vertically, doing so wasn't an option. I also really value the ability to control my TV's volume and power using the Xbox One Kinect. But we didn't have one.
Probably the silliest reason: The Xbox One's capacitive power button is simply annoying when it's in close proximity. A slight brush with the arm, and you'll reboot your Xbox. Curious cat? Reboots your Xbox. I'm pretty sure a wayward ladybug also rebooted my Xbox before. The Xbox One S's power button is mechanical, and flush with the console's body.
Rather than buy a Kinect, I decided to buy an Xbox One S to make use of its integrated IR blaster. Configuring it is extremely easy, and it allows you full remote control over your TV, via the Xbox app that's available for all smartphones and Windows 10 PCs. Being able to place the Xbox One S in a vertical position also saves a ton of room on my desk, and it's a lot quieter than the original Xbox One, which is pretty neat if you're gaming in the same room that you're sleeping. Set in Instant-on mode, my old Xbox One had a habit of whirring up in the middle of the night, which can be annoying if you're a light sleeper.
Finally, this meant I had a spare Xbox One to play with. We attached the old Xbox One to the living room TV, to augment the experience downstairs. Since we don't have a smart TV, adding Netflix, YouTube, and various other apps and services has been pretty nice.
A lot of these reasons are pretty superficial, but the real kicker is that we don't even have a 4K TV. It's the array of minor improvements that made it worthwhile to me. Of course, you can always sell or trade your old Xbox One to strip away the additional cost of the Xbox One S. Additionally, many Xbox One S consoles come bundled with a game too (opens in new tab), which can either be sold, traded in or played, adding value.
Which Xbox One should YOU buy?
If you're happy with your Xbox One, but don't have a 4K TV ...
There's very little reason to upgrade, apart from the collection of quality-of-life improvements I touched on above. The Xbox One S's size reduction could be a real boost in certain setups, but if your console is happily tucked away under your TV, you might not see a smaller console as a huge deal. Without a 4K HDR TV, you won't get any additional functionality from upgrading to the Xbox One S.
If you're happy with your Xbox One, and you have a 4K TV ...
If you already own a 4K TV or are planning on picking one up in the near future, you have two options. You can stick with your current Xbox One, and wait for Project Scorpio, set to launch towards the end of 2017. Scorpio will undoubtedly feature all the 4K features found in the Xbox One S, in addition to powering True 4K native-gaming experiences. Or, you can pick up an Xbox One S and begin building up that library of UHD Blu-rays and other 4K content ahead of Project Scorpio's launch. Since you've dropped the cash on an early-adopter 4K TV set, you might as well aim to get the most out of it, providing you don't already have a UHD Blu-ray player or integrated 4K media services such as Netflix.
You're a first-time buyer ...
So, you want to get an Xbox One for the first time, but you're unsure whether to go the extra mile and get the Xbox One S. Project Scorpio also muddies this argument a little, given the fact that it's compatible with all existing Xbox One content, including accessories. You could save a bit of cash by picking up a regular Xbox One, enjoying the library it has on offer today while saving up for Project Scorpio. Or, you could pick up an Xbox One S and a 4K TV now and start building up that library of UHD content for Scorpio's launch. You can always trade-in the Xbox One S, or do what I did and use it to augment a second TV in your home.
There's also another option: You could purchase a regular Xbox One and feel safe in the knowledge that it will be supported for long into the foreseeable future. Developers are not allowed to make exclusive games for Project Scorpio (except for VR). Every game that launches in the next few years will scale between Xbox One and Project Scorpio, meaning that you won't miss out on the latest experiences, even if you choose to stay on the base console. This will save you the most money by far, as it won't require a 4K TV.
Still, the Xbox One S isn't that much more expensive (and right now on Amazon, it's actually cheaper (opens in new tab). As mentioned, the bundles usually come with games, and there are some tremendous deals out there.
Did you buy an Xbox One S?
Did you upgrade to an Xbox One S? Were you a first-time buyer? We'd love to get your insight in the comments. If you have any questions regarding the differences, drop them in there and I'll try to provide answers.
More
Jez Corden is a Senior Editor for Windows Central, focusing primarily on all things Xbox and gaming. Jez is known for breaking exclusive news and analysis as relates to the Microsoft ecosystem while being powered by caffeine. Follow on Twitter @JezCorden and listen to his Xbox Two podcast, all about, you guessed it, Xbox!
Was soo tempted to upgrade to the S but was like what the hell, why don't I wait for Scorpio ♏ rather so I skipped and still enjoy the original one. To me this upgrade wasn't a major shift for me so never regarded it.

You may be in a shock after Microsoft announces its price.

Not like I'm gonna be a day one purchaser.

MS says it will still be priced like a console. I suspect we're talking $499, which is where the XboxOne launched. With Scorpio, MS won't have to eat the Kinect pack-in, so that production savings can go into the hardware. The only unusual component in Scorpio will be the SOC, with the rest being mass-manufactured supplier parts. I suspect AMD (the most likely supplier) already has this hardware in the works using established CPU and GPU designs. Heck, Ryzen is just around the corner now, so it will probably carry this CPU architecture. It's not AMD's first crack at this. If you manage to get your original console to last until Scorpio and save the money you might have spent on the One S, then you shouldn't need to come up with that much more. Since One S isn't that much of an improvement, there's little reason not to wait.

"""The Xbox One S has an integrated IR blaster for controlling your TV, while the Xbox One requires Kinect.""" Microsoft have never heard of CEC - consumer electronics control.
TV's can be controlled through the HDMI cable.

Never had a good experience with any CEC enabled device. Always hit or miss.

I takes time to understand the logic of the cycles.
For instance, what happens when you want the TV off but FM radio to continue playing.

Although CEC wiring is mandatory, implementation of CEC in a product is optional. Makes more sense to go with the industry standard of IR that will work on more devices than just the ones that are implementing CEC.

Every product lauched 2016 onwards will have CEC.
Also if the want to promote its 4k HDR capabilities, chances are that it will be hooked up to premium hardware.

Where is it mentioned that every product launched 2016 onwards must have CEC? Unless it becomes a requirement for every product to implement, this cannot be guaranteed that your product will have it. "Chances are that it will be hooked up to premium hardware" is not a guarantee.

ARC is not mandatory either but if an OEM make a receiver without one, they get left behind isn't it.
So I expect every 2016 receiver and TV to have ARC. If you buy a 4k device, next buy is a 4k (premium) tv

That would only control the TV and not the settopbox right?

It controls any device that supports it up to a maximum of ten i think.
In either direction. STB will support it.
The likes of PACE always embrace new tech.

I have an original Xbox One, and I love it. Had not inclination to purchase an S, mainly because I don't have a 4K TV, and probably won't get one until I can by an HDTV anymore (which I feel is going to be sooner than later seeing how hard it was to find a non-smart 55"). I actually like the look of the original one, and since I have the room for it in my entertainment center, size was never an issue. I'm sure I'll hold onto this a long time as I do with all my consoles.

At this point I'd rather put more money away and just wait for Xbox Scorpio​ to be released.

I think the original Xbox One looks better.

At this point wait for Scorpio, because either you will get an original or S pretty cheap when it comes out or you'll have saved up enough for the Scorpio and can get that... it's about 8 or 9 months away at this point so... I would recommend if you are going to get one to get a live account though so you can get all the games with Gold that get offered between now and then...

I ended up winning one fo the custom painted Gears xbox one's. It has been one of the best things I've ever used. My only gripe with the original, wich sounds like the S has too is the load times. I think they take waaaaay too long.

Plug in a external hard drive through usb 3 your load times will improve alot. Just use your most played on it.

Jez you actualli can control you TV, DVR and home theater with the original xbox One, using a IR blaster cable that can be connected to the "audio" port 3.5mm in the back.I built my own cable but you can find several on amazon.

We just bought a 4k tv and realized we would need the One S to decode it. Also, we felt that it would be a great way to experiment with "cutting the cord."

My WiFi is noticeably better on the S. I can hardly stream Twitch on the old Xbox but works flawlessly on the S.

Original Xbox one has wireless N Xbox one S has wireless AC Through my experience I have had with the Xbox one S it certainly does have better capability with wifi

The original Xbox One Fat is still being manufactured? Surely not? Or is there just still existing stock in the pipe?

Xbox One S buyer from last holiday season. Regret it partially since it barely has games I would like (I do like some J-RPGs), and the 4k Bluray content is scarce in quality (I need Star Wars dammnut), but I still bought it because of 4k >.> Relatively future proof, but I wish I could get a Kinetch, but the adapter would cost me another 40$ (since I didn't upgrade) on top of the 100$ for the Kinetch (I'd like to play Fantasia). Think it's been worth it thus far since ReCore was relatively enjoyable, FF XV so far has been pretty cool, and Forza Horizon 3 is plenty fun as well. Hoping for more games in the future.

Does the Xbox One S fix the random wireless controller disconnect issue?

I have a Day One edition Xbox One. It's been fantastic over the years. I was skeptical about the One S and never was motivated to "upgrade". However this xmas I got the kids the Xbox One S Minecraft Edition and I must say it's an impressive piece of hardware. Smaller footprint, quiet, no FREAKING HUGE power brick, and aesthetically good looking even in white. The adapter needed to connect the Kinect sensor was provided free from Microsoft which is great because I never used the Kinect on the One. I'd consider a One S for myself only if it came in black, 2 or 3TB drive, and there was an option to add a hard drive enclosure to the unit just like I have on the One with the Collective Mind's Media Hub. Otherwise it's a waiting game for Scorpio.

Way to brag about having a girlfriend. You sly dog. 😉

First time buyer for an Xbox one last Christmas.....so we went with the S model...use it mostly to watch YouTube and plex ,and some games.....but needed something now,old 360 was needing a new fan,instead of just repairing....went with one s,Scorpio is too far ahead of release.....needed something now....plus one s is a great price,especially since its a 4k player also

Does the Xbox One S have the ability to accept voice commands without the Kinect? Really that is the only reason I still have the Kinect hooked up to my Xbox One. I really hope that Scorpio either has the mic built-in or you can buy just a mic accessory

I bought it, but had the One prior. I did it due to the fact that it serves well as both a media machine and gaming. The fact that it has one of my favorite backwards compatibility games on it doesn't hurt either. The IR blaster was another selling point. I use yas recommended Inteset remote to control it and everything attached to my television. Wasn't actually planning on buying one, but they've just had way too many specials to pass up. Bought mine for $225 but sold a couple of the included items which brought it down to $170.

I noticed it runs a lot cooler. My Xbox is in a closed entertainment stand. My Roku and kids Wii u would always turn off coz they got too hot in there. Doesn't happen anymore with the S

Great write up - even if I am familiar with the differences already. Got a 4k TV when we bought our new house last spring. Been on the fence about getting a One S but I think it's time to cash in several years worth of Bing Rewards on Amazon gift cards to supplement a One S 😀

I had 2 Xbox Ones and purchased the Xbox One S for similar reasons. Having the internal PSU is nice (until it fails). I thought that it would be quiter, but mine is not. Could be due to shipping. I figure that between the game it came with and if I want, I can sell my 3rd Xbox. Or, I can hold on to it if the S and the other fail. I play games both downstairs and in my bedroom.

I got the Xbox One S as a Christmas present to play 4k Blurays. Sadly not all 4k Blu-rays are made from 4k sources. Plenty of them are 2k sourced (or the CGI in 2k)meaning they are up-converted. I end up relying on websites like realorfake4k.com or Blu-ray forums to see if buying the 30$ version is not just the 15$ normal Bluray source just unconverted. Sneaky studios.

Does the Xbox One S consume less electricity than the Xbox One?

Definitely! It consumes about 26 watts on the main screen and apps and at most 70 watts inn Gears.

Yeah, I got an Xbox One S right away in August, along with a new Vizio P65 4K TV. Tho it took a while for a couple firmware updates to get the TV up to snuff and working right with all of the HDR settings of the Xbox...

Got Xbox One S as I didn't have it since the very first one. Looks great in white and the controller is even fashionable enough to leave it on the coffee table (that's a win for me :)). Bought the Kinect without knowing about the adapter so I was a bit bummed when I found out I had to spend another €40 and who designed that thing? 3 wires and 2 boxes for such a small feat. But as me and my wife like playing Just Dance, we bought it anyway. Otherwise, mainly use it to play or watch NHL and Halo. So more than happy with the acquisition. Coming with a build in Blu-ray is also a great feature.

I won a 360 Core in 2007 and got my Day One XBox One from the Dew/Doritos Every2Minutes program, so this S is the first one in the series that I have purchased outright since the original XBox. We got our 55" UHD Vizio in early November, so the $213 Costco deal for the Minecraft bundle the week before Christmas was a nice addition. I wanted it for the UHD streaming of Amazon and the UHD Blu-ray functionality (if and when we buy any). The Vizio will stream from Plex and almost any other source except Amazon, due to their ongoing fight with Google. The XBox One got moved to the bedroom, where it can play Blu-Rays/DVDs or give me a place to play Madden (mostly) undisturbed. 😁 Thanks for the heads up on the free Kinect adapter. I was expecting to pay for it so Was in no hurry to get one. I'll do that.

i own the Original Day One Edition of the XB1, a 1TB Call of Duty Advanced Warface Limited Edition of the XB1 and the New 2TB Limited Gears of War 4 Edition of the XB1 S. I think i will go 4K/HDR before Scorpio with the Gears One S if i can afford it. I am really Happs how the XB1 progressed from Launch to Now. Only that Snap Mode is killed could be Problem if Picture in Picture will not come for Youtube and One Guide cause i use this much for Watching TV when Playing Games like Fifa or Forza which have not a real big Story...

Sad to see the Kinect depricated with the One S. Part of the fun of our livingroom Xbox is having pause/play battles with voice control. Best Kinect game ever! Plus we do Skype calls with the family and dance in front of the Kinect sensor in our underpants in the hopes that some creepy dude at Microsoft or the NSA might be watching. I'm going to be very sad if Scorpio has no support for the Kinect.

wait... to be clear the skype calls with the family and the dancing around are two seperate things. We don't dance for grandma in our underwear... that would be wierd.
Windows Central Newsletter
Get the best of Windows Central in in your inbox, every day!
Thank you for signing up to Windows Central. You will receive a verification email shortly.
There was a problem. Please refresh the page and try again.