Xbox's Game Crest 2016 lets you check out your year in gaming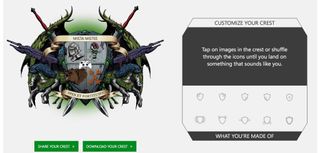 If you're a proud Xbox gamer, you'll want to check out Microsoft's new Game Crest 2016 website (opens in new tab). The site offers a personalized look, so to speak, at your past year in gaming with specific stats. And when you're all done soaking in the random factoids of your year, the site will help you create a custom gamer crest to show off your favorite genre's and more.
If you load up Game Crest 2016 without being signed in to your Xbox Live account, you'll get a quick overview of how the community at-large did this year. According to the site, Xbox gamers unlocked an average of 55 achievements in 2016 and spent, on average, 207 hours on Xbox Live. Once you sign in, you'll get a look at your total achievements unlocked in 2016, along with the amount of Gamerscore earned, your most-played game and your most valuable achievement in that game. You'll also get to see where you rank compared to the Xbox community.
Once your done admiring your stats, you can make your own custom gaming crest at the top of the page. You can customize everything about the crest with different iconography on every portion to make it truly yours. You can then download and share your creation with the world.
What have you accomplished in your year of gaming? Be sure to check out the site share some of your stats with us in the comments!
Check out Xbox's Game Crest 2016 (opens in new tab)
Windows Central Newsletter
Get the best of Windows Central in in your inbox, every day!
Dan Thorp-Lancaster is the former Editor-in-Chief of Windows Central. He began working with Windows Central, Android Central, and iMore as a news writer in 2014 and is obsessed with tech of all sorts. You can follow Dan on Twitter @DthorpL and Instagram @heyitsdtl.
sweet this is great i will definitaly look it up. i rembember if you go to xbox rewards they have a monthyly count going on there. its surprising how much tv i use to watch.

I don't understand the point or allure of achievements. I seriously don't.

It's a way of bragging rights when you complete the game 100% to complete against your friends and or the community

It is more about bragging rights, but it also allows you to try to extend the game a little. Think of them as "quests" like in an RPG.

Bragging rights? People actually care about how well another person did at a GAME? Oh, good grief.

Yes, some people like to play against other people. A lot of games are about being competitive against other players. Achievements are like stats in the NFL, NBA, etc. A lot of people don't care about it, but some do and some players do too. You obviously are either not a gamer or don't really care about being competitive with friends. That is fine. Others do. I know a few people who are obsessed with getting achievements. They will spends many hours trying to get all of them. That is what they like to do. Me, I like to try to get them too, but I also like to play and finish my game and go on to another one. I am not going to spend 5 hours trying to get one achievement.

It's just one way to put it. Some may brag about them but I have a personal urge to complete as many achievements as possible, but only with some games (FH3, FO4, Witcher 3) - usually those I enjoy the most. Just like @vincentw56 noted, I see them as quests in RPG games.

I don't understand the point of all your negative comments.

To each his own. There a reason they have persisted. Good analysis.

While its interesting that the average hours spent on Xbox Live is 207, it would be nice to know how many hours I spent in comparison. Maybe the number might scare me into doing less hours next year?

989 achievements in this year.. Not sure if proud of that lol

Yeah I ended up in the top 1% for mine...eep. Over 10,000 points lol. I may need to play a little less!

In case you got me wrong, that's 989 achievements. And a little less than 25.000 gamerscore within the year xD. Tell me about needing to playing less!

Now I don't feel as bad lol!

Well, I feel just as much as before. Maybe a tiny bit worse xD lol

I only got 400 achievements this year... I need to get more time to play! =P

I'll make sure by the end of next week I make those over 1000 achievements. At least its sad but cooler kind of sad lol. 1000+ achievements have a better ring to them. Have such a huge backlog on my damn Xbox, it won't be hard at all to do so.

Had I not played so much Destiny this year, I'd probably be right up there with you!!

in the 3% of Gamerscore earned...shouldn't tell wife.

fell from top 3% Gamerscore last year to top 4% this year lol

Achievements and things like the crest are not about bragging rights for me, its just nice to see how I've done in my many hours of gaming! I've got 200 achievements this years and I'm in the top 7% for my gamescore and this makes me happy. I would love to use my crest as my gamer pic but that's not possible at the moment.
Windows Central Newsletter
Thank you for signing up to Windows Central. You will receive a verification email shortly.
There was a problem. Please refresh the page and try again.