Xperia X1 appears at the FCC - AT&T next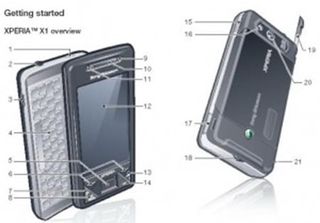 We never thought we'd see the day, but the Sony Ericcson Xperia X1 (we were getting ready to dub it "The Unicorn") has made it through the Federal Communications Commission's testing, reports Cell Phone Signal.
And as we suspected, AT&T should be the lucky carrier with this one, given the 850/1900/2100MHz bands.
Also confirmed are two versions of the phone - the X1 for Europe, and the X1a for the U.S. And while you can buy an unlocked X1 and use it on T-Mobile, remember that TMo uses the 1700 MHz band for 3G, and you won't get that with this device.
The silver paint scheme that we've gotten to know remains. As an added bonus will be a black skin, too. No word on if it's version- or carrier-specific.
No word yet on pricing, carrier-subsidized or otherwise. Also no word on an actual U.S. release date, or whether any of the delay rumors are true.
Hit up Cell Phone Signal for a few user guide pics.
Thanks, Marco!
Update: Here's the link [via Giz] to the FCC testing, if you're into that sort of thing. It's OK. We won't tell.
Windows Central Newsletter
Get the best of Windows Central in your inbox, every day!
You mention the device not supporting the T-Mobile 3G bands, however, the Sony Ericsson product page for the Xperia states otherwise. FYI -- most manufacturers list specifications for their products at their websites, always a good source of info before presenting factual info to your readers.http://www.sonyericsson.com/cws/products/mobilephones/specifications/x1?cc=us&lc=en

The original February press release also states 1700mhz support.
Of course, the original sources are a bit old so they could be inaccurate (just as the FCC listing could still be inaccurate). But if the X1/X1a has really done away with Tmo 1700mhz, it's up to AT&T to bring it to the States. And since AT&T still has yet to launch the Fuze, the X1 could face a further delay as a direct competitor to the Fuze.

Hmmmmm. That may well be. But if you look at the pics from Cool Smart Phone, the 1700 band is nowhere to be seen. I hope we're wrong. It really defeats one of GSM's greatest qualities (and punishes T-Mo customers) if the 1700 MHz splits off into its own little world.