2 days left – You can still order our limited run of Windows 10 Ninja Cat T-Rex t-shirts!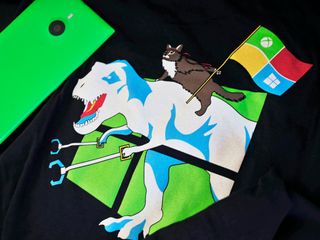 To celebrate the launch of Windows 10 worldwide Windows Central released a commemorative t-shirt featuring the famous 'Ninja cat riding a T-Rex'. We quickly sold over 1,000 of them globally and even did a special India-only campaign.
Due to popular demand the campaign is back for just two days. Evidently, when enough pre-orders come in for the shirt, Teespring relaunches the campaign automatically, and that is what happened here. It came as a surprise to us too. Indeed, we have now sold 1,175 of the shirts and until Sunday, you can still get one yourself.
The ninja cat emblem became a secret handshake of Windows Insiders eventually making its way to the official Windows blog. Now, you can join the semi-secret crew with the ninja cat riding a t-rex busting through the Windows 10 logo. Why? Because it's fun, that's why! You can see Mobile Nation's Kevin Michaluk below sporting his tee.
Styles include:
American Apparel Crew – Navy, Asphalt, Fuchsia, Royal, or Slate colors
Women's Fitted Tee – Black, Navy, Royal, Slate, Fuchsia colors
Women's Flowy Tank – Royal, Dark Grey Heather, Midnight, Neo Pink colors
Canvas Poly-Cotton Hoodie – Navy only
Pricing starts at $19, and there is shipping available worldwide. On the back of the shirt is the #UpgradeYourWorld slogan that runs with the Windows 10 launch campaign by Microsoft.
#Upgrading our World
In keeping with the spirit of the Windows 10 launch event and helping out the planet, Windows Central is doing our part. Through this shirt sale we are donating $2,500 to the Direct Relief charity (directrelief.org) a nonprofit, nonpartisan organization whose mission is to:
Direct Relief is one of the highest-ranked charities in terms of financial distribution and 'Accountability & Transparency' by Charity Navigator. And if you folks buy more shirts, we'll bump our donation by another $500.
Grab the limited-edition Ninja Cat and Windows 10 shirt HERE!
Want to give more? Donate to Direct Relief through their website or use Charity Navigator to contribute to a cause you stand behind and know your money is going where it should!
Windows Central Newsletter
Get the best of Windows Central in in your inbox, every day!
Daniel Rubino is the Editor-in-chief of Windows Central, head reviewer, podcast co-host, and analyst. He has been covering Microsoft since 2007 when this site was called WMExperts (and later Windows Phone Central). His interests include Windows, laptops, next-gen computing, and for some reason, watches. Before all this tech stuff, he worked on a Ph.D. in linguistics, watched people sleep (for medical purposes!), and ran the projectors at movie theaters because it was fun.
Thats awesome windows central. Thanks for giving to charity with this run of the shirt sales. Windows Central is the best!

Can it be ordered without the hashtag?

Unfortunately, no. We would have to do a separate campaign for a different design. Sorry.

Is this campaign again available for India?

Yeah... The # bummed me a bit, but the T-Rex riding Ninja Cat be cool enough I gave in. %hashtag

I often find shirts that I'd like to buy only to find out that it was a limited time offer so I find these types of sales annoying.

I failed at interweb... please ignore my question.

You have to choose from the menu: example.

Got mine over a week ago. Surprised by the fast shipping.

You ordered today and got it last week?! Quick, order a Lumia 950! :P .
.
I'll be ordering one myself to go along with the Unicorn one. I won't feel bad for wearing Ninja Cat two days in a row now!

I still haven't received mine, and I am feeling very sad.

I love mine. Would order another if I weren't skint. Posted via the Windows Central App for Android

In for one. -Sent from my iPad

Caught #NinjaCat climbing thru window this morning and fed to #PirateDog.

I just want a coffee mug!!!

I've purchased both shirts and am happy with both of them. Thank you Windows Central. Donating rocks!

Are these 100% cotton? Where are they made? Hopefully not child labor in China, India, Bangladesh etc.

So that's your answer? That's good news, will proceed to support the cause. Onya

How do you know if clothes made in China, India or Bangladesh, are through child labor? Clothing industry is popular in these countries because of excellent cotton production.

American Apparel are made in the USA and is a very well known company. They make the tee shirts being sold in this campaign. The sweatshirt is made by a company called Canvas based out of Kenya, who, as far as I can tell, have a clean record.

What an idiotic generalisation of three large countries and all their industries from a Racist American, have reported the post !!

-> Etios: We In america / UK / Australia see documentaries on widespread child labor and terrible working conditions, its a known fact. The comment was made in the regard of thinking of your countrymens wellbeing, not being Racist. Just because someone acknowledges the existence of something undesirable in your country and not wishing to support it, doesn't make them racist. It says more about you and the chip on your shoulder. Get a grip.

Child labor? Wen in India?

Unfortunately the order form will not let me proceed to payment because it requires a state. Perhaps if someone tested this you would have known. I'm in south Africa and there are no state here. When you said world wide I thought it meant world wide.... I suppose world wide means US?

Chill with the snark. Sorry, we did not have time to test every country/state/region in the world. Best to contact Teespring who run the service.

It was actually easier and less painfull to stick pins in my eyes than order from the UK.... Your loss.... my gain.

If you say so. Richard ordered from the UK and didn't have any issues.

I ordered from the UK without any hiccups!!!!

Yup, mine arrived here in the UK with no problems... Shame about the awful quality!! The bottom hem is falling apart after two wears. Not impressed.

Been wearing both my tshirt and hoodie everywhere... The Hoodie is REALLY warm... Love it here in Australia. Thank Windows Central for creating these and donating part of the proceeds to charity. Keep up the great work. Posted via the Windows Central App for Android

Received mine. Wonderful quality! Thanks guys.

Please, I see that it's written worldwide, but do you ship it to Morocco? Thanks

Teespring is doing the shirt printing and shipping... http://answers.teespring.com/customer/en/portal/articles

I received mine (Algeria) so why not Morocco khouya :)

Thanks RumoredNow and chokrane Khouya Nadjib

I bought it from indian sale.

Never got an answer from Windows central stuff, is this some kind of racism? I always ask questions but no one answer.

I have no idea what you mean or are talking about. Also, insulted that you think we are racist, even though you never met us. Finally, if none of us are required to answer you in comments. It's a bonus here.

Daniel. If you check my profile, you'll notice that I've asked many questions but with no answer from anyone. And I asked a question here but you didn't reply to it. I've seen that you replied to the others but not me. Sorry if I said racism or anything that offended you

Hey Guys, Just to make you aware. The quality of jumpers and Tshirt is a bit poor. I got Tshirt and jumper and after wearing them for 2 days sleeve from Tshirt started to separate from rest of the tshirt and the jumper leaves "wool balls" all over the place and it makes the jumper look like it was couple of years old. I got full refund from Tspring however just wanted to make you aware.

Just to let you know, when I was ordering using Edge, It kept messing up, I tried using IE and it worked.

Order Confirmed. Awesomeness incoming.

I always find Daniel in action/attacking mode while answering questions...ha ha

I'm just...direct ;) If you met me in real life, you'd see I'm really nice, polite and sarcastic as hell.

You sound like my type of person Daniel lol.

All you people need to get a life.

...said the guy commenting a site dedicated to Windows and Microsoft on a Saturday, ahem.

I think he might need some Aloe Vera for that one.

Sadly, it's too expensive for me :/ If it was 10$ I would buy it.

Awesome effort windowscentral, charity is good, and I will buy 2 of such tshirts.

So tempted to get another... I love my first one. It was easy to order and the shirt is very soft and nice quality. The large seems a little smaller than a typical large but fits nicely. It's a great conversation starter, but mostly it's just hilarious. Everyone needs an awesome trex and ninja cat in their life.

I'd rather not be called a D-bag

I live in Bangladesh and I will never get it :( :'(

I got the shirt and I love it, but I just can't stand sweatshirts with writing on the back. For shirts it's fine but sweatshirts I like when they just have a design on the front and plain back. I'm probably in the minority on this since it seems like such a random thing to bother me, but I would appreciate if you would consider this for the next round of designs you put out.

Cats are useless creatures.

Ordered a shirt. Has to be somewhat ironic I had to use Chrome on my tablet because IE wouldnt work on my phone or tablet...ugh...next build save me!

I'd probably get one - if I were around 6 years old ;-)
Windows Central Newsletter
Thank you for signing up to Windows Central. You will receive a verification email shortly.
There was a problem. Please refresh the page and try again.