Your computer's in the 21st Century, so don't leave your printer in the 20th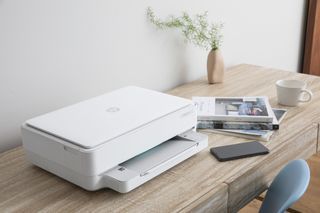 (Image credit: HP)
Over the years, you've likely gone from an off-white tower of a desktop to a seven-pound laptop made of plastic to a thinner and lighter laptop you might only use occasionally because you can do just about everything you need on your phone. Over the course of those upgrades, your desk setup may have evolved and all your accessories may have changed to keep up with the new hardware, but your printer might still be living in the past. The HP ENVY 6000 Series is here to catch up with the modern hardware.
That drab, old printer may not only fail to fit into your workspace physically and aesthetically but also fail to work with your hardware. Older printers have loved to be persnickety about having the right drivers to use all of their features, connecting over USB, or occasionally connecting over Wi-Fi even if they weren't too reliable at staying on the Wi-Fi anyway. It can be a real hassle trying to get those old printers to work, sending them print jobs that never seem to start. They might even need an adapter to connect with modern ultrabooks that lack USB-A ports. And, even if the connection is good, you can watch them run out of ink over the course of a page.
HP ENVY 6055 All-in-One Printer
The HP ENVY 6055 All-in-One delivers modern looks and modern convenience with easy printing, copying, and scanning all over Wi-Fi
HP ENVY Pro 6455 All-in-One Printer
The HP ENVY Pro 6455 All-in-One takes everything the ENVY 6055 offered and adds on an auto document feeder and two years of mobile fax service.
The HP ENVY 6000 Series, which includes the HP ENVY 6055 and ENVY Pro 6455, steps up printing with modern capabilities. These printers connect to your home network over 802.11ac dual-band wireless, and HP's Self-Healing Wi-Fi tech helps make sure they stay online. You can also pair with Bluetooth, but Wi-Fi will offer the stronger connection and enable more features.
With the HP ENVY 6000 Series printers connected to your home internet connection, you can print on them from anywhere. That means anywhere inside your home and anywhere outside your home, too. These printers can handle extensive print jobs thanks to a 100-sheet paper tray. They can copy and scan as well, with the HP ENVY Pro 6455 offering an auto document feeder to quickly scan or copy 35 pages.
The combined ability to print and scan can also simplify handling documents, as you can quickly print off forms, fill them out, and scan them right back onto your computer as PDFs ready to send wherever you need. HP doesn't leave phones or tablets out of the mix either, so your whole hardware ecosystem can work with these printers.
HP has even ensured these new printers fit in with your hardware aesthetically. The HP ENVY 6055 and ENVY Pro 6455 both feature smooth curves and soft white paint jobs. The printers also have a subtle and timeless display style with hidden, back-lit buttons that won't easily show signs of age over time. It's a subdued yet sophisticated look that'll fit nicely next to a modern PC without adding wires in an era of wireless.
Get the Windows Central Newsletter
All the latest news, reviews, and guides for Windows and Xbox diehards.